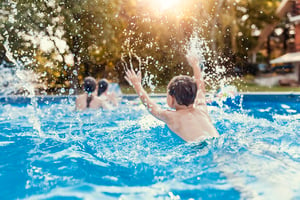 At Watson's, you know we have all the fun.
And we're here to help you have more fun, too.
We carry one of the largest selections in the nation of pool games, toys, floats and more — all at the guaranteed lowest price in the USA.
Here are a few ideas for family-friendly games to play in the pool this summer:
Beach ball race: Each kid holds onto a beach ball. See who can push their beach ball to the other side of the pool first, kicking as fast as they can.

(Bonus: If you have a Star Wars fan in the family,

try this Death Star light up beach ball

.)
Marco Polo, like tag with a twist. One person is chosen as "IT" and closes his or her eyes. The goal is for that person to find and tag other players. The catch? The person who is IT can yell "Marco" anytime, and everyone else must yell "Polo!"
Simple game of catch. Whether you're working on hand-eye coordination with a little one or just diving into the water to catch the ball, a simple game of throw and catch can be a blast in the pool.
Throw the perfect spiral. Anyone can throw like a pro with the Hydro Whistle Dart Football, which helps turn not-so-perfect throws into an impressive spiral.
Skip a ball across the water with a bounce ball: Grab a few friends, a squishy bounce ball and run into the pool or the waves. It bounces on the water like a skipping stone. You can also use it to play a simple game of catch.
Cannon ball competition. The adults judge the kids or rate them on a scale of 1-10. Then swap turns and let the kids judge. (Warning: This might get a little wet, but the giggles and competition will be worth it!)
Ring toss is a game with a little bit of skill that the entire family can enjoy.
Race to the bottom. Toss anything in the pool that is non-floating. If your pool is deep enough to safely dive, the kids can dive in. Otherwise, have them all start at the edge, then race to collect. Try these popular SquiDivers dive toys.

Don't have a dive stick? You could try a large toy or a water bottle filled with pool water.
Grab a net or a basket and challenge your friends to a game of basketball or volleyball. The Pool Jam Combo is the complete poolside basketball/volleyball game set designed to sit on the pool deck.
If your kids like big splashes and powerful launches, this Cyclone Launch is a must have. Kids can throw the Splash Bomb as far as possible across the pool, so creative kiddos can have hours of entertainment, inventing games and competitions.
Shop everything you need for your pool at the guaranteed lowest price in the USA: