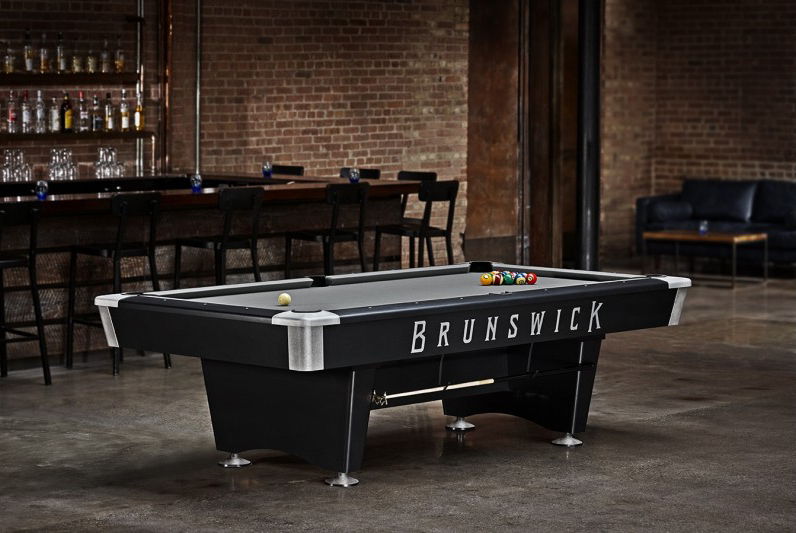 Let us help you answer the question of "How Much Does a Pool Table Cost?" The Average Pool Table costs around $3500 however, the costs can vary. A Toy Table (and other semi-permanent types) start at around $500, but a fully customized Billiards Table can reach $20,000. Below you will find explanations of the different styles, sizes, and features that will help deliver a one-of-a-kind experience.
What Affects the Price of a Pool Table?
Construction of Body: One of the first things you're going to want to know is what the table is made out of. You will find that Billiard Tables are made of:


Composite Wood with Laminate Overlay

Plywood with a Laminate Overlay

Hardwoods (i.e. Oak, Maple, Walnut, or Mahogany)
Playing Surface: It is important to know what your playing surface is made out of, to ensure balance and playability. Playing Surface Materials Include:


Plywood: You will find Plywood on most Entry Level and Child Size (Mini) Pool Tables. Plywood is not made for longevity and typically will not have a level playing surface throughout the table. These tables will also play extremely slow based on the playing surface. Additionally, these tables are prone to absorbing moisture over time which will change the playability significantly.

One-Piece Slate: Tables with One-Piece Slate are typically considered Entry Level Billiard Tables. A Slate Table will help with playability due to the nature of its hard surface. The downside of One-Piece Slate is it's extremely heavy and can weigh upwards of 450 lbs making it extremely difficult to move. Additionally, One-Piece Slate Tables can be challenging to level based on the conditions of the room it's placed in.

Three-Piece Slate: Three-Piece Slates will come in 3/4" and 1" thickness, the thicker the slate the more rigid it will be. It also allows for the table to be leveled accurately giving you superior playability. Three-Piece Slate is more versatile than other surface types as it allows for the installer to dial in the proper level and accuracy in a plethora of settings.

Three-Piece Wood Backed Slate: No different than the Three-Piece Slate stated above, Wood Backed Slate simply means they glue a piece of wood to the back of the slate in order to staple the cloth down to the surface. Depending on the design of the table, it will require one of the two types of Slate.
Table Size: Pool tables range in size from 6 feet to 9 feet in length, with larger tables understandably costing more.


6' Tables (and under): This includes Toy Tables, Mini Tables, and Bumper Pool Tables.

6.5' Tables: These are considered Bar Tables, used more commonly in Commercial Settings, and generally use One-Piece Slate.

7' Tables: Typically made for smaller rooms, and people with space constraints.

8' Tables: Traditional/Professional size.

9' Tables: Considered Tournament Sized as these tables are more challenging and suited for the most skilled players.
Pool Table Styles: Pool Table Styles range from Traditional to Contemporary designs. You can even find a pool table shaped like a car.

Traditional: Most tables are typically Traditional in style. They often include curvy lines, carved legs, and decorative fringe elements along with pockets.

Leg style options include:

Ball & Claw

Grecian

Rams Head

Rounded

Tapered

Queen Ann

Contemporary: These designs are fashion-forward with bold colors, usually including lots of straight lines and uniquely styled legs.

Industrial: Featuring Legs made of metal (similar to Iron) and combined with gorgeous wood give Industrial Tables a strong and heavy look.

Modern: Consisting of elements of each of the other table types, a more Modern Pool Table will be entirely unique in its design and materials.

Rustic/Craftsman: The body of the table features deeper exaggerated wood grain allowing the beauty of the wood to show. These tables also feature a simple farmhouse design and solid construction.
Cloth: Pool Table Cloth is generally called "Woolen" or "Worsted" Cloth. Woolen is the more commonly used Pool Table Cloth, often referred to as Felt. Worsted Cloth is generally used for Tournaments and is more expensive than traditional cloth. Worsted Cloth has noticeably different results when used however, the billiard balls move faster, and the cloth itself is less likely to 'pill' with use.


Woolen Cloth: Entry Level / Standard Cloth for most Pool Tables. Some variations have a Teflon coating in order to help with durability and staining.

Worsted Cloth: Intermediate / Professional Cloth, designed for Speed and Accuracy. Some variations will also have Teflon coating.
Delivery, Assembly, and Maintenance: All Dealers offer Delivery and Installation services to ensure that the first play on your table is perfect. Additionally, these dealers will also offer services to ensure your table plays like new for longer. Services include:


Table Re-Leveling

Recovering Table with New Cloth

Rerubbering Table Cushions

Pool Table Relocation (in-home)

Pool Table Relocation (home to home)

Breakdown and Crating of the Slate (for long-distance moving)
Kits: Many Pool Table Dealers will offer Play Kits that are often paired with the Pool Table that provides things such as Cues, Chalk, Balls, and a Rack. There are many different levels of accessory kits available, ranging from Free (with Table Purchase) to $999.
Other Customizable Features:


Pockets

Storage Drawers

Sights and Table Markings

Custom Wood Staining

Custom Cloth Color
Accessories to Consider
Lighting

Personal 2-piece Cues

Shorty Cues (for tight spaces)

Table Brushes

Table Covers

Cue Racks (Wall / Floor)

Spectator Chairs (for guests)

Ball Racks

Bridge Cues

Jump / Break Cues

Billiard Gloves

Cone Chalk
How to Measure for a Pool Table
The size of the table you can put in a room just isn't a matter of whether it'll actually fit in the space, but how long your pool cue is as well. With cues ranging from 48 inches to 58 inches, it's important to try out a few different length cues to make sure you're hitting your best shot. Once you've decided which cue makes you comfortable, take a look at the chart below to see what size table would fit in the areas you have available in your home. Most home pool tables have at least one tight spot where a shorty cue might be useful.
Read More