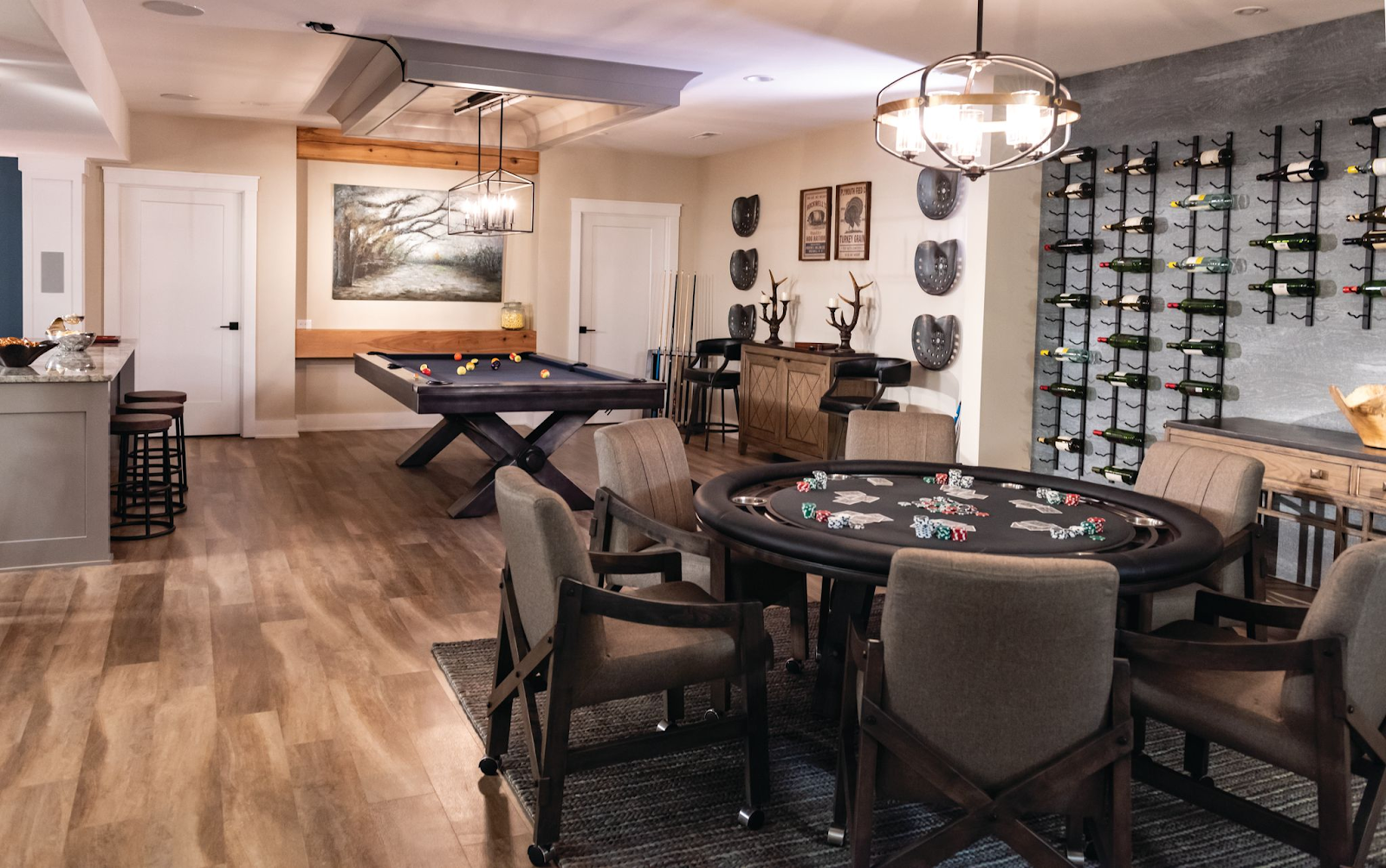 We have all the fun here at Watson's — and we want you to have all the fun, too.
Whether you're planning a board game room, a rec room or a man cave, we've got you covered.
Shop one of the nation's largest selections of Games & Rec.
Here are 9 tips and ideas to help you design the ultimate after-dinner hang out space:
Pick the location of your game room.
Before you even get started, think about where you want to set up this game room. Location, privacy and sound barriers matter.
Basements are obviously a popular choice, usually to keep the mess isolated and the noise down from the rest of the house. An attic, garage or a spare room could all fit the bill, too.
Choose one focal point or commit to multi-purpose.
This could be something like a game table, a home theater screen or home bar.
Pool tables are a classic choice, or shuffleboard tables are one of the most popular (and underrated) additions to a game room. Ping pong tables are also an affordable way to add fun for all ages.
Whether it's for cranking your favorite playlist or hooking up your video game system, you'll probably want to turn the volume up.
Built-in speakers are ideal for many people. If you want a more retro vibe, you could add a juke box or a turntable.
Liven up the space with art or color.
Bring the walls to life with a bright piece of art or your favorite collection of posters. You could paint one wall an accent color, or use chalk paint so your kids can draw all over the walls.
Similarly, an area rug can also completely transform the look of a space. Shop rugs here at the guaranteed lowest price in the USA.
Want to create a comfy, lounge-like feel? Go for a sectional with a chaise lounge. We highly recommend high-performance fabric, in case there are any spills.
Will you use the space for gaming or media watching? This media chair by Flexsteel is the first of its kind, with Bluetooth connectivity and immersive sound.
Bar stools are also a highly practical option, so you can easily move seating around where needed.
If refreshments will be served, decide where you want your kids or your guests to set their drinks.
If you love to host friends, then a home bar could be the perfect investment. A simple pub table with bar stools could do the trick, too.
Make your room pull double duty.
You'll get more use out of the space, if you can use it as a quick family game night but also for hosting a family holiday.
As you plan your room, plan ahead for how else you want to use it, too.
For example: Select game tables come with a conversion top. Turn your air hockey table or pool table into a ping pong table, or convert your pool table into a chic dining table.
Every good game room has a place for a game of cards — whether it's poker night or a casual family game.
If you or your spouse like to host poker night, set up a poker table in the corner. No more cramming in around the coffee or kitchen table.
Or if the adults are competing in a shuffleboard tournament, the kiddos can set up a game of Go Fish or Uno.
Need help bringing your home rec room to life?
Our team is ready to help. Our design team even offers virtual or in-home design consultations at no charge (at participating locations). Contact us now.