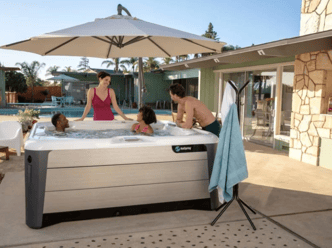 One of the most popular questions we hear from people who are just starting to look into hot tubs: "Is a hot tub really worth it?"
The answer, if you ask any spa owner, is a resounding yes. A hot tub is a magical retreat for the body, mind and soul.
The wellness benefits to both your physical health and mental health are nearly endless.
And the more you make the spa part of your daily routine, the more benefits you experience.
Below are 10 of the biggest benefits to owning a hot tub.
If you're considering a hot tub or spa, our team can help answer any questions. Watson's has one of the nation's largest selections of hot tubs and spas, all at the guaranteed lowest price in the USA.
Contact us now for a custom quote, or browse spas from top brands like Hot Spring, Bullfrog, Fantasy Springs and Catalina Spas.
1. A spa brings family or friends together for social time (bonus: without phones).
People set their phones aside, safe from the water, which helps the spa become a distraction-free zone.
Hot tub goers find themselves feeling more present and relaxing, which leads to meaningful conversations with their partner, family or friends. That's when some of life's best moments happen.
2. Spa owners experience the benefits of hydrotherapy on their muscles and joints.
People will tell you that a spa feels amazing on an achy body, and there's actually a science to it.
Stepping into the water, the buoyancy relieves joint stress by reducing your weight by 90 percent. The jet massagers will sooth away stress and tension, and the heat increases circulation by dilating blood vessels.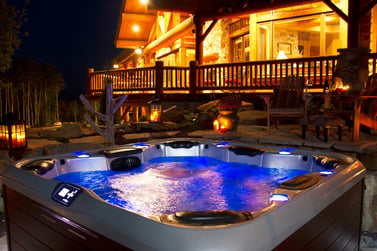 3. A soak in the hot tub can lead to a better night's sleep.
More than 130 million Americans suffer from sleep disorders like insomnia more than one night a week, according to The National Sleep Foundation.
A drop in body temperature can help ease the body into a relaxing and sound sleep.
One of the easiest ways to do that? Soak in a hot tub for at least 15 minutes about 90 minutes before heading to bed.
When you step out of the hot water, the water quickly evaporates on your skin and cools you down. That rapid cooldown signals to your brain that it's time to sleep.
4. Having a spa at home makes wellness a simple, easy part of your daily routine.
Have you been thinking about starting a new healthy routine? Or maybe you're ready to incorporate even more wellness into your daily life? A spa is a simple, doable solution for elevating your health and wellness.
When you step into the hot tub's healing waters, your stress melts away, your muscles relax and you feel more balanced. It's a powerful wellness routine you'll want to keep.
5. A spa is like having your own private outdoor retreat into nature.
Get a little Vitamin D while you pause to appreciate the sunrise or sunset. Gaze at the star-filled night skies. Listen to the sounds of nature.
It's relaxing just thinking about, isn't it? A soak outside will do the body and soul good, as you reconnect with nature's beauty and breathe in the fresh air.
6. A hot tub eases the aches of arthritis, knee pain and other joint pain.
Water supports your weight, which reduces pressure on the joints. The heat from the water encourages blood flow and relaxes stiff joints and muscles for better movement.
One study published in 2018 focused on people living with knee osteoarthritis who had difficulty walking long distances, climbing stairs or rising to stand. After a 4-week hydrotherapy schedule, all participants reported a significant decrease in pain.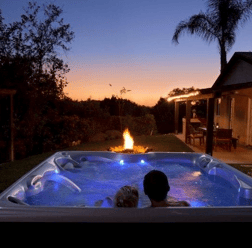 7. A hot tub is a healthy way to ease anxiety and stress.
Just 20 minutes in the spa will give you a break and escape from the stress of every day — no work email, no house chores, no negative news.
Your only job is to relax, breath and destress while the powerful jets go to work on massaging your muscles and easing any stiffness. Many of our customers say they add in breathing techniques or meditation to unwind the mind even more.
You will disconnect, decompress and emerge from your spa feeling relaxed and renewed.
8. A hot tub can help you improve your workout.
Whether you're starting a new exercise routine, a runner in training or a conditioned athlete, a soak in the hot tub can help. Take a soak before or after exercise to help sore muscles and stiff joints.
The heat therapy will help increase blood flow and relax muscles, so you can recover faster and stick to your daily routine.
9. The calm and distraction-free zone of a hot tub encourages clear thinking.
Some people call their hot tub their backyard "think tank" that is a launchpad for productivity.
When you slip in for a soak, it's a calm and distraction-free zone. So you'll find yourself thinking more clearly. It can encourage creativity and problem solving.
10. The spa can be a fun entertainment zone, too.
While we often focus on the healing water, the benefits of hydrotherapy and the relaxation that comes with a hot tub, it can be a fun and entertaining space, too.
Turn on the LED lights. Use wireless Bluetooth to turn up your favorite song. Invite your friends or family (even your teenager will say "yes" to family time when it's slipping into a hot tub).
Questions? Need help?
We believe that a hot tub or spa is one of the best investments you can make in your own personal health and your family time.
Watson's has one of the nation's largest selections of hot tubs and spas, all at the guaranteed lowest price in the USA. Browse spas from top brands like Hot Spring, Bullfrog, Fantasy Springs and Catalina Spas.
Contact us now for a custom quote or for help finding the best spa for your home, your goals and your budget.