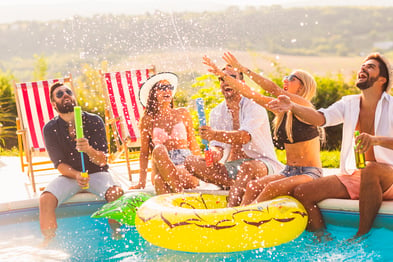 Summer is backyard party season.
Whether you're reuniting with friends and family this summer or hosting an outdoor party just for fun, you want it to be simple but fun for everyone.
And you know we at Watson's have all the fun.
So we have you covered with 12 good backyard party ideas, from cool drink ideas to fun games for kids. (Pool noodle croquet, anyone?)
Shopping for your backyard or an outdoor party? Watson's has the largest selection of outdoor furniture and accessories, all at the guaranteed lowest price in the USA. Shop everything outdoor now.
Use a kiddie pool as your cooler
Sure, you could fill a cooler with ice for your drinks or food. But what about a kiddie pool or wheelbarrow?
For even more fun: Fill water balloons with water and place them in the freezer until frozen. Throw the frozen water balloons in an inflatable kiddie pool. Just set your drinks or food trays on top for a fun touch.
Then the party can wrap up with a water balloon fight, too!
Serve your drinks in fruit
Scoop out the inside of a watermelon, and use the rind as the serving bowl. You could also serve individual drinks in a coconut, pineapple or cantaloupe.
Tip: An ice cream scoop comes in handy for scooping out the fruit, and you could serve the scoops of watermelon on a tray.
Decorate with festive pool floats
Whether you have a pool or not, pool floats are the sign of a good summer party.
You can toss them in the pool to make it more inviting or simply have them in the backyard. They make the perfect photo opp, too! Shop inflatable floats here.
Swap frozen berries in for ice
Instead of ice to add to your drinks, try frozen fruit instead. If you plan ahead, you could freeze any leftover fruit before it goes bad. You can also pick up bags of frozen fruit at the grocery.
Blueberries, cherries, raspberries and strawberries all work well to add a pretty touch and a boost of flavor.
Create a DIY photo booth
Speaking of fun photos: There's a reason that photo booths have become such a common trend at weddings.
Create your own photo booth by hanging a fun background (a bedsheet or even cool wallpaper work well). Grab some party hats, masks or other props from the Dollar Store, Target or Amazon. Guests will entertain themselves for hours.
Tip: Are your guests active on Instagram? Create a unique hash tag, and display it on a sign next to the photo booth. If your guests add the hash tag, you and everyone else can easily find the photos the next day.
Build a DIY s'mores bar
What says "outdoor snack" better than a s'more?
Grab at 4 bowls, vases or large cans. Set your roasting sticks (kebab sticks work, or these stainless steel dual skewers are perfect) in a bowl by the fire pit. Then line up the marshmallows, chocolate and graham crackers.
Not a fan of s'mores? Want something even more creative? Check out our list of 13 other ideas to roast over a fire (or fire pit).
Hang string lights on your tree or deck
Lighting is key to any party and to setting the tone. A simple trick to level up the ambiance at your backyard party: Hang string lights.
You can wrap them around your trees, a gazebo, the deck or a fence, or you could even hang them over the yard or patio. It's simple, quick and affordable. Shop outdoor lighting now.
Turn fruits & veggies into a centerpiece
Chop up fresh fruits or vegetables. Then put them into glass jars, bowls or vases of varying heights. It will be a bright, colorful display that's also convenient for snacking.
Create a fun cocktail & dessert in one
There's nothing like an ice cold drink on a warm day. Grab a sparkling glass of your favorite drink -- champagne, sparkling water, or sparkling cider. Pour over a scoop of your favorite sorbet and serve with a spoon.
Make sure to serve it in a cup that's clear plastic or glass, like this glass tumbler, so everyone can see the colors.
Set up pool noodle croquet
You need pool noodles, a ball and something to secure the pool noodle (a kabob stick or wooden dowel work).
First, create arches out of the pool noodles and stake them into the ground at random intervals. Make the arch big enough that a ball could pass through.
Give each kid their own noodle. See who can get the ball (like a beach ball or soccer ball) through the arches first.
Shop pool noodles here, or check out this unicorn beach ball that could be a hit.
Create a kiddie pool treasure hunt
Here's another idea for an inflatable kiddie pool: A treasure hunt.
Fill it with water. Set your hidden treasure (like a dive toy) at the bottom. Then fill the pool with inflatable balls and toys so they can't see the bottom. Kids can jump in the pool and wade around to search for the hidden treasure.
Tip: Blindfold the kids for an extra challenge.
Play glow-in-the-dark ring toss
You'll need glow sticks and glow stick necklaces, along with a plastic party cup, for this one.
Start by poking a hole in the bottom of your party cup. Place the cup face down on the ground, then stick a glow stick through the hole, Now grab a glow stick necklace and try to toss it onto the glow-in-the-dark stick.
Need to upgrade your outdoor furniture, lights or candles for your outdoor party? How about pool floats or a new Yeti to carry your cool beverage? Watson's has it, all at the guaranteed lowest price in the USA. Shop everything outdoor now.