Planning a family camping trip and want some kid-friendly recipes to roast over the fire (other than s'mores)?

Maybe you want something new to do this weekend around the fire pit in your backyard.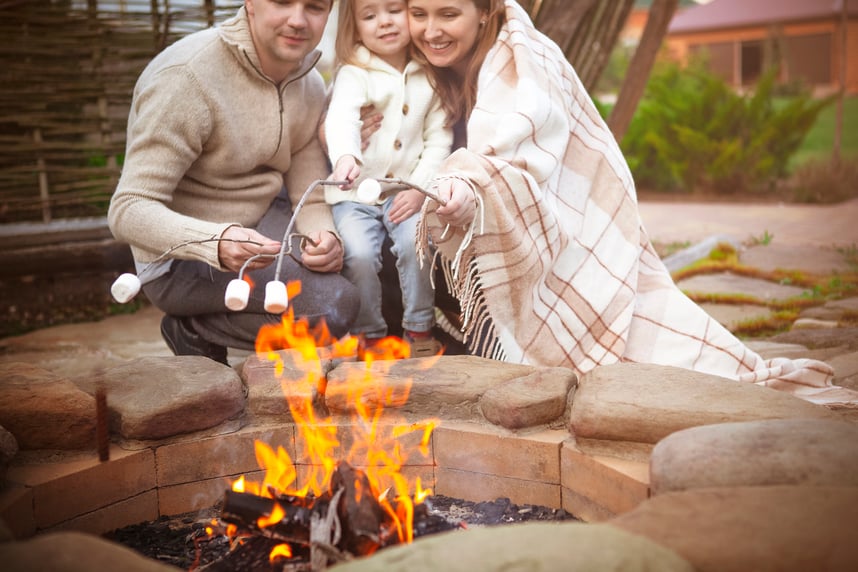 Below are 13 fun recipes to roast over a fire this summer — whether it's around the campfire on a camping trip or over the fire pit in your backyard.
They're fun for kids and adults alike. And if you were a Girl Scout or Boy Scout, it might even have you throwing it back to childhood days of camping with your friends.
At Watson's, we have all the fun. Shop our grill accessories or our outdoor accessories now, all at the guaranteed lowest price in the USA.
This is a great alternative to S'mores and can be less messy for kids!

Start with a sugar cone. Spread peanut butter on the inside of cone, then toss in banana slices, marshmallows and chocolate chips. Wrap the cone in foil, then hold it over the flame, onto a grill or over a fire pit. Leave for at least 5 minutes or until all your ingredients are ooey gooey.
Peel one strip from the banana, then cut a pocket into the banana. Stuff it with your favorite ingredients -- mini marshmallows, chocolate chips, peanut butter and/or nuts. Put the peel back in place, wrap your banana in foil and toss at the base of the flames. Leave for long enough for the chocolate chips to melt, then grab with a pair of tongs.


Turn this classic fall dessert into your new campfire tradition.

Core an apple or chop an apple into quarters. Add butter, cinnamon and sugar for a classic choice. (For fun, you could try peanut butter, raisins or crushed walnuts). Wrap it in a foil, and throw it in the fire. Leave enough for your ingredients to melt.
Oil a a cast iron pan or pizza stone. Take refrigerated (or frozen) pizza dough and spread it onto the pan. Bake the dough (no toppings) over the fire until the bottom has browned. Remove from the fire, flip the crust to the other side and place your toppings. Then return to heat and cook until the crust is done.
Scoop out the inside of an orange, protecting the peel. Add oil, eggs and brownie mix into a bag until mixed. Fill each orange about ⅔ of the way full with the brownie batter. Wrap in foil. Cook over the fire (or place cut side up) for 20 to 25 minutes, or until the batter is set.
If you have a cast iron skillet, you can also just make up the brownie mix in the skillet for an alternative to Campfire Brownies.
Take 2 to 3 chocolate bars and break them into pieces. Place them into a sauce pan and hold over fire for about 5 minutes. (Add 1 Tablespoon of water at a time, if necessary). Enjoy with your choice of dippers — graham crackers, marshmallows, fresh berries or pineapples.
You could do the same thing with cheese fondu.
Peel the husks back on your ears of corn, just enough that you can clean the silk off the corn. Replace the husks and grill the corn. Rotate it over your campfire for about 10 to 15 minutes. Remove, discard the husk and slather with mayo, lime juice, chili powder and salt.
This is a very simple but fun twist on hot dogs.
Stick a skewer through each hotdog lengthwise. Slice the top halfway down. Lay your hot dog over the fire (or on a grill). The sliced ends will cook and curl back.


Roasted veggie kabob (with or without meat)
This is a sneaky way to get your kids to enjoy more vegetables. Chop your veggies of choice and coat with a little olive oil. Bell peppers, cherry tomatoes, onion and zucchini all go well with a smoky flavor.

Then place on a skewer (or stick). Hold the veggies by the fire, rotating until they're ready. Add a little butter or salt and pepper.


Roasted fruit
You can also roast plenty of fruits -- like apples, banana, peaches or pineapples. Just stick it on a skewer and warm it up. Brush the fruit with some melted butter or drizzle with a little honey.
One final recipe: The perfect late-night snack after the kids go to bed.
Unwrap a wheel of soft-ripened cheese, like a brie. Poke holes with a fork, then drizzle about 1 Tablespoon of your preferred liquor (like brandy). Wrap foil, and place it at the edge of the fire. Leave it there about 10 minutes, until cheese melts.
If you plan to roast over the open flames, here are a few things that might come in handy (and keep your family's hands safe from the heat):
Roast over the open fire right in your own backyard this summer. Shop fire pits now from the top brands at the guaranteed lowest price in the USA.