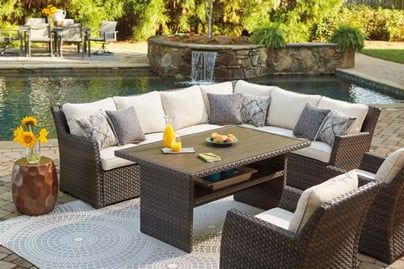 Home décor is an investment, and your outdoor furniture is no exception. With so many options, where do you even begin?
Here is a quick start guide to how to approach the furniture shopping experience:
Watson's is also proud to offer free design consultations. Our designers can help you plan your outdoor space to fit your personal style, lifestyle and budget. Request a consultation now.
Step 1: Consider how the furniture will be used.
This will help you narrow down to outdoor dining sets, outdoor furniture sets or both.
Do you like to host large events like neighborhood block parties? If so, multiple seating options sprinkled throughout your outdoor space provide smaller, more intimate seating to keep the conversations going.
Are family BBQs more your style? Make sure to include an outdoor dining or bistro set, or create smaller dining spaces with chairs and end tables.
Step 2: Choose your style.
Your outdoor furnishings reflect your home's style, so look for furniture and accessories that complement its current design.
For example, if your interior style is modern, look for outdoor pieces with clean lines to create a cohesive look and feel.
Step 3: Finally, decide your budget.
If you're ready and willing to invest, plan now for coordinating dining and seating sets that make your outdoor space as functional (and stylish) as possible.
A higher-end brand costs more in the short-term, but it may last longer and be worth the investment in the long run.
If you're on a budget, rest easy that new pieces can always be added over time. Plus, it affords you the chance to curate the space based on changing needs.
Watson's has one of the largest selections in the USA for outdoor furniture, all at the guaranteed lowest price in the USA. Begin browsing now.
Ready to bring your dream outdoor space to life? Book a free design consultation in your own home, via video consultation or in your local showroom.