Fire pits are hotter than ever as a simple way to add style, ambiance and a little bit of heat to your out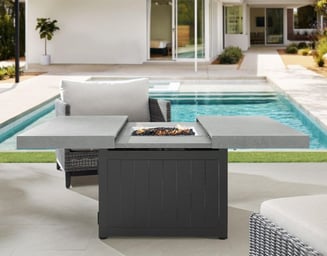 door space.
They're the perfect way to extend your summer, continuing to enjoy the outdoors even as the weather starts to cool off.
Choosing the best fire pit for your home and lifestyle can mean considering everything from your budget to your personal taste to how you will use your outdoor space.
Shop fire pits here at Watson's, one of the nation's largest selections.
Here are 5 things to help you find the right fire pit for you:
CONSIDERATION 1: How will you use the space?
The vast majority of fire pits are chat height, creating a warm and conversational addition to your outdoor space.
Fire pits can be built into a cocktail table or a free-standing fire pit, surrounded by comfy chairs or a loveseat. Itt can also be built right into a high-top dining table.
Whatever you choose, you can usually add a lid to protect the burner and create additional eating surface when the fire pit is not in use.
CONSIDERATION 2: Consider the durability of the materials.
Like most outdoor furnishings, you'll find fire pits available in a variety of materials and constructions.
Quality and durability should be top considerations, to make sure your investment lasts.
Whatever the locale or season, aluminum ranks high and is able to withstand changing weather. Maintenance also is easy with cast aluminum.
CONSIDERATION 3: Decide your personal style.
Your outdoor space is an extension of your home and your personal taste.
Fire pits sold today are available in a variety of sizes, shapes, colors and design aesthetics.
If you like the look of a contemporary fire pit, you may like to start with something like the Nevis by Plank & Hide.
If you prefer a traditional look, consider the Sydney by Agio.
CONSIDERATION 4: Consider the heat you want.
With an outdoor gas fire pit, you have two options for fuel: natural gas or liquid propane.
While most free-standing propane fire pits have a heat output of 40,000 BTU, there are differences in the burners that need to be explored.
A quality fire pit will offer 50,000 to 60,000 BTUs. The greater the BTUs, the greater the heat that is generated, the area heated as well as the efficiency in windy situations.
CONSIDERATION 5: Speaking of fire, make sure you consider the safety of your space.
Different ignition systems are available. Push button ignition systems are sometimes problematic. Match lit systems like used by Castelle are less problematic.
Glass wind guards also can add elegance and effective protection from fire shifts.
Want help picking the right fire pit for your personal taste, lifestyle and budget?
Watson's offers free consultations via video, private appointment in store or in your own home. Request a free consultation now.