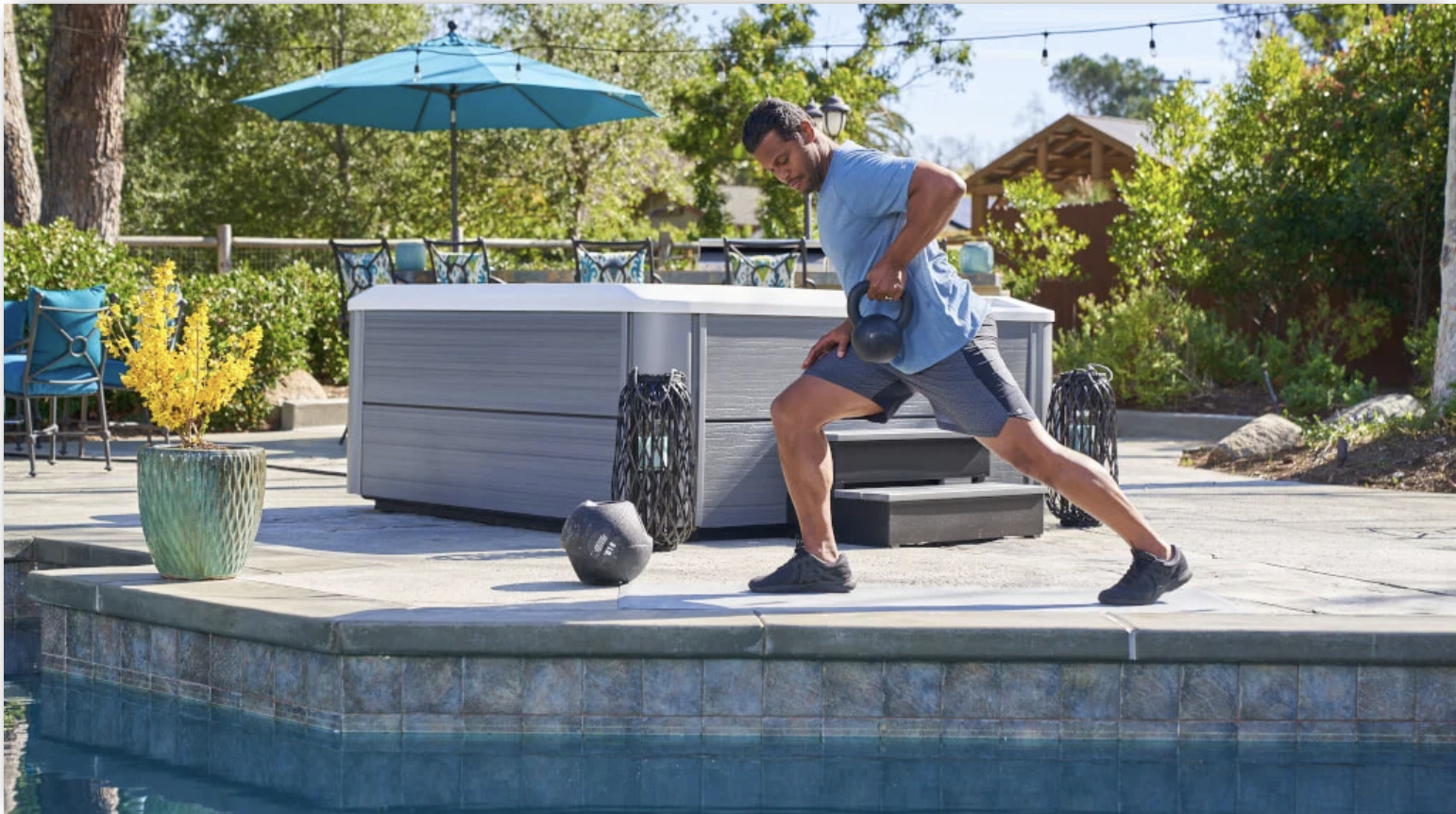 Whether you're sore from a hard workout or a long day in the garden, a soak in a hot tub could be just what you need.
Before we dive into how a hot tub helps relieve pain, it's helpful to understand why you're sore.
New exercise or an intense workout can lead to microscopic tears in your muscle fiber, which is what will eventually lead to bigger, stronger muscles. So that muscle soreness you feel is normal.
Your hot tub or spa can be the perfect remedy. It's for far more than just stress relief and relaxation.
Thanks to both the heat of the water and the jet massages, a spa can also offer pain relief and even speed up the muscle healing and recovery process. That's why water immersion is increasingly used by elite athletes to accelerate recovery and minimize fatigue.
Below, learn more about the science behind why a hot tub can be your best pain relief for sore muscles.
Considering a hot tub or spa? Watson's has one of the largest spa selections in the nation, all at the guaranteed lowest price in the USA. Browse spas now, or ask for a custom quote.
6 ways a hot tub helps with sore muscles
Here are a few science-backed ways that a soak in hot water helps with sore muscles:
Submerging in water takes the pressure off your joints and muscles.

This relief from the pressure of gravity gives your body a welcome respite from pain.
A hot water soak will relax blood vessels and improve blood flow. Blood carries oxygen, protein and other nutrients to repair the muscles. (Bonus: Better circulation can also lower blood pressure.)
Hydrotherapy helps to regenerate cells.

One

study on the effects of hydrotherapy also found increased blood levels of somatotropin

(STH), a growth hormone that prompts cellular regeneration, after a whole-body hot soak.
The same study also linked a decrease in cortisol levels to heat.

Cortisol is the

body's main stress hormone.
A soak in the hot tub improves sleep.

Multiple studies have shown that a soak in a hot tub helps you fall asleep faster, by promoting relaxation in the tub and then a rapid drop in body temperature as you step out. Sleep is a critical component to muscle recovery.
Massage after delayed-onset muscle soreness can help eliminate muscle fatigue.

It can also help have a positive effect on pain and gait performance after leg exercises. So, if you're considering a hot tub, look for rotating hydromassage jets to dial in on specific muscle groups.
Bonus tip: Soak in the hot tub before a workout
Before you exercise, try taking a 10 to 20 minute soak in the hot tub. This helps get the blood flowing and loosens up your muscles. Loosening those tight muscles will help reduce the risk of injury.
Have questions about a new hot tub or spa? Our team of experts is happy to answer your questions and help you find the right spa for your health goals, your home and your budget.