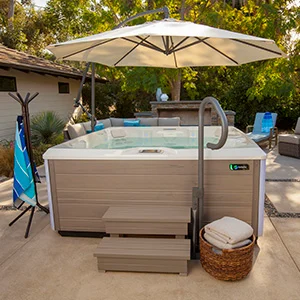 Your hot tub is a relaxing oasis that offers peace, quiet, and a sanctuary away from a world that is all too hectic. While the hot tub is great on its own, you can elevate your pool and spa experience with the help of hot tub accessories.
Below are 7 of our favorite spa accessories, broken down by type.
Essential Hot Tub Accessories
There are two hot tub accessories that are a must-have for any hot tub setup.
Storage Steps
Getting in and out of the hot tub can be difficult for people with mobility impairment, and some hot tub designs and surrounds are harder to work with than others.
You don't have to worry about whether you and your friends or family can easily get into the tub after adding storage steps. In addition to making it easy to use your hot tub, you also end up with a place to put all your other hot tub supplies and accessories. These spa steps are perfect.
Towel Rack
Forget about draping your towels over the nearest chair when you head out to your spa area. A towel rack gives you a handy space to set up your towels and keep them close at hand when you get out of the hot tub. Forget about running to the bathroom and dripping water all over the house to get a towel. The hot tub accessories towel rack is a dream come true.
Hot Tub Safety Accessories
These types of spa accessories make it safer to use your hot tub. Just see for yourself!
Cover Lifter/ Mount
Some hot tub covers can be incredibly difficult to use. They might be too heavy to take off with one person, which means that you'd have to enlist help when you want to get in and relax. Sometimes you just want to enjoy some alone time, and a cover lifter and mount makes this possible.
With a cover lifter, you can quickly and easily cover (and uncover) your hot tub or spa cover without a struggle.
Optional Luxurious Accessories
These luxurious hot tub accessories transform your hot tub experience into a truly spa-worthy time.
Towel Warmer
When you're using a hot tub in the middle of winter, the shock of cold air is only made worse by a freezing towel. It's time to bring in a hot tub towel warmer. This outdoor towel warmer keeps your towels at the perfect temperature, making it the perfect companion for a luxury experience.
You can send us a message to learn about the best options for your hot tub experience.
Attachable Spa Caddy
Putting your drinks and snacks on the edge of the hot tub is a precarious prospect. You don't want to watch everything tumbling off the edge, so you need an attachable spa caddy that gives you a handy table that fits exactly where you need it. It's easy to attach and detach, so you can move it around as needed. It's the best!
Side Attached Spa Umbrella
Sometimes you end up with a hot tub that has limited shade, or you like to get in when it's raining. The side attached spa umbrella protects you from the sun and the rain so you can enjoy your hot tub at all times. Don't worry about forgetting something inside when it's all readily available to you.
Health-Targeted Hot Tub Accessories
These hot tub accessories help you maintain your hot tub and keep it healthy and free of any harmful substances.
Spa All-Purpose Cleaner
Without proper maintenance, the warm environment of hot tub water can be the perfect temperature to foster bacteria growth. It's critical for the health and safety of your water to stay on top of cleaning and disinfecting the hot tub, and this all-purpose cleaner is designed specifically for spas. It's easy to use and it allows you to maintain the hygiene of your hot tub.
Additional Hot Tub Tools
There are a range of additional hot tub accessories that make your experience better, safer, and more relaxing. You'll want to make sure that you have the right mix of chemicals and testing strips to monitor the hot tub water's condition at all times. In addition to keeping the water clean and ready to use, you can also incorporate aromatherapy into the pool. There's nothing quite like sinking into a lavender-scented hot tub and being able to feel all of your stress washing away.
Frequently Asked Questions:
How do you use a spa towel warmer?
The typical spa towel warmer is set up at a location that's close to the hot tub and is connected to an electrical outlet. The rods of the towel warmer heat up and bring the towel up to the perfect temperature to be a comforting hug when you get out of the tub.
How can I heat my hot tub faster?
Waiting for a hot tub to heat up can be torture, especially if you've had a long day and you just want to get into the water. There are a few ways that you can help the water heat up faster. One of the most important things you can do is to leave the cover on while the water comes up to temperature. If the hot tub water is exposed to air, then you're going to lose a significant amount of heat into the surrounding air. This is particularly true if the ambient temperature is significantly colder than the hot tub.
One thing to keep in mind if you are in an area that gets snow during the winter. Make sure that the hot tub cover is completely cleared off before you turn on the hot tub. If you don't, then you'll end up losing some heat to the snow. The snow will melt and the cold water can get into the hot tub.
Another way to bring up the water temperature faster is to turn on the jets. When you do that, you are circulating the warm water around the tub, which helps to encourage the cold water to follow suit.
How long will a hot tub stay warm without power?
It depends. Your hot tub will lose its warmth slowly following a power outage if the ambient temperatures are warm, but it can quickly get cold if you're in a cooler area. Keeping the cover on will help retain the warmth and slow down this process, but within a few hours you'll end up with water that is a similar temperature to the surrounding temps.