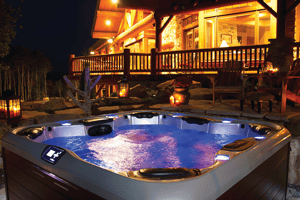 Investing in a spa for your home is the perfect way to add hours of enjoyment and relaxation to your day. Spas (commonly known as hot tubs) come in a variety of styles and features.
Watson's carries one of the largest selections in the nation, including the top spa brands -- Bullfrog, Catalina, Fantasy, Hot Spring, Hudson Bay, Signature, and Viking, all at the guranteed lowest price in the USA.
You can narrow down your choices if you prefer a specific brand or a number of seats. You can also choose from any budget, from affordable spas to luxury spas.
Our consultants are always available to help you choose the spa that's right for your family, lifestyle and budget. Contact us to request a personal consultation.
How to choose the best hot tub starts with the number of people you will want to seat on a regular basis.
Watson's offer seating from 1-10 people. Consider whether those using it prefer to sit upright or stretch out. If you are looking for a space-saver or only need a hot tub for 1-2 people the top-rated Viking model offers LED lighting and your choice of 9 or 12 jets.
A three-person hot tub offers many choices in regards to colors and up to 9 different jet selections. Top rated in this category are Newport, Aurora P+ and the Hot Spot Collection.
When looking for a larger hot tub up 4 people and up your choices keep expanding. Make the party sizzle with a hot tub designed to hold your family and guests. With six best rated brands to choose from you can shop the collections to decide what features you like best.
When choosing a hot tub one of the best known features is the jet system. For the best experience most people prefer plenty of jets. When deciding how many jets you want in your hot tub take notice of where the jets are located and if they can be angled. Making sure you can ease aching muscles with powerful jets is important.
Request a free, private consultation to decide what brand, size and price range is right for you.