Okay, we know it's not quite winter yet, but it's getting colder and activities are moving indoors.
Family movie nights are a great way to stay connected and we've pulled together the ultimate winter movie list for the family or for date night.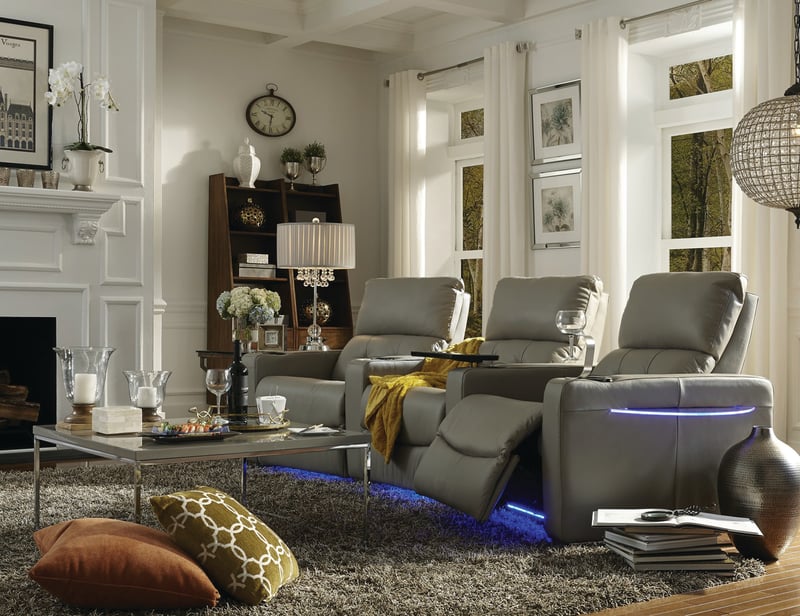 But before you hit the play button, make sure your movie experience is perfect and comfortable with the best seats in the house! Watson's carries everything from loveseats and theatre style seats to cozy sectionals to ensure the most comfort for your movie-going nights.
5 FAMILY FRIENDLY WINTER MOVIES
Make the most of family time with a movie night with these classic wintertime favorites.
Elf (2003)
Buddy (played by Will Ferrell) is a human raised as an elf who travels from the North Pole to New York City to meet his biological father, who is in need of some holiday cheer and Christmas spirit. From candy breakfast concoctions to next-level snowball fights, this family-focused movie is a win-win for everyone!
Happy Feet (2006)
A sweet story about a young penguin who finds a different way to stand out when he can't sing a heart song. While Mumble can't sing, he can sure tap dance, eventually leading him to find his soul mate.
Abomindable (2019)
A teenage girl finds a surprise on her apartment building roof . . . a yeti! Her and her friends take off on a journey to help the magical creature reunite with his family while dodging villains trying to capture the beast.
The Chronicles of Narnia: The Lion, The Witch and The Wardrobe (2005)
This classic children's novel turned movie follows four siblings as they are transported through a magical wardrobe to a world called Narnia. From fantastical characters including witches, lions, and fauns, this movie brings fantasy and fun together for a magical evening.
Ice Age (2002)
This animated favorite (and the sequels) are always a family hit. Set in the prehistoric era, an unlikely group of animals (mammoth, sabertooth, and sloth) migrate south with some adventures and surprises along the way.
Family Favorite Runner-Ups: Home Alone, The Polar Express, and Cool Runnings
5 DATE NIGHT WINTER MOVIES
Cozy up by a warm fire with your significant other and watch these cinema classics!
The Cutting Edge (1992)
A snobby figure skater is paired up with an arrogant former hockey player in an unlikely pairing in an effort to win Olympic gold. Reluctance eventually leads to romance on and off the ice for this athletic pair.
Love Actually (2003)
Follow along with nine different, yet intertwined stories that all have one underlying theme: how love connects us all. This Christmas-themed romantic comedy is sure to touch the hearts of all viewers.
While You Were Sleeping (1995)
A lonely transit worker rescues a longtime crush from a deadly accident that leaves him in a coma. A misinterpreted comment cause's the family to believe she is his fiancé, which she doesn't deny. To make this love story even more complicated, she finds herself falling for his brother as she gets to know the family.
The Holiday (2006)
Two women, unlucky in love and tired of their current life circumstances decide to swap places halfway across the world. One heads to England while the other finds herself in California. As they acclimate to their new surroundings, both end up finding local love.
Serendipity (2001)
One night in their 20's, Jonathan and Sara meet on a magical night. While he thinks its love at first sight, Sara isn't as convinced and believes more in destiny. After miles and years apart, it's up to fate to see if they will be together again.
Date Night Runner-Ups: Bridget Jones' Diary, White Christmas, and When Harry Met Sally
For all your comfort movie time seating needs, contact an expert at Watson's today!