As we head into the cold, winter months, it's time to turn up the heat and enjoy the warmth of a cozy fireplace.
Fireplaces offer warmth, a welcoming ambiance, and visual intrigue to any room. And regardless of the size or style of your room, Watson's has a fireplace that can add all of these benefits.
Whether you have an existing fireplace and looking to update or are in the process of putting one in, check out these cozy fireplace designs we've compiled.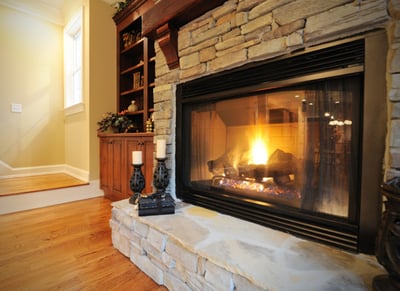 Room with a View
The best part of a fireplace is the warm glow and ambiance it gives to a room. When designing your fireplace, make sure it will receive a full view for family and guests. Make it a focal point, Arrange your furniture around or facing your fireplace so everyone can enjoy the view and receive the benefits - both visually and physically.
Fireplace Facelift
The best part about fireplaces is that you can easily update the facade, mantel, and elements around the fireplace to create more warmth or to change up decor styles. So if you're feeling like your current fireplace is a little out of the times, consider an upgrade with paint, stone, shiplap, brick, tile, or other preferences based on the style you're going for.
Paint is the most inexpensive and quickest way to update your facade and going monochromatic will bring your fireplace into modern times. Consider updating or adding a mantel for more visual interest and decor display.
Play with Textures
Play around with textures to add more depth to your cozy fireplace. For a more natural look, consider wood and stone combinations. For a more classic look, consider metal and tile. Look for complementary elements in different styles and textures to pair together.
Think Outside the Box
When designing a cozy spot, it doesn't always have to be a fireplace (or even in a traditional setting). A stove is a great way to heat up a room and pairs well with rustic decor. These are also great for when you're really looking for heat but don't have the space for a full fireplace.
Another out-of-the-box idea is a built-in-fireplace to your media center. This is great for those rooms where you may not be able to put in a traditional fireplace or the rooms that need some extra warmth, such as your rec room and basements.
Accessories
Often times the elements that really make a fireplace cozy are the elements surrounding it. From a fireplace screen to baskets and storage for wood if you have a wood-burning fireplace, these small yet impactful elements can help tie your whole decor together.
Other accessories and decor to consider include plants, vases, fireplace tools, artwork above, a mantel, lighting, even floor cushions to bring out when it's on to sit in front of the fireplace!
Before You Design
If you're replacing or adding a fireplace or stove, the most important first step in that design process is determining what type of fuel you want.
At Watson's, we carry all fuel types, which include natural gas, propane, wood-burning, and electric. Each has its own benefits based on your needs.
Natural Gas and Propane: If you love the warmth and ambiance of a fireplace without all the hassle of wood, then these are the fuel options for you. Natural gas fireplaces and propane fireplaces are easy to install, maintain, and use. They provide both aesthetics and convenience and can fit in with any decor.
Wood: If you prefer a more natural look and the smell and sound of the crackling wood, then wood-burning is the option for you. While there is more maintenance with wood-burning, they do provide a lot of heat. At Watson's, we offer wood-burning stoves that are both stylish and efficient.
Electric: Perfect for small spaces and apartments where you aren't able to put in a full fireplace, electric fireplaces are easy, efficient, and quick to use. They are perfect for rec rooms, basements, even offices to create a cozy and inviting space.
Make sure to stop in or call Watson's today to pick out the best fireplace or stove to create a comfortable, cozy winter retreat in your home. Our team of experts are ready to answer your questions to find the best fireplace for your budget and decor.
Note: Check with your local store to see if they sell fireplaces and stoves in your area.