A spa is the ultimate way to relax in the comfort of your own home. Sure, kicking your feet up in your recliner is a great way to unwind after a long day. And taking a dip in the pool can be as invigorating as it is soothing. But what if you could have the best of both worlds?
When it comes to relaxing at home while enjoying real health benefits, nothing beats a spa of your very own. Regular spa soaking has been proven to relieve chronic pain and lower blood pressure. Not to mention, people who use spas regularly tend to sleep more restfully.
A spa can transform your property into a personal oasis. It's perfect for everyday use or for impressing friends on special occasions. If you've been thinking about installing a spa or hot tub in your home, here's what you need to know to create the perfect spa space.
Before You Start
Getting your own spa is incredibly exciting, but there are some considerations that need to be taken into account before you commit to a purchase.
First, you should check with your Homeowners Association or local government to see if there are any building restrictions in your area. You may be required to build a fence around your spa or even obtain a building permit before construction begins.
Next, you'll need to decide if you want to install your spa indoors or outdoors. Usually, installing a hot tub or spa on a deck or backyard is easier than building one inside your home. However, an indoor spa provides more privacy than an outdoor spa.
Be sure to find a flat, level area to install the spa with close access to a power supply. You'll also need to find an area with connections to running water and enough space to allow for easy cleaning and maintenance.
And don't forget about the size and purpose of your spa.
Are you going to be the only one using your spa? Are you going to be sharing it with close friends and family? Or do you plan on entertaining lots of guests with your spa?
The size of the spa can make a big difference in the way your space feels. If you're intent on installing a large 6+ seat hot tub, be sure that there's enough room for you and your guests to enjoy a good soak without disrupting the flow of your deck or backyard.
Once you've made sure that you have a suitable area to install your spa, you can start thinking about ways to customize the space to your liking.

Create a Path
A backyard spa can make an average suburban home feel like a five-star resort. But tracking dirt and grass back into the house after a dip can feel less than luxurious.
If you plan on putting a spa in your yard, try to create a simple garden path to make the walk more accessible. You can use smooth stepping stones surrounded by crushed gravel to create an easy route to and from the spa. You can even outfit your garden path with lighting and small shrubs to make the walk extra special.
Deck It Out
You'll be spending hours enjoying your spa. But don't forget to add some furniture to complete the space. If you're planning on adding a hot tub to your deck, try choosing some outdoor patio furniture that will resist moisture and humidity. You and your guests can quickly switch from spa time to mealtime without leaving the deck. Or you can just sit back and dry off in the comfort of your own Adirondack chair.
Make It a Focal Point
Whether indoors or outdoors, every space needs something to draw your gaze and encourage people to gather. If your backyard or deck is missing a centerpiece, a spa could be the perfect solution. You can surround your spa with some potted plants or frame it with architectural lighting to really make it stand out as the focal point of the area.
Design for Longevity
Be sure to design your spa area for longevity. Maybe you're the host with the most right now and love to incorporate music and cocktails with your hot tub nights. But all that entertainment equipment might outlive its usefulness as the years go on. Try and stay classic and simple rather than diving into the latest design trends. Accent pieces and furniture can be removed as needed but an outdoor cocktail bar, miniature deck, or other structural additions are harder to get rid of.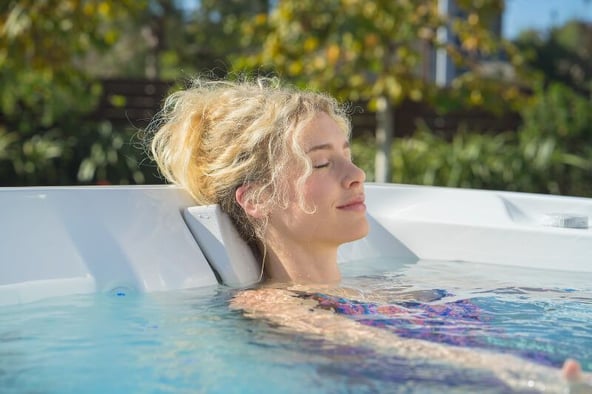 Add Extra Privacy
An outdoor spa doesn't always afford the privacy of an indoor unit. But the good news is that with a little extra elbow grease, you can enjoy the peace and seclusion of an indoor spa in the convenience of your backyard or deck.
A spa privacy screen is a great way to stay discrete while adding definition to the area. You can use traditional wooden fencing, opt for a vine-wrapped trellis, or try modern slatted screens. You can also choose to cover just one side of the spa to block those nosy neighbors or completely surround the spa for total privacy.
Another choice is a covered hot tub deck. Adding a roof structure over your spa not only protects the unit from the elements but also provides the opportunity to add some privacy fencing. Privacy fencing also gives you the ability to incorporate hook hangers, shelves, and other storage functionality to help optimize your spa space.
At Watson's, we've proudly served our customers as one of the nation's leading spa retailers for over 50 years. You'll find all the top brands in stock with the support of Watson's experts to help online, on the phone, or in person. Not to mention, you'll save thousands with our low prices and special financing opportunities.
From inventory to expertise, you'll get everything you need for your own personal spa when you choose Watson's.