For many, this past year and a half has meant more time working from home. Whether you've had to quickly create a makeshift home office or already have a designated office space, you're probably ready for an update!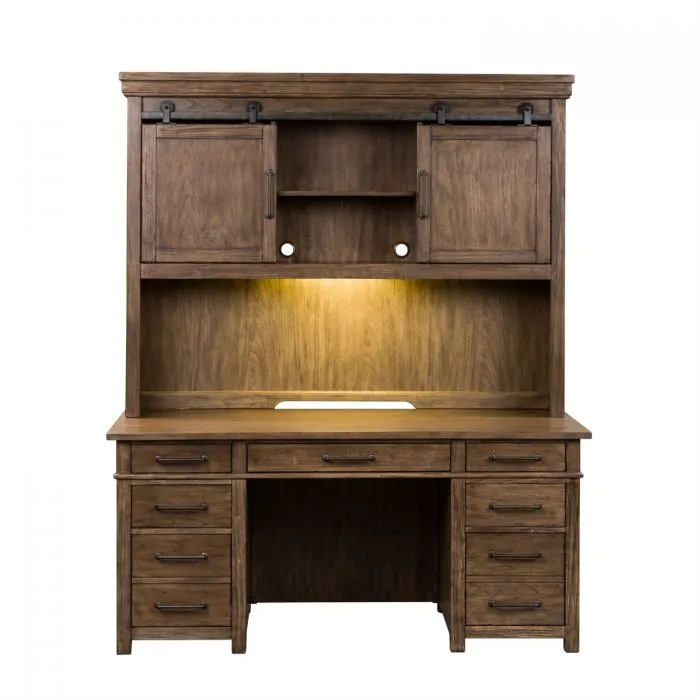 Regardless of where your home office resides in your home or how much you're looking to update it, we've put together a list of design tips to spruce up your space.
Versatility
For those who may not have the space available for a full home office or want something that can serve multiple uses, a credenza and hutch combination is a great option. Use the credenza for your desk and the hutch for either office storage or for your china or other decor.
Are you without a dedicated space for a home office? Dining tables have become a popular place to create a mobile home office. A writing desk may also be a great, versatile option. They easily fit into most rooms, allow for less clutter, and can easily be used for multiple purposes (including a kids homework desk)!
Productivity
Staying organized will increase productivity. It's important to keep your essentials within reach.
Update your desk accessories for a quick, fresh look and easy accessibility. You can purchase full sets or consider up cycling items like mason jars to store your pens, pencils, scissors, and other office essentials.
If you don't have one already, consider adding a whiteboard, chalkboard, or bulletin board to keep to-dos and tasks easily visible to increase productivity.
Design Tip: Consider your workflow when arranging items on your desk. Not only do you want to make sure essentials or often-used items are close in reach, but create a visual system for tasks and completion for easy workflow and less clutter.
Storage
It seems you can never have too much storage for any office, especially a home office. A bookcase or closed file cabinet is a great addition to a home office that can also serve as extra storage for other household or communal items, such as school supplies.
Bookcases or cabinets are great for housing printers, files, folders, and in a more aesthetic way. If you have some necessary items that are unsightly, consider a closed file cabinet to add to your home office.
Need to fill some space on your bookcase? Add some greenery which will be sure to brighten up your space.
Design Tip: Office accessories are much more decorative now than in the past. Use your office accessories, such as file holders, paper trays, and boxes as decorative pieces as well. Just make sure these items are also useful to you.
Seating
The right seating is probably the most important element of your home office design. After all, you're likely sitting at your desk for hours at a time. So for the sake of your back, neck, and overall comfort, you'll want a seat that fully supports you without having to sacrifice on decor.
There's a few things to consider when selecting the perfect home office chair:
Do you want arm rests?
What type of material do you prefer?
Do you want it to swivel or roll?
Watson's offers desk chairs that can fit all your preferences while still giving you style and comfort.
Design Tip: If you have a larger space or a designated room in your home for your office, you may also want to consider additional seating. Loveseats and larger chairs add the perfect combination of additional seating and comfort.
Lighting
Depending on your preference and any natural light available, lighting can have a big impact on your productivity. If you don't have a lot of natural light available, consider a stylish desk lamp so you can clearly see and be seen on all those video calls! This will also help reduce any eye strain.
If you have a separate home office room, have fun and use a hanging light fixture to add some dimension to the room.
Add Color
A drab office space can be pretty uninspiring. Your home office should complement the rest of your home, not feel like you moved a cubicle into your house. Did you know certain colors are known to affect our moods? Whether you're wanting a more tranquil and relaxing office space or want something to fuel your creativity, colors can add more than just, well, color to your space. And because it's your home, there's no restrictions on what you can/can't have in your office!
Consider the following items to add pops of color to your space:
Artwork
Desk accessories (pen holders, paper trays, file holders, etc.)
Upholstered furniture
Wallpaper
Throw pillows for larger seating
Fresh or fake flowers
Picture frames
Rugs
Select a couple of the above to add to your space to increase your productivity and inspiration.
Your home office space should be a combination of both function and comfort, just like every other room. If it's time to update your home office and bring more personality, comfort, functionality, or warmth into it, contact Watson's and talk with one of our design experts today!