The best part of a home office is getting to make it your own. There's no limitations with what can be hung on the wall or the color of your walls or the style of your decor.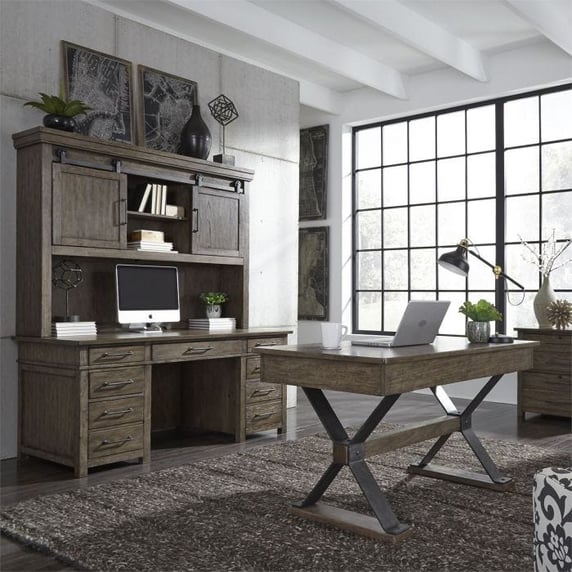 A home office should not only be representative of you and your home, but should also complement your work style and work needs.
Most of all, a home office should be a place that allows you to work effectively and in comfort.
If you're ready to update your home office, or possibly create a space for a home office, check out these five fun home office designs and tips to inspire you!
#1: Attractive Accents
Accents are a great way to, well, accent specific areas of the room. From a bold-colored painted or wallpapered wall to a photo gallery or using bright furniture, there's plenty of ways to add accents that can also be easily changed out.
Here's a few ways you can add an accent to your home office:
A photo gallery
Bright colored desk
Bright colored chairs or seating
Accent pillows
An ottoman
A plant wall or greenery
A large bookshelf
A fun light fixture
A fun, patterned or bright area rug
A coffee table
Open shelving
Adding accents allows variety without overpowering the room. Multiple small accents such as pillows and artwork can be used or you can choose to go with a fun colored chair or loveseat to draw the eye and brighten your workspace.
#2: Mix and Match
A fun option to add more fun to your home office space is mixing and matching furniture styles.
From farmhouse and modern to traditional and contemporary, many people tend to avoid mixing styles, but many of these different styles can complement each other.
A great combination is considering a wing chair for your office chair with a more modern writing table.
Don't be afraid to mix and match styles and types of decor. Just make sure that you don't overdo it. If you have a desk and two sitting chairs, keep the sitting chairs the same.
If you don't have the space for a dedicated home office, consider a dining table that can function as a desk, dining table, craft table, game table, and more.
#3: Add Texture
There's a lot of ways to add texture to your home office, whether it's from the material of your furniture to your decor.
For a more natural look, consider adding a wood desk, shelving, or bookcase. Leather is a traditional material that works well with any decor. It also complements well with wood. Add some plants (real or fake) and complete a welcoming home office.
An area rug is another way to add texture to your room. A longer shag rug can bring warmth or a patterned runner or area rug can bring together furniture for a more cohesive look.
An often missed opportunity for bringing more texture into your home office is through curtains. Between colors, transparency, and patterns, curtains can complement any room and add that little extra.
#4: Pick a Fun Motif
Designing around a specific motif is another way to upgrade your home office and take you away from the humdrum of work.
Popular motifs include farmhouse, natural, eclectic, and contemporary.
But a motif can really be anything. Maybe you have a specific pattern you really love like stripes, floral, or fleur de lis that you design your room around, emphasizing these patterns in different ways.
Maybe there's a specific color palette (or monotone palette) you want to focus on, bringing that color through in multiple pieces.
Some motifs may even focus on the amount of items you display and use in your office. While some individuals work better in a minimalist atmosphere, others may enjoy a busier feel with lots of visuals to inspire creativity.
#5: Think Outside the Box
A home office can be very versatile, especially depending on the amount of space you have. Instead of your traditional sitting chairs, consider a loveseat. Not only does this cozy up the room, but also gives you a more comfortable place to rest, brainstorm, or read.
Bookshelves are a great multifunctional piece of furniture. Use decorative storage containers for files and home office necessities and fill the rest of your bookshelf with other decor to complement the room. Hide your printer in a cabinet to keep the room clutter free.
Not enough room for additional chairs or loveseats? An ottoman or bench is a great piece to add for use as a seat, a table, and even storage. A file cabinet is a great alternative to end tables, combining multiple office needs in one piece of furniture.
Whether you're looking to make small changes or start from scratch and redesign your whole home office, Watson's has the functional, fun, and affordable home office furniture to complement any style or motif you're going for.
Contact or stop in to Watson's today and speak with one of our design experts to select the best home office furniture for comfort and productivity.