The holiday season has begun and with Thanksgiving, Christmas, and New Year fast approaching, we figured it's the perfect time to share some fun holiday dining and place setting ideas to spice up your table and holiday traditions.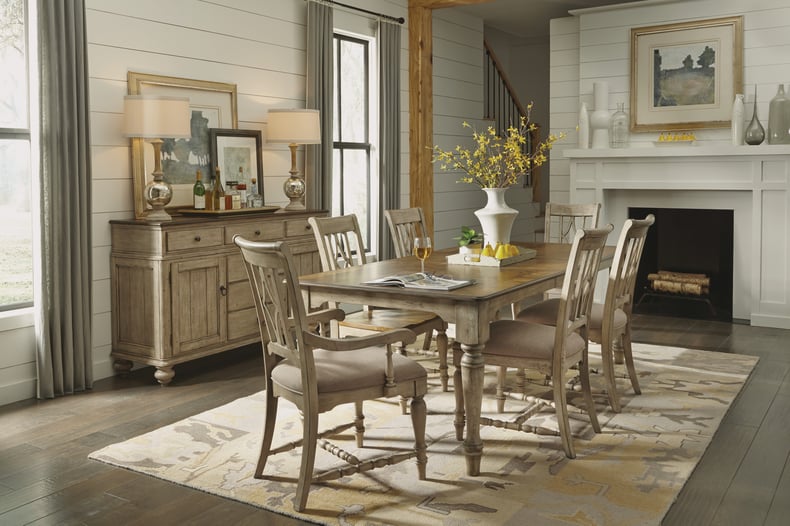 Traditional
Nothing beats a classic, so if you're nostalgic or enjoy more holiday themes, a traditional dining setting is for you!
Many traditional styles stick to the theme of the holiday. Red, green, and gold for Christmas, gold and silver for New Years, and fall foliage colors for Thanksgiving.
A red tablecloth is an easy choice for a traditional setting, elevating all three holidays. So does a dark-stained, more ornate traditional dining table.
Holiday-themed dishware typically adorns placemats with special occasion silverware to match. Oftentimes, the holidays is when we also bring out our best china, letting it shine and create a
Placeholders can be fun or classic. From mini pumpkins for Thanksgiving to upside down candy canes for Christmas, there's a variety of ways to spice up the table and add a little extra for guests.
Brighten up the table with a cornucopia or poinsettia centerpiece adorned with more traditional, long candles and candle holders.
Modern and Natural
Do you prefer a more simply stated decor? Do you have a love for the outdoors? A modern and natural design is right up your alley for holiday dining decor.
Modern and natural designs typically use more neutral colors. So consider neutral color linen for your table cloth or ditch the table cloth and let a beautiful wood table be the perfect backdrop for your dining experience.
Consider natural and simple elements to use for table decors, such as mason jars for drinks or to hold candles or small floral arrangements. Birch pieces or pine cones could be used for name holders, and an arrangement of birch, evergreen, and berries would make a stunningly simple centerpiece.
Consider stoneware in soft, neutral colors for the table setting and wood or slate pieces presenting food like a charcuterie board, bread and butter, and other simple side dishes.
Contemporary
Similar to a modern look, a contemporary feel is simple but with the addition of a little (or a lot of) sparkle!
For contemporary place settings, add some bling in the form of your silverware, name holders, and table decor.
Gold silverware stands out beautifully against a neutral or white dish. Consider gold or silver-trimmed glassware for toasts.
Add some LED lights to your simple floral arrangement for a centerpiece that will sparkle and wow your guests. White or gold-colored candles in simple candle holders add ambiance and elegance.
Consider gold or one bold color to use for accents such as placemats, napkin linens, or the tablecloth, but don't overdo it.
A glass table or mixed media dining room table is another way to add a contemporary feel to your dining room and holiday traditions.
Spruce up your holidays this year with an updated dining table to gather and continue or start new holiday traditions! For all your dining table and dining set needs, check out Watson's. You're sure to find a table to fit any decor or room size that will be perfect to gather together and celebrate over the holidays.
Connect with one of our Watson's experts today!