Your hot tub is your personal oasis that offers a stress-free, peaceful environment to decompress. Whether you use the spa for entertainment, wellness, or good old-fashioned relaxation, it's always an experience you can look forward to. But if you've had your hot tub for a while, you might be wondering how you can elevate your spa experience with the help of hot tub accessories.
The fact is, to get the most out of your hot tub, you need the right accessories. Spa accessories for hot tubs not only make relaxing more convenient but can also add fun and comfort. From essential items like covers and handrails, or luxury items like waterproof speakers, we've rounded up the best hot tub accessories that you'll want to add to your list for your next trip to Watson's!
Essential Hot Tub Accessories
Every hot tub owner could use some great hot tub accessories. While some spas come loaded with features that make them luxurious, others are more on the basic side and might not necessarily provide a wide range of features. The good news is that no matter what kind of hot tub you have, you can find plenty of useful accessories to upgrade your spa with minimal effort.
Spa Cover & Mounts
One of the most essential accessories for your hot tub is a cover. A spa cover is designed to protect your hot tub when it's not in use. This helps to prevent debris from accumulating in the water, keeps the water temperature consistent, and reduces your energy costs by preventing heat loss.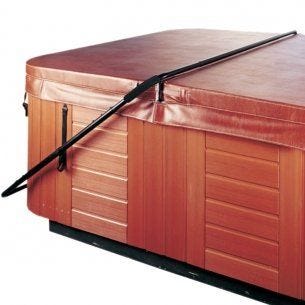 When choosing a spa cover, make sure that it's the right size for your hot tub. A cover that's too small won't provide proper protection, while one that's too large can be cumbersome to move around. To assure you never have to wait for help to uncover and get in your hot tub, a cover mount or cover lifters are a great accessory to add. This allows you to uncover and cover your hot tub or spa without struggle or the need for additional help quickly and easily.
Handrails and Steps
Another important accessory for your hot tub is a set of handrails and steps. These make it easier to get in and out of your hot tub, reducing the risk of slips and falls. Handrails are especially useful for those with mobility issues or for older folks, providing added stability when getting in and out of the tub.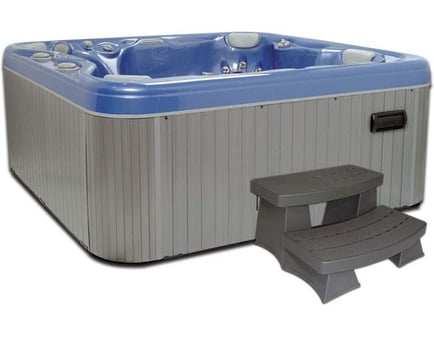 When choosing handrails and steps, make sure that they're sturdy and can support the weight of the user. They should also be made from a non-slip material to prevent accidents.
Towel Rack
There's nothing worse than getting out of your hot tub and having to scoot across a patio to get your towel that's hanging on the nearest chair. Or having to move your chairs to be next to the spa. A towel rack gives you the convenience of always having your towel right where and when you need it. In our eyes, this is certainly an essential hot tub accessory.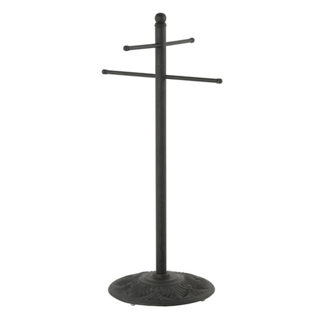 Ozonators and Chlorinators
Ozonators and Chlorinators are designed to keep the water clean and free of bacteria and other harmful microorganisms. Ozonators use ozone to purify the water, while chlorinators use chlorine. When choosing an Ozonator or Chlorinator, it's important to choose one that's the right size for your hot tub. You should also ensure that it's easy to use and that it comes with clear instructions for maintenance and upkeep.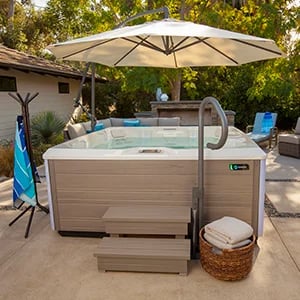 Cleaning and Maintenance Tools
Proper maintenance is crucial to keeping your hot tub in good condition and ensuring that it lasts for many years. Investing in cleaning and maintenance tools is one way to keep your hot tub looking and functioning at its best.
Some of the essential cleaning and maintenance tools for your hot tub include a cover lifter, a skimmer net, and a vacuum or suction cleaner. These accessories help to keep your hot tub free of debris and ensure that the water stays clean and clear.
Spa All-Purpose Cleaner
Without proper maintenance, the warm environment of hot tub water can be the perfect temperature to foster bacterial growth. It's critical for the health and safety of your water to stay on top of cleaning and disinfecting the hot tub to ensure clear water. Your cleaning process should include an all-purpose cleaner designed specifically for spas. It's easy to use and it allows you to maintain the hygiene of your hot tub and keep your spa clean.
Spa Test Strips
Checking your water chemistry is important and an essential part of hot tub maintenance. Having test strips on hand to test chlorine, alkalinity, and other chemicals is needed to ensure your water is balanced for the safest and most enjoyable soak.
Luxury Hot Tub Accessories
Sometimes, hot tubs need a little extra boost to complement the experience. A simple addition of luxurious hot tub accessories can turn a regular soak into an indulgent spa experience. But whether you've invested in a luxury hot tub or not, there are a few luxury hot tub accessories that can spruce up your spa no matter the make and model.
Hot Tub Entertainment
Waterproof Speakers and Floating Lights
To get the party started, consider adding some entertainment accessories to your hot tub setup. Hot tub waterproof speakers are an excellent addition to help create an atmospheric experience. You can turn the volume up on your favorite music and enjoy the beats from the comfort of your hot tub. Plus, you wouldn't have to worry about water damage as these speakers are waterproof.
If you really want to turn up the party, you can also add floating lights, which lock onto the side of your hot tub or float along the surface. These can provide subtle lighting, set the mood, and add to the overall hot tub experience. Choose from LED lights or fun, colorful fountain-like lights that dance on the surface of the water.
Spa Side Umbrella
If you are planning on using your hot tub during the day, it's best to invest in a spa-side umbrella. These umbrellas not only provide shade but can also protect the hot tub cover from sun damage, save you from sunburn, and also create a more elegant look to your hot tub setup. So, you can relax and soak up the warm bubbles without having to worry about getting sunburned.

Waterproof Games
While many spas are used for laying back, they also make a great place to play games. Yes, you heard that right! There are lots of options for hot tub waterproof games, especially waterproof card games. Turn your family game night into a fun memory and grab a deck of waterproof cards to play together in the warmth of the hot tub.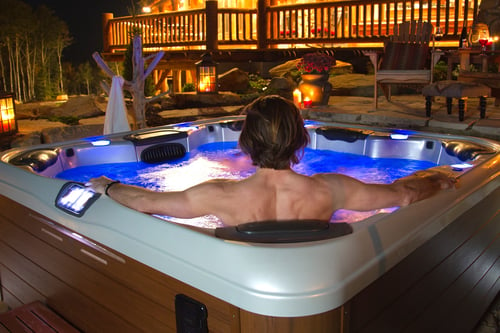 Comfort and Relaxation
Spa Headrests & Pillows
Comfort is key when it comes to hot tubbing, and spa pillows or headrests are a fantastic way to enhance your relaxation experience. These pillows provide extra cushioning to support your head, neck, and back while you soak away the stress of the day. Plus, they're made from water-resistant fabrics, so they are easy to clean and won't become waterlogged.
Spa Booster Cushion
For those who may be on the shorter side, or for children, a spa booster cushion or seat may be just an accessory to provide them with comfort. These are cushions that can be used only when needed and provide support and height to those enjoying a good soak.
Towel Warmers
There's nothing better than wrapping yourself up in a warm towel after a refreshing soak in the hot tub. This is where towel warmers come in handy. Towel warmers are designed to keep towels warm and dry, so you can relax in a warm, dry towel after your soak. These come in various sizes, shapes, and designs, and can be mounted on the wall or freestanding.
Spa Soaks and Therapies
There's nothing quite like sinking into a lavender-scented hot tub and being able to feel all your stress washing away. To really relax, pick up one of our best accessories that's easy to use like our spa soaks and therapies. Whether you need a little health boost to support better sleep or more energy or just want the benefits of aromatherapy in your hot tub, these are for you. There are many options, scents, and benefits. You'll be wishing you added these earlier!

Other Considerations for Your Spa
When accessorizing your hot tub or spa, there are additional considerations outside of the large tub that can elevate your whole experience. Check out this list of additional spa accessories or options when putting in your hot tub and creating a relaxing oasis:
Exterior lighting: If your spa is away from your house, consider adding exterior lighting to walk to your spa safely and easily. This makes it easier to enjoy at all times of the day. You could even consider lighting around your hot tub using suction cups to add string lights to the outside.
Deck surrounds: If you want to bypass the spa steps and want it closer to your house or easier to enter or exit, consider building a half or full-deck surround.
Pergola: If you don't want a deck surround, but want something a little more whimsical, consider a pergola over your hot tub. You can add lights, and plants, and create a truly secretive sanctuary.
When your spa accessories list is ready, head into any of Watson's nine superstore locations to speak with our experts and pick up your spa accessories. Don't have a spa yet? We have the largest selection of spas and hot tubs to fit anywhere from one to many! We have the perfect size for you and can help you get it home today!
Check our Hot Tubs Ultimate Guide
Frequently Asked Questions:
How do I decide which hot tub accessories I need?
Choose accessories that are designed to fit your hot tub. This ensures that the accessory will function properly and provide the best results.
Look for accessories that are made from high-quality materials. Cheap accessories may be attractive because of their lower price tag, but they may not last as long or work as effectively as higher-end products.
Consider the warranty and customer service offered by the manufacturer. You want to choose a company that stands behind its products and provides excellent service if you have problems or concerns.
How do you use a spa towel warmer?
The typical spa towel warmer is set up at a location that's close to the hot tub and is connected to an electrical outlet. The rods of the towel warmer heat up and bring the towel up to the perfect temperature to be a comforting hug when you get out of the tub.
If you're interested in finding the best accessories for your hot tub, Watson's has everything you need.
When you shop with us, you'll find an amazing selection and personalized service, along with the guaranteed lowest prices in the USA. We have a wide variety of hot tubs from the leading brands along with tons of spa supplies to make your spa stand out. Shop online or stop by your nearest Watson's location today.