Hot tubs aren't only for entertaining and social soaks. Hydrotherapy, the use of water to treat or maintain health, is a common use for hot tubs. For everyone from avid athletes to those beginning new exercise routines, hot tubs are a useful tool for both pre-workout preparation and post-workout muscle recovery.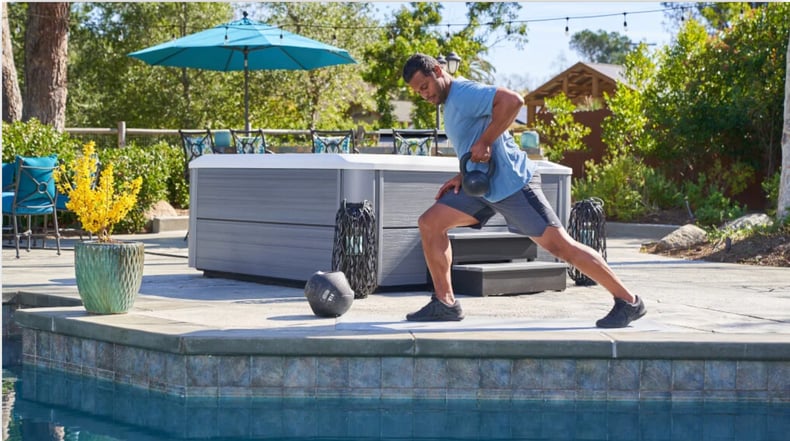 Reduces Stiffness and Soreness
There's nothing worse than when you start working out again and you can't make it past day 3 because your muscles are so sore and stiff. It's common for muscle soreness and stiffness to occur as you begin a new exercise routine or change one.
But if you have a hot tub, you can reduce the length of time and degree to which your muscles tighten and remain sore. This not only allows you to be more comfortable, but it supports keeping you on track with your health and fitness goals!
Most often this stiffness or soreness will set in about 12-24 hours post-workout as lactic acid builds up; a sign you worked your muscles well.
Getting in the hot tub for a quick soak even for 10-15 minutes has been shown to reduce the amount and length of sore and stiff muscles and provide relief through focused massage with jets.
The hot water from your tub increases blood flow and circulation, which supports faster muscle recovery by breaking down the lactic acid and making it easier for oxygen and essential nutrients to reach injured or affected areas of the body. In addition to your muscle recovery, hot tubs also raise your heart rate, which means you can extend the cardiovascular benefits of your workout while you soak.
Reduce Injury Recovery Time
If you happen to push yourself a little too hard and strain or injure your muscles, hot tubs can also support injury recovery and allow you to rehabilitate easier.
Because water is buoyant, it allows resistance without the pressure on joints, like other strength training and rehab methods done on land.
Massaging tight and stiff muscles after a hot tub soak while they are loose or even doing specific stretches in the hot tub can help relieve joint and muscle pain.
Pre-Workout Support
Hot tubs aren't only for your post-workout recovery. They can be a used pre-workout to warm up your muscles to help prevent strains and injuries. If you workout in the morning, even a short 10-minute pre-workout soak can help loosen and warn up your muscles to help prevent injury and strain.
Stress Relief
It's not just the physical stress that hot tubs relieve either. Hot tubs help relieve overall stress by balancing out your sympathetic and parasympathetic nervous systems (our stress-producing and calming systems). The hot, relaxing water helps release tension in your muscles to allow your body and mind to fully relax.
Add in some aromatherapy and you'll have a tranquil oasis to wash away the stresses of your day and reset for better sleep, better focus, and overall well-being. We offer a variety of spa crystals and water therapies to both soothe and enhance your recovery experience!
No matter what your use, hot tubs bring more benefits than just a soak. If you're looking for an addition to your outdoor oasis that will bring you years of health and stress-relief benefits (and fun and enjoyment), look no further than a hot tub or spa from Watson's. We offer one of the largest selections in the nation and our team of experts can help you select the best option for your use and space.