Hot tubs are a great addition to any outdoor living space for both fun and health benefits.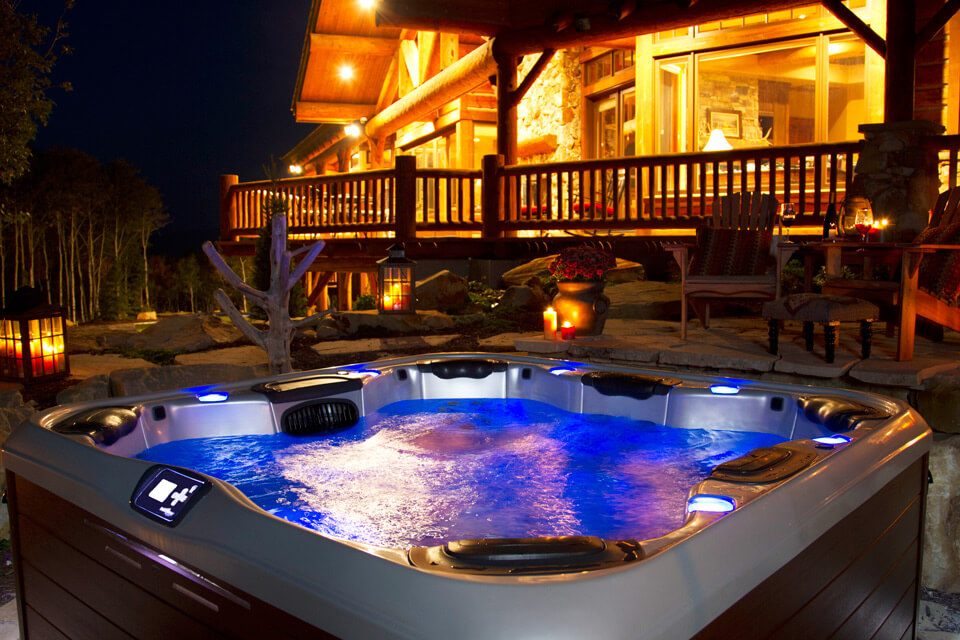 Whether you already have a hot tub or are considering getting one, you'll want to consider your outdoor space as a whole to create a relaxing, inviting, and possibly private space to soak. Because we'll be the first to tell you that there's nothing more awkward than climbing into your hot tub only to have the eyes of neighbors upon you.
And while you may have made a bigger investment in your hot tub, you d
Check out these budget-friendly landscaping ideas for your hot tub!
Space
Before adding any actual landscaping and putting in a hot tub, make sure to survey your available outdoor space for the best placement. Do you already have a concrete pad it can go on or is that something you want to put in? Where is the best location for easy access and privacy?
First determine the physical location and available space. Some options may include under a deck (if height permits), next to a fence, or in a more secluded area of your outdoor space.
For platforms to place the hot tub on for leveling, consider stamped concrete which is less expensive than stone and can still add a lot of texture and design. You may also want to consider a wood platform. Consider the overall decor theme you want as well.
Privacy
As we mentioned above, you don't want everyone gawking at you as you're trying to relax. Privacy walls are a great addition to a hot tub for the obvious reason, but also to add in color and decor to create a more inviting and intimate space.
An affordable way to create a privacy wall is using old pallets or recycled wood. Depending on the placement of your hot tub, you may only need one or two sides to put up. You can also use these to hang greenery or even shelving to store accessories. Keep the wood natural or paint it!
If you have a little more budget, you may opt for a pergola, which can be bought or even built with PVC! String up some lights for evening soaks under the stars and a magical escape.
If you place your hot tub in an area with an already existing overhang, such as on your deck or under it, consider hanging some curtains to give privacy when you want without permanently blocking views.
Use nature to also create some privacy. Using PVC or fence posts and some string or wire, put in the corners and tie the string back and forth and plant some ivy that will grow and fill in to create a more natural privacy wall.
Add Color
Sometimes all it takes to spruce up your hot tub landscaping is adding some flowers or other decor around. If you already have flower pots, consider filling those with full flowers and placing around the hot tub at different heights. You can buy some decorative stones to stack them on to give them different heights. Change out the flowers for the different seasons, for instance adding mums in the fall and evergreen arrangements in the winter.
You may even want to consider certain types of bushes to plant near your hot tub that flower. If you prefer color all year round consider evergreens that can also be used to create privacy.
Accessorize
While maybe not technically "landscaping," adding simple accessories around your outdoor space can give it a whole new feel. Consider adding in pathway lights or even lanterns around your hot tub as well as the path to it. Landscape stones and pavers can also be used to add some dimension to your landscape without a complete overhaul.
Add a fire pit and outdoor seating near your hot tub for those winter months for some added ambiance.
Another option would be to add an outdoor bench with upholstered cushion and pillows. This allows a great place to put towels or robes, snack trays, and other essentials without having to place somewhere on the ground. It also adds more visual appeal to your outdoor space.
If your hot tub is on a deck or on a large concrete pad, consider adding an outdoor rug along with the bench and some potted flowers and plants.
Landscaping around your hot tub should't be stressful or expensive. Remember to scope of the views from where your hot tub would sit and then have some fun with the landscaping without breaking the bank!
If you're looking to upgrade your outdoor living space with a spa or hot tub, contact Watson's and speak with one of our experts to find the perfect model to create your relaxing outdoor oasis.