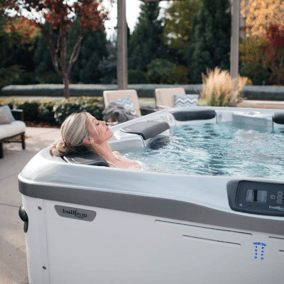 They say "water has the power to heal" — and we (and our customers) agree.
Let's start with the basics: What is hydrotherapy?
Hydrotherapy is the use of water, ice or steam for therapeutic or health purposes.
This kind of therapy relies on both temperature -- hot or cold -- and pressure to help ease the pain.
The most popular and well known form of hydrotherapy is a hot tub or spa.
Shop one of the nation's largest selections of spas or swim spas, all the guaranteed lowest price in the USA, to bring the benefits of hydrotherapy home.
What hydrotherapy is used for
Also known as aquatic therapy or water therapy, hydrotherapy is widely used as a more natural or holistic approach to easing a sore body.
That includes chronic pain like arthritis, rheumatoid arthritis and fibromyalgia. It's useful for any kind of back, knee, hip or other joint pain.
Water therapy can also an effective treatment for temporary pain or soreness due to an injury or exercise.
People include it as part of treatment for everything from anxiety and stress to sleep disorders as well.
Benefits of hydrotherapy
Studies have shown hydrotherapy can be an effective and natural way to relieve pain, improve strength and support overall fitness.
One study published in 2018 focused on people living with knee osteoarthritis who had difficulty walking long distances, climbing stairs or rising to stand. After a 4-week hydrotherapy schedule, all participants reported a significant decrease in pain.
Here is how water therapy helps:
Water supports your weight, which reduces pressure on the joints
Warm water relaxes the joint capsule and reduces stiffness to allow for better movement
Warm water helps increase blood flow to the tissues
Water provides a no-impact way to improve muscle strength, by pushing against the water for resistance
Water has an overall soothing, calming and relaxing effect on people
Bonus: Another study found that a soak in hot water can also help people fall asleep more quickly.
Hydrotherapy at home
Investing in a hot tub or spa is a convenient, long-lasting option for hydrotherapy right at home.
If you're considering a hot tub for hydrotherapy, opt for one with better temperature controls and jet variety.
Seating will also be important to make sure you can fully relax or sit comfortably for physical therapy exercises. Spas come with benches, lounge-style seating or both.
Swim spas are another increasingly popular option for hydrotherapy at home.
Swim spas are like a hot tub, pool and aquatic fitness center all in one. They're larger than a hot tub but smaller than a pool.
If you're debating between a hot tub or pool, this could be the perfect solution, because you can swim against a current without needing much space or enjoy total relaxation with a hydromassage.
Questions?
Need help finding the right spa or swim spa for your therapy goals, your home and your budget?
Our team of experts is here to help. Contact us now to request a custom quote.
Browse one of the nation's largest selections of spas or swim spas, all the guaranteed lowest price in the USA.