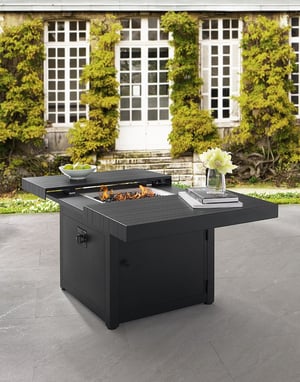 Fire pits range in price because they come in a variety of sizes, fuels, and styles. Spark fun summer nights with the perfect fire pit for your friends and family to enjoy. Backyard fire pits add a special touch to the mood of social gatherings.
Watson's has one of the largest selections of fire pits in the nation, with more than 100 different choices and the option to customize your order.
Whether you are looking for a standalone round fire pit, a dining table with a fire pit built in or a coffee table with a sliding lid that reveals a fire pit, we have the perfect option.
Shop all fire pits now, with every fire pit at the lowest price in the USA, guaranteed.
Average Fire Pit Price
Fire pits range anywhere from $700 to $4,000 at most retailers.
Deciding if you want to invest in a long term built-in fire pit that will entertain your family for many years, or if you want to invest in a pre-built fire pit depends on your personal preference, budget, and how long you plan to live in your home.
High-end custom fire pits can be up to six feet long with advanced technological features. These can start at $4,000 and range in price.
Avoid Unnecessary Costs
Finding a level piece of land that your fire pit will sit in is important. Ensure that there are no trees or bushes in the vicinity, to prevent the spread of a fire throughout the yard. The location and preparation of your fire pit are essential for the best experience.
Potential Additional Costs
You may already have patio furniture, but if not, purchasing patio furniture to match the style of your fire pit is the next step.
We have many styles to choose from that will compliment your fire pit. If you have kids or you're looking for extra safety, investing in a safety screen, and enclosure might be something to look into. Although they are not necessary, fire glass and fire grates can be a beautiful addition to your fire pit set up.