It's not uncommon to have trouble sitting in a chair.
Particularly for elderly people, who suffer from joint problems and muscle fatigue, it can be tough to lower their body into a chair or to lift themselves from sitting to standing.
When that happens, a lift chair can make a dramatic improvement, making it easier to move around and reduce the risk of injury when sitting or standing.
Like other furniture items, not all lift chairs are created equal. Consider the quality of the brand, the features and the price when choosing what lift chair is right for you or your loved one.
Shop power lift chairs and recliners at the guaranteed lowest price in the USA.
The Features of the Lift Chair
There are a number of features for lift chairs that people need to consider. Some of the most common features that everyone should keep in mind include:
Many lift chairs are operated electrically using a hand controller; however, there should also be a backup power source such as a battery
Lift chairs come in many different sizes, so be sure to consider the depth of the lift chair, the height of the back, and the width of the seat
Lift chairs also come in varying weight capacities, so consider how much weight the lift chair is going to support
Some lift chairs are made with fabric that is resistant to stains, which can be helpful in certain situations
Finally, also look for a footrest extension (similar to recliners), if desired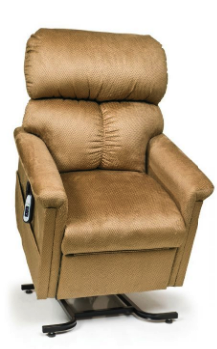 Lift chairs are a great addition to many homes, particularly for people who live with disabilities, individuals who suffer from arthritis, and those who are recovering from surgery. There are even lift chairs that can provide a heated seat or a massage, providing additional therapeutic benefits.
Multiple Positions of Lift Chairs
Many lift chairs are able to reach multiple positions. The first position is an upright chair. In this position, the back has an upright position. If someone wants to stand up, there is a button that will bend the chair forward, allowing the user to stand up.
Second, chairs can also recline to a 45-degree angle that allows people to watch TV.
Finally, many chairs are able to lean back even further, allowing someone to fall asleep in the chair. Consider the number of positions of a lift chair.
The Price of a Lift Chair
Like other pieces of furniture, lift chairs are going to come in a variety of prices.
They can range from $799 to more than $4,000.
The brand and retailer you choose matter, as well as features -- like the size of the chair, the number of positions it can reach, and the added technology that comes with the chair itself.
Watson's carries a selection of Lift Chairs, all of them at the guaranteed lowest price in the USA.