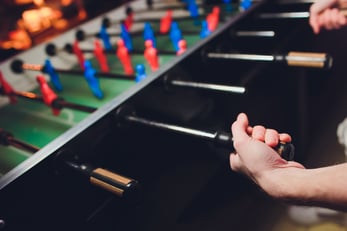 One of the most important things to consider when purchasing a foosball table is the price. So, how much is a foosball table? Well, this question is a little bit more complex than it may seem because there are many different factors.
Things to consider are where to buy a foosball table, what type of table you want, colors, quality, etc. All of those play a role in the price.
Shop Foosballs now, at the lowest price in the USA, guaranteed.
What is a good foosball table?
The first two things to ask yourself: How much money are you able to spend on a foosball table, and how much will that table be worth?
The larger the budget, the higher quality of a table you will be able to purchase. The good news is that foosball tables can be bought from $100 to $4,000, This provides a large variety of options for families with differing budgets and skill levels to find the perfect table to fit their needs.
Once you have a budget set, the type of table you are looking for needs to be decided. This should reflect both your budget and the skill level in which you are playing at. For example, if you are searching for a foosball table for your young children that have never played before, a cheaper option would be perfect.
For more advanced players, there are many options for professional grade tables to choose from. The different types of foosball table styles are:
Tornado (American-style)
Fireball (American-style)
Rosengart (Czech-style)
Bonzini (French-style)
Rene Pierre (French-style)
Deutscher Meister, Leanhardt, and Tecball (German-style)
Roberto Sport (Italian-style)
Garlando (Italian Stye)
Whether your budget is one-hundred dollars or four thousand, you are looking for a pristine new table or a used, or whether you are looking for a competitive or fun option, with a little bit of digging the perfect style of table in your budget will be easy to find.
Where to buy a foosball table?
Now, the fun part begins with figuring out where to buy your foosball table. If you are looking for a table on the cheaper end of the spectrum, a used table would be the way to go. You can find local people looking to resell their gently used foosball tables. You could find these on your local marketplace websites and apps.
Watson's has a variety of foosball tables and range of prices, with each table at the lowest price in the USA, guaranteed.
You can stop into your local store or use the Live Chat option on our site to ask an expert about the tables, including finding the right one for your home and your budget.
Shop our foosball tables and supplies now.
Watson's - Premier Foosball Supply Store
With decades of expertise in selling foosball tables, we know exactly how to ensure that you are getting the right fit when going home with a foosball table. Our numerous styles are listed below:
With so many different options and our ability to work with a large variety of budgets, we are confident that you will find the perfect foosball table to fit your home and families needs here at Watson's.