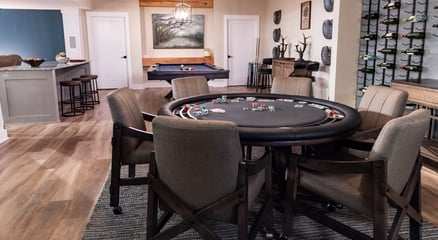 Poker is a hobby that many have chosen for years to enjoy with friends and family. A game of chance, risk, and competition should be accompanied by the right poker table. Choosing the right poker table to enjoy with friends and family requires you to consider quite a few factors — including how many poker players you have and the style of poker you are playing.
Here's a quick guide to choosing the right poker table for you and your home.
Type of Your Poker Table
When it comes to poker tables, you have several styles available to you, including:
Traditional
Transitional
Modern
These styles of tables are among the most popular, and depending on the way that you view the game, determines which style table you are likely to choose. With each table style comes a different material. Most of these are wood-built with different techniques applied.
Transitional tables are designed to be multi-functional and a great option for those being used in a recreational area. Traditional tables give the essence of the origin of the game when it was once played in saloons and casinos everywhere.
A modern poker table reflects the contemporary design found in other furniture pieces. Those who choose these tables are maintaining a theme in their game area.
Whether you want a traditional poker table, a transitional poker table, or a modern poker table, the options are available at Watson's.
Shop poker and game tables now, at the lowest price in the USA, guaranteed.
Size of Your Poker Table
Are you looking to have 4, 6, or 8 players at once during a game? If the table is only for a family or a few friends, then one of the smaller options may be for you.
If you are looking to host a reunion of sorts or offer the table recreationally, then a larger size may be the better option to consider. Consider where you will be placing your poker table and chairs upon arrival and how much space you need for the poker table of your choice.
Poker Table Chairs
Your poker table is not complete unless you have chairs, of course.
The best poker chairs have both style and comfort — matching the overall look and style of your poker table and providing comfort to sit for an extended game or tournament,
Grabbing standard chairs from around your home for a game of poker may seem like an easy way to save money, but it tends to be uncomfortable compared to a game table chair.
Choose Your Poker Table Brand
Brunswick
California House
ECI
Sunny Designs
While there are numerous brands of poker tables, above are the leaders in the industry that offer a quality table that will last for years to come.
Referring back to the style that you prefer to fit your personal decor or theme can be found with the brand that you select. Each brand comes with its own unique qualities that its customers prefer and with that, varying prices.
Shop poker and game table furniture, including chairs, here.
Choose Your Poker Table Today
At Watson's, we offer a variety of poker tables and brands for our customers to choose from. Depending on where you want to use the table and who will be utilizing it will determine the right style, size, and brand.
Prices for a poker table range anywhere from $700 to just over $7,000 all depending on brand, style and quality.
Our representatives are available to answer any questions you may have about our available poker table options. Visit us online today or give us a call. It is time to play!