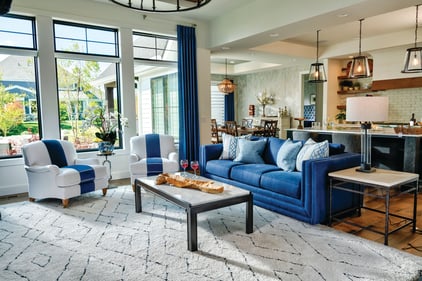 Adding new furniture to a room can be very exciting but also difficult. Finding a happy medium between being both practical and aesthetically pleasing can seem like an overwhelming task to many people.
The team of designers at Watson's has a few simple principles that will help you plan the layout of your room.
If you would like a professional eye, we offer free design consultations in your home, via video or in store. Book a free design consultation here to begin planning your space.
Steps to Take
Find Your Focal Point
Never underestimate the power of a focal point in a room. So start by deciding what the "center" of your room is going to be. What is the first thing you want people to see when they walk in the room? What do you want to arrange your furniture around?
This could be an easy answer if you have a fireplace, a spacious window with a beautiful outdoor view or wooden beams.
It could also be a focal point that you create, which could be a large television, a large mirror or piece of statement art or something else you add to the room.
The key is once a focal point is selected, to stick with it. If possible, furniture is typically grouped and arranged around this focal point.
Keep Furniture Off Walls & Create Conversation Space
A common design mistake is that people think they should push their couches against the wall to give themselves space — but that is the opposite of what you want to do.
If your space is small, this may be the only option and may make your room look larger.
In most spaces, though, we lean toward giving your sofas or recliners some "room to breathe."
We recommend staging your sofa, sectional or other furniture at least 12" from the wall. It will make the space feel cozy and intimate, rather than spread out and wide.
This keeps you, your family or guests close enough for a comfortable conversation, and it may leave enough room to walk without crossing in front of your guests or the TV.
Consider Traffic & Keep Tables in Arm's Length
One of the truly most important parts to setting up a living room is creating traffic flow and making sure people are not tripping over your furniture. Make sure you have a few feet between the coffee table and sofa and always have a clear walking path so people can walk through and around the room without any trouble.
On the other side of things, when people are already seated you want to make sure everyone in the room has access to a side or coffee table. This is important for people to set down drinks or other things that could potentially spill and cause a mess.
Center Your Area Rug
Luckily, the last element of a living room furniture layout is also the easiest: the rug. This always must be completely centered in the room and in the middle of the main seating arrangements. If your room is already carpeted a thickened area rug could be a nice touch and become a perfect finishing touch to your room. With the rug holding the rest of the room down and the rest of these steps kept in mind, you should have a perfect living room.