Nothing beats the comfort of a movie night at home. Between the pandemic and the general expense of movie theaters, the desire for bringing the big screen into the home has skyrocketed over the past two years.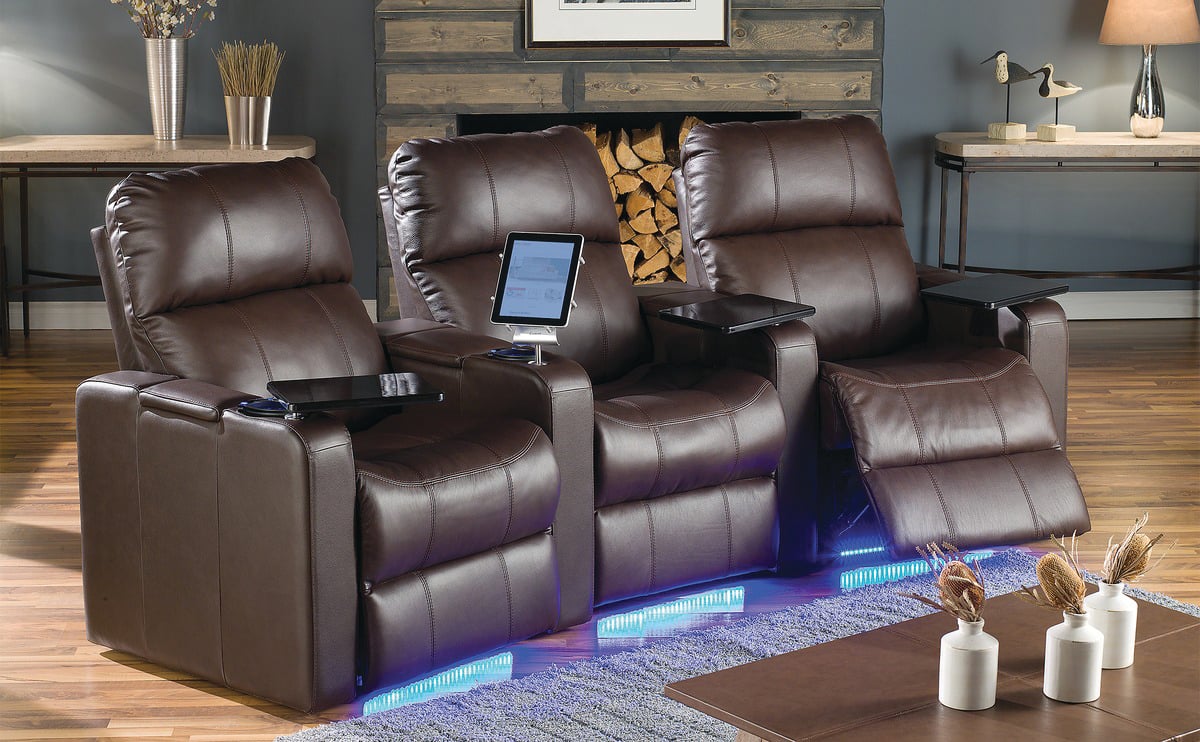 As we continue to spend more time at home (plus, with colder weather upon us soon), families are opting for a home theater space to enjoy streamed blockbusters and create more family fun nights. Plus, the advantages of home theater's far outweigh those of a traditional movie theater. Forget high-priced concessions and public restrooms and choose comfort, cleanliness, and quiet at home.
But how do you select the best home theater seating?
We've put together a guide to choosing the right home theater for your space with a ticket for affordable fun, comfort, and entertainment.
Identify Your Space
Before looking for seating, you first need to identify your available space in the room your transforming into your home theater.
Make sure to measure both the space for chairs as well as walkthrough space in front and behind to get around. Home theater seating tends to be larger to accommodate amenities, so you'll need to account for more space for both your chairs/seating and your aisles.
Depending on the room size, you may need to also account for other furniture pieces in the room, such as a media console, table, or even a bar for refreshments and concessions!
How Many Tickets?
You'll want to determine how many seats you can comfortably fit into your now designated space. At Watson's, we offer both three and four-seat theater options, but you can also opt for a sectional or even a couple loveseats depending on the size of your room and available space.
You'll want to of course account for your family for seating, but then need to determine how many extra (if any) seats you want for friends and visitors.
Design Tip: You can use floor pillows or even upholstered ottomans as an additional seating option (especially for young kids) if you need to seat more than your room can hold for home theater chairs.
Pick Your Style
Home theater seating comes in a variety of colors and fabrics. The most popular and the easiest to clean fabric is leather or artificial leather. From food and drink spills to durability, leather or artificial leather is low-maintenance and adds a little luxury to your home theater. Watson's offers a variety of color options for leather and artificial leather, including customizable options to fit your specific decor.
If you prefer a warmer fabric, both in texture and color, you can also find home theater seating in performance fabric, which can be stain resistant.
Select Your Amenities
Forget trying to find a place to put down your popcorn or juggle your concessions and drinks! Home theater seating can have a multitude of amenities, including cup holders, trays, USB ports, LED lighting, storage for remotes, and more!
You'll never have to worry about not having a place for all your movie-going needs without sacrificing comfort.
Select seating that offers all your preferred amenities (and maybe more)!
In addition to holding everything you need, many home theater seats also offer power reclining to ensure relaxation and comfort for those long movies.
With a home theater and seating from Watson's, you're sure to have the best seat in the house! Whether you have a smaller space or a large room, Watson's can help you create a home theater that's affordable, comfortable, and the perfect place for entertaining and spending time together.
To select the best home theater seating options for your space and decor, contact Watson's today and speak to one of our experts.