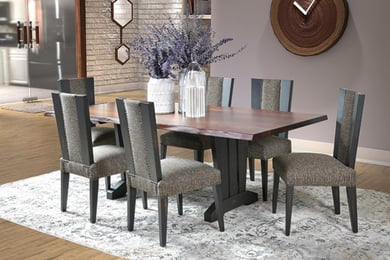 Watson's carries a collection of dining sets from Country View Woodworking, made in the heart of Ohio's Amish country.
The solid North American hardwood is made with a catalyzed varnish. That makes it tough and resistant to solvents, water and heat.
Spill a little coffee or water on your dining room table? Did your kid sit down with crafts or even nail polish remover?
Don't worry. The Amish dining room table should hold up, due to the premium varnish they use.
Your table still needs care, though.
Here are a few tips to caring for your hardwood dining table:
1. Even though the finish on this brand of dining room tables is superior, it is still wood. It can dinged up or marked up.
2. Oil your table 1 to 2 times per year.
Think of how you care for skin or leather. You moisturize with balance.
Too little humidity, and the wood can shrink or crack. Too high humidity can swell or warp or the wood.
Wood doesn't like water. It likes oil. Any light oil will do: Old English, Milsak oil or even mineral oil are common.
3. You can wipe down your dining room table with a damp cloth.
Mild soap is OK. Wash off any residue, then wide dry with a soft cloth.
For best results, use Guardsman products to clean your table.
And a few things to avoid
We do not recommend using cleaners or polishes with abrasives, silicones, wax or ammonia. wax.
Do not place unduly hot or cold cookware, appliances or utensils directly on your tabletop unless properly protected.