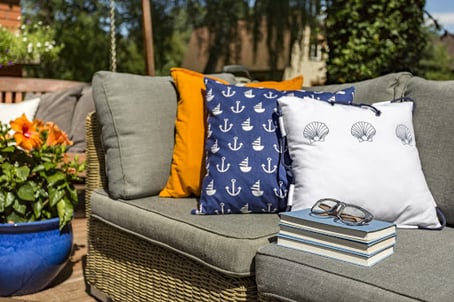 Outdoor cushions and pillows are a colorful and stylish way to decorate your patio, but they also endure a lot of wear and tear when exposed to the elements.
Fabric can gather dirt and debris, mildew and bird droppings — not to mention ketchup, mustard or wine stains from those outdoor BBQs and parties.
So, what's the best way to clean your outdoor cushions?
Below, see tips from Watson's experts for how to clean your cushions and when to clean them.
Looking for new outdoor furniture, pillows or other accessories? Watson's has the nation's largest selection of patio furniture and accessories in the USA — all at the guaranteed lowest price.
Shop outdoor furniture here or outdoor accessories here.
When to clean patio cushions
Beginning of the season: Depending on where and how you store your cushions and pillows, you may want to clean them off at the beginning of the season.
As needed throughout the season: To keep your seating area clean and fresh all season long, clean the outdoor cushions as soon as you notice mildew or a stain.
Before storing for the winter: Plan to clean your patio cushions (and your patio furniture, too) before you store everything away for the winter.
How to clean your patio cushions
Start by looking at the cushion label or manufacturer instructions.
Some patio cushions have removable covers that you can toss into the washing machine. Follow the manufacturer's instructions to wash and air dry the cushion.
Can't remove the cover? No problem.
Here is an overview to cleaning most outdoor cushions:
Use a handheld vacuum or a vacuum with upholstery attachment to remove any loose dirt, dust or debris. Pay special attention to those seams or near the zipper, because dirt can hide there. If there's mildew, this is the time to scrape away as much as possible.
Gently scrub with a cleaning solution. (See several options below.)
Rinse off using a garden hose.
Towel dry or blot the cushion the best you can to remove as much moisture as possible.
Allow the cushions to air dry completely.
Cleaning patio cushions with vinegar and other solution
Here are a few options to use as cleaning solution for outdoor pillows or cushions:
Mix 1 Tablespoon of dishwashing liquid in a bucket of warm water.
Mix 1/4 cup distilled white vinegar with 4 cups warm water. Pour into a spray bottle. Instead of scrubbing, spray the cushions with the solution and let soak for 15 minutes.
For stubborn stains, soak a cloth in distilled white vinegar and let it rest on the sport.
For mildew, use a brush to scrape away as much of the mildew as possible.
For sunscreen or other oil stains, sprinkle cornstarch or baking soda onto the fabric. Let sit for 15 minutes, then scrape off the powder with a flat edge (think ruler, credit card).
For more outdoor furniture cleaning care tips, click here to visit our Education section.
Need a new patio cushion in a specific color or pattern? Planning to redo your outdoor space soon? Our team of experts is here to help.

Shop our outdoor department here, or contact us today.