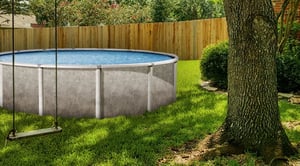 There are three primary types of backyard pools: Inground, semi-inground pools, and above ground pools.
Above Ground Pools: If you're looking for an economical pool that can be installed quickly, above ground pools may be the best option.
Above ground swimming pools are specially reinforced with an ultra-durable layer of sheet metal for structural support. Because there are plenty of built-in fencing and locking gate options, above ground pools are an especially safe, well-suited option for families with children.
Inground Pools: Inground pools are most notably lauded for adding value to your home while also enhancing the look and feel of your backyard.
However, the cost of inground pool projects stop many people in their tracks. Building an inground pool can be a major investment: They're almost 2 to 3 times the cost of an above or semi-inground pool.
If you're not willing to invest in the initial installation, higher electric bills, or yearly maintenance (i.e. chemicals, cleaning supplies, and pool opening and closing necessities), an inground pool may not be for you.
Semi-Inground Pool: A semi-inground pool is an above ground pool dug partially underground.
Unlike inground pools, you don't have to worry about laying the groundwork for cement. That's because a semi-inground pool is constructed with heavy-duty panels and frame to reinforce its structure. Because of this, the installation process lasts longer than that of an above ground.
A semi-inground pool gives you the flexibility to do more with the look and feel of your yard. For example, you can bury the pool halfway in the ground (about 26 inches), and add stones with steps or a travertine wall to hide the top half of the pool. What's unique about the semi-inground pool is that you can get the appearance of an in-ground for closer to the price of an above ground swimming pool.
Looking for an estimate or quote on a pool?
Watson's has one of the largest selections in the nation of above ground pools. We guarantee the lowest price in the USA on every single pool (and the chemicals you need).
If you found a pool that you're interested in, simply click on "request a quote" on the product feature page. Alternately, fill out this Contact Us form. Please be sure to note where you live.