How to Design for Large Spaces
A large, open room has limitless possibilities. It can be exciting to think of all the different ways you can furnish and decorate your space but it can also be a bit overwhelming. After all, the bigger your space is, the more empty it can feel.
Designing for large spaces has its own unique challenges. But with the right approach, you can transform even the biggest rooms into inviting spaces to entertain, gather, and relax.
If you've been wondering how to design for large spaces, here's everything you need to know.
Create Separate Sections
A large space gives you more design opportunities. This can be great for creativity but it's important to remember that large spaces behave differently than small ones. Trying to design a large space as one continuous room won't deliver the feeling of coziness you'd get from a smaller room.
But by dividing up the space into separate sections, you can help to add character to the room while defining the functionality of each area. For example, you could arrange furniture to create a tv space in one section and design a reading area in another section.
You can also incorporate architectural elements like columns, half-walls, or shelving to further section out your large space. Rugs and carpeting are also fantastic ways to define sections of a large room.
Breaking up your large space into smaller sections helps the room to feel cozier. Not to mention, it gives the space a feeling of purpose.
Connect the Space Together
As important as it is to break up large spaces into distinct sections, it's also important to try and connect the space. Give each section of the room something in common. It could be the color palette, materials, patterns, or even particular shapes.
Each section of your space should have its own personality, but the sections of your room need to feel like they belong together.
It can be useful to use focal points to anchor the space and connect your sections together. A fireplace, artwork, or television can all work wonderfully as a focal point.
Design for Size
Not every piece of furniture will look good in a large space. Depending on the height of the ceilings and the overall square footage of the room, certain pieces can feel wrong.
As a rule, the bigger the space is, the bigger the furnishings should be. But really, you should simply try to match the scale of the room to the size of the furniture.
For example, if you happen to have an odd-sized room with lots of floor space but low ceilings, it's a good idea to use low-sitting furniture. If you have high ceilings, use taller furniture that takes up more space.
If for some reason you have a hard time finding furniture of the appropriate size, you can try doubling up on smaller pieces to fill the area.
But don't go overboard trying to make everything the same height. If all your furnishings and architectural elements are the same size, the space can feel flat and dull.
It's a good idea to add some levels to the space, incorporating a few extra-large decorative pieces to mix up the flow. You can use plants, sculptures, or even lighting elements to add some levels.
Keep Furniture Away from the Walls
Resist the urge to push your furniture up against the wall. This is generally true of any space but it's especially important in large rooms. Try to arrange sofas, loveseats, and tables closer to the center of the space. This will give you more room to create separate sections and avoid leaving dead space in the middle of the area.
All the extra wall space can then be used for storage, shelving, display, or just to provide an easy pathway in and out of the room.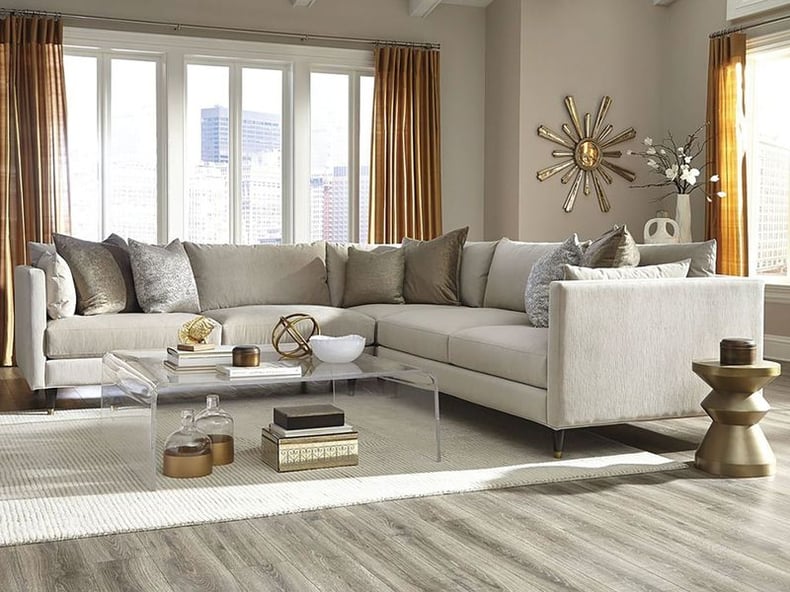 Use Color Wisely
Try not to use too many colors in your large space. Keep it simple and intentional. A good color strategy for large spaces is to use warm neutral shades of white or gray and balance them out with brighter tones around the area.
For furniture, you can also focus on neutral tones and then add some accent colors in your decor. If you're using patterns, try to go with big and bold patterns rather than tight and delicate ones. For example, a broad stripe pattern would work better in a large space than an intricate floral pattern.
Don't Forget Lighting
Chances are, if you have a large space with high ceilings, you probably have some form of overhead lighting. This can be perfectly adequate for illuminating your space but don't forget to try some additional lighting fixtures. Floor lamps, table lamps, and sconces can help to add warmth to darker areas and create an inviting mood in the room.
No matter the size of your space, Watson's has a wide selection of furniture and home decor for you. When you shop with us, you'll always get personalized service and exceptional value. In fact, we guarantee the lowest price in the US on every product we sell. From sofas and ottomans to pool tables and fireplaces, Watson's has everything you need to create your perfect space.
FAQs
How do you zone a large living room?

You can group furniture together, add area rugs, or use architectural elements like half walls or shelving to create zones in large rooms.

What do you do with large empty spaces?

If you have an especially large space, you can try dividing the room up into smaller sections. Each section can act like a mini-room with its own purpose. For example, you could have a tv section, reading section, or cocktail section.