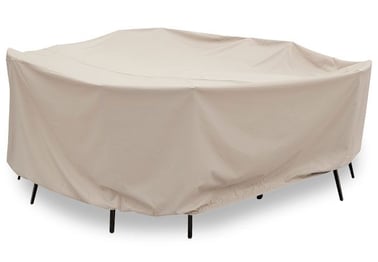 Now that you have invested in new outdoor furniture, make sure you protect it from the harsh weather with a durable patio furniture cover.
If you pick the right winter patio cover, it will help you protect your investment so you can enjoy your patio furniture for years.

Most inexpensive patio covers are made from vinyl (PVC), nylon or polyethylene. They are sometimes advertised as "waterproof."
However, under humid conditions, water can be trapped under those covers. Because it is "waterproof," there is no air circulating and the water cannot evaporate.
It can lead to mold and mildew and even erode exposed surfaces. Vinyl can also crack or peel over time.
Shop outdoor patio covers here.
Look for breathable patio furniture covers
The key is to look for breathable or water-resistant covers.
Breathable covers have vents built into them to allow air to circulate. That means any trapped moisture or condensation can evaporate quickly.
Here are the best qualities to look for in a furniture cover:
Breathable
Machine washable
Water resistant
Cinch lock to secure protective cover into place for a snug fit
Read more furniture care tips in our Education portal.