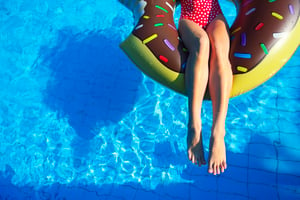 Aqua Smarte Plus takes pool care and makes it carefree.
It is the ultimate delivery of no mess, no guess and no stress water care for swimming pools up to 25,000 gallons.
The easy-to-use Docking Station works as its own water treatment center by automatically controlling the flow of water through the advanced water-care management system.
Water stays clean and clear for weeks at a time with no daily dosing or heavy chlorine odors because chlorine lasts 2X longer with Aqua Smarte Plus minerals.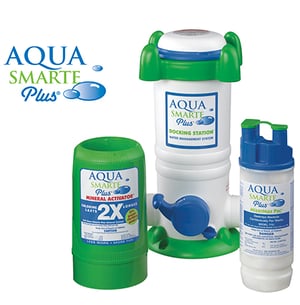 We recently asked pool owners who use the Aqua Smarte system what they thought. More than 250 customers jumped in to rave about their experience.
Most popular reasons why customers love it:
Takes the guesswork out of balancing chemicals
Simple to use
Makes pool ownership hassle free
Keeps water crystal clear
No handling chemicals

Read more from the customers themselves:
"Crystal clear water all season long and we barely do any work! We save a fortune in money and headaches by not having to mess with our chemicals everyday! This system does it all for us!" — Becca Weisner
"I love the Aqua Smarte system, because it makes my life so much easier. I use less chlorine, and having kids with sensitive skin, the chlorine would irritate their skin. I have a sparkling pool. It leaves me more time to enjoy my pool." — Sherry Dunlap Britten
"The Aqua Smarte system is amazing... we were skeptical at first to purchase the system but boy are we ever so thankful that we did, it has made pool care so much easier and less time consuming.. best choice ever." — Susan Paro
"The system was great for a first time pool owner last year. Don't be afraid to purchase a pool because you don't want to hassle with the chemicals. This system does it all for you. I turned many folks who thought I was crazy for getting a pool into believers with this system. Anyone can do it!" — Adam Hartman
"I was against by a pool because of all the horror stories of how much work it is, but to my surprise the Aqua Smarte system makes it so easy and would recommend it to anyone interested in a pool. Life is good with this system." — Mike Neislein
"Aqua Smarte system is no muss no fuss. Easy to follow no guesswork involved. You don't have to touch chlorine with your hands.I love Aqua Smarte! I've got my daughter hooked on it too!" — Skip Mansfield