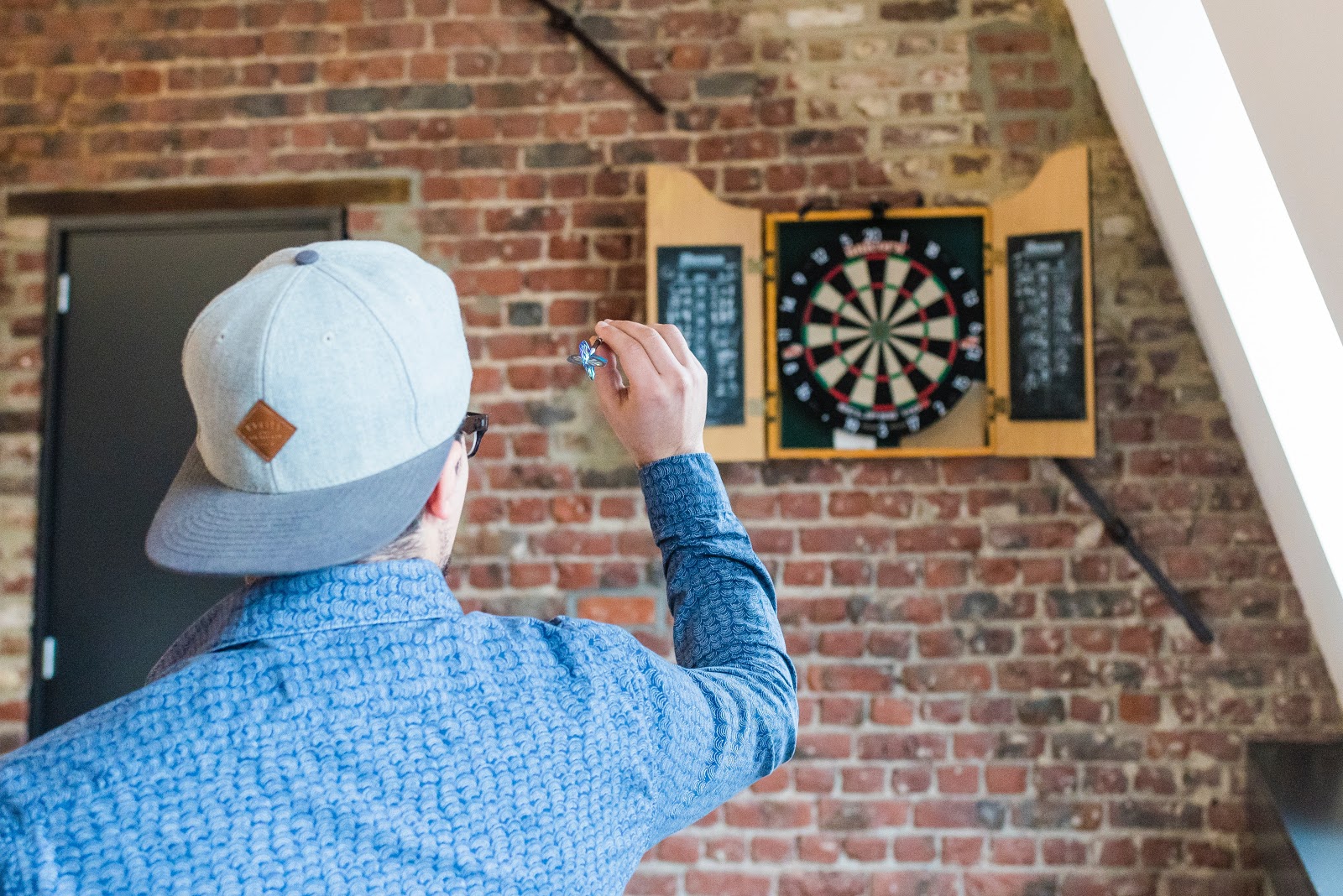 Whether it's family game night or a home bar, a dartboard is a simple way to add hours of entertainment.
It's versatile and can be played a single-player, like unwinding after a long day at work, or as a multiplayer tournament.
Whether you're mounting bristle or electronic dartboards, proper installation - including knowing how high to hang your dartboard --is key to enjoying the game without issues.
If you're using steel or soft tip darts, knowing how to to set up a dartboard ensures safety while also having fun.
Below is everything you need to know about setting up your dartboard at home.
The Measurements of Dartboards
First, you need proper measurements of the entertainment area and the dartboard itself before you begin. The measurements of the dardboard can usually be found on the packaging of your dartboard.
Steel Tip Measurements
Most dartboards use steel tip darts. For these boards, the regulation calls for a setup height of 5 feet and 8 inches from the floor line to the center of the dartboard and bullseye. 7 feet and 9 ¼ inches should be the distance from the dartboard to the back of the throw line.
Soft Tip Board Measurements
Electronic boards often follow the same height and measurements as steel tip dartboards. The distance from the back of the throw line to the front of the dashboard is 8 feet. Despite owning a soft tip dartboard, many people prefer to follow the regulation measurements for steel tip dartboards. These measurements aren't necessarily written in stone, so you are ultimately free to measure as you please.
Switching to a bristle board may take a few moments to adjust if you're used to playing darts on an electric board. Soft tip darts are usually lighter than steel tips, so your first few throws will most likely be affected.
Dartboard Mounting 101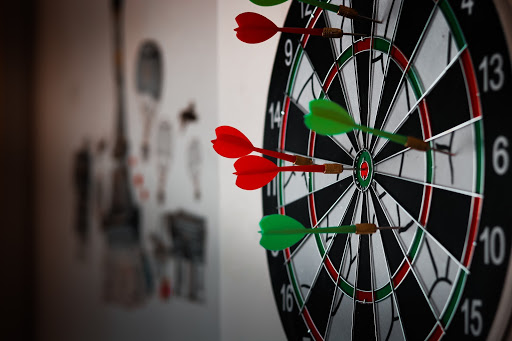 Mounting a dartboard is fairly easy, especially if you're using a magnetic board. Dartboards often come with a user manual and parts checklist. Use these to set up the dartboard step-by-step in your home.
Bristle Dartboards
Bristle dartboards require a little hands-on work when installing. All bristle boards come with the necessary parts to hang the board on your wall. Additionally, a metal slot will have to be hammered on your backboard or wall.
The dartboard should always be flush to your wall, and never lean like a picture when installed. This keeps your dartboard steady through your games.
Electronic Dartboards
Electronic dartboards require less hands-on work than bristle boards. These boards have pre-made holes that can be used to easily insert and position on your wall. However, these can bring complications when it comes to measurements.
Don't worry, though. New measurements for mounting are almost always included in an electronic dartboard manual.
Magnetic Dartboards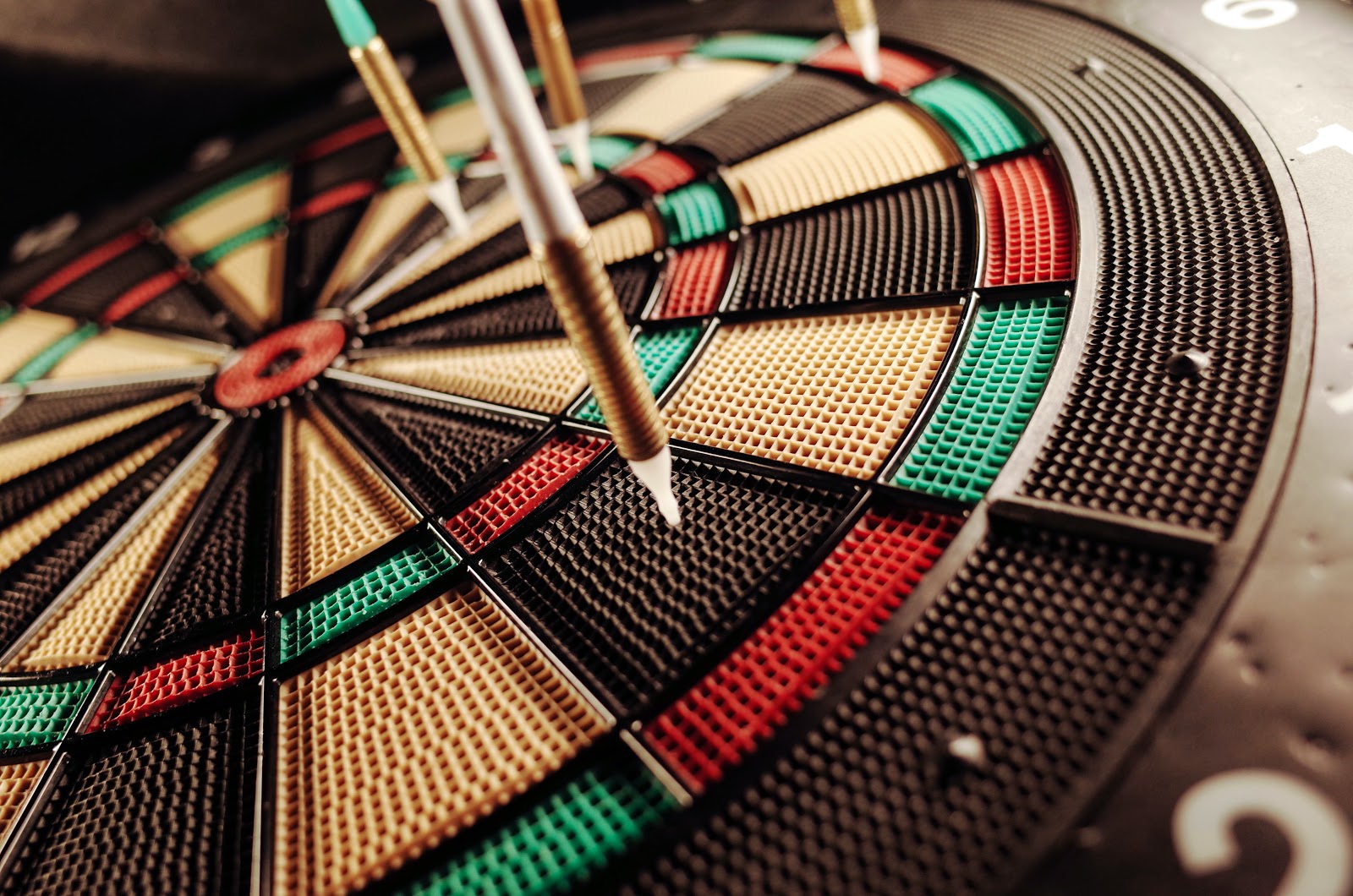 The magnetic dartboard is the easiest dartboard to mount. These dartboards come with a rope that can be used to hang from a hook anywhere in your home. They are also designed to be portable, so you can hang them in your entertainment area or any other room without the hassle.
Final thoughts
Setting up a dartboard at home is a very easy process. The tricky part is in the measurements.
The installation and mounting can oftentimes confuse people who have never set up a dartboard. Remember the basic spacing and mounting requirements for a dartboard setup before hammering nails into your wall.
Never set up a dartboard near glass, windows, or fragile furniture. Accidents happen whether you're a beginner or experienced player, especially if you use steel tip darts. Installing a dartboard backboard can significantly decrease the chances of accidents.