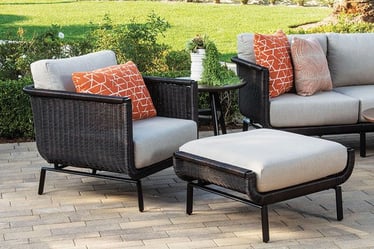 Finding the perfect combination of fabrics to match your design style and withstand the unique challenges specific to each home can be an overwhelming process.
Many consumers, especially those with young children or pets, are often torn between on-trend style that will make a design statement or durability that can last spill after spill.
The real question is: What fabrics are worth investing in?
Luckily, shoppers no longer have to choose between strong design or combating day-to-day challenges.
A new wave of fabrics is slowly transforming the residential furniture industry and confirming value, as they offer both sophistication and durability.
Schedule a free design consultation now, and a Watson's designer will help you choose the best fabric and best furniture for your design style, lifestyle and budget.
Why performance fabrics?
Performance fabrics are all about functionality and are manufactured to have long-lasting performance characteristics, such as resistance to fading, water and staining.
Many performance fabric companies manufacture upholstery fabrics in a different way than a traditional fabric to have these characteristics.
When selecting fabrics to upholster furniture pieces with, it's important to research the technology behind these fabrics and the materials used.
Look for performance that goes to the core, meaning that instead of a resistant coating on the top of the fabric, the performance attributes are part of the fiber that makes up the fabric itself.
Performance fabrics from brands like Sunbrella make sure every thread is intertwined with bold color that doesn't fade when tested against harsh challenges and they use non-peeling acrylic materials to ensure longevity.
Performance fabrics today are not confined to a limited amount of styles, textures, or colors. With several options and combinations, choosing high-quality fabrics can create a luxurious space that stays "lifeproof" for families to enjoy. We are sharing a few ways high performing fabrics can be integrated in both indoor and outdoor spaces.
Build a foundation that will last with performance fabrics
Neutral colors, such as bright whites, light browns, and soft grays are often avoided as go-to colors for furniture pieces — and for good reasons.
It seems pointless to select such stain-susceptible tones, as they will probably only stay clean for a few months. That's not the case with high-performance fabrics.
Multifunctional fabrics are easy-to-clean, in addition to being ultra-durable. Stains are spot-cleanable using water, mild soap and even bleach (even on colors!). Using a neutral palette as a foundation can complement and adapt to style changes your customer may have throughout the years.
With a neutral foundation, clients can avoid having to change their furniture every time a trend goes out of style, but rather, can use them to accent other pieces throughout the home, such as contrasting darker hues or eye-catching patterns.
Building a timeless foundation doesn't have to be limited to only cushions and covers, you can apply performance fabrics to windows. One of the more popular home designs we are seeing is a design that has dimension through whimsical layers of crisp and flowing drapery. This can also benefit the home by protecting furniture from the sun's rays.
"Working with performance fabrics is key for creating spaces we can really live in. I love working with clients to find a great look – being able to use functional fabrics while still capturing the design style they want," says Ashley Gilbreath, principal designer of Ashley Gilbreath Interior Design, in a recent Sunbrella designer interview. "My goal is to always create timeless, enjoyable living spaces. That means not having a hard time writing a check for a new piece of furniture that they'll have to replace in 3 months—just because chocolate-covered hands touched it!"
With performance technology in neutral fabrics, you can even incorporate them into backyard spaces, transforming a patio to a spectacular and stylish outdoor living space.
Design shouldn't have limitations
Every customer brings different challenges to the table, but those day-to-day challenges don't have to constrain someone's design style.
These challenges come in all forms–from combating constant drink spills, muddy cleats from football practices, rainy weather, or finding dirty paw prints tracked across furniture, performance fabrics give home owners the ability to bring their visions to life, for any space.
Multi-functional fabrics make it easy to utilize outdoor spaces so that homeowners can create an unforgettable dinner under the stars or simply enjoy a glass of wine watching the sunset.
It's easy to steer your customers to invest in durable, outdoor furniture sets, but many times performance stops with the furniture. To build a beautiful backyard space, you need outdoor decor that will last season-after-season, as well. With high-performance fabrics, you can help customers build an inviting seating area shaded by unique fabric, or the perfect outdoor dining area enclosed by performance drapery.
Spice things up with durable accessories
If your client isn't ready to completely redesign their space, it's still easy to transform their home piece-by-piece by adding high-performance home accessories. Decorating can be a great way to refresh a home without any stressful moving or long-term renovation. Durable accessories provide practicality and style to last.
Using adventurous patterns on pillows, curtains, or accent pieces that are easily exchangeable is a great way to refresh a home for the new season. With performance fabrics, you can add a bit of personality while staying kid-proof, pet-proof, spill-free and worry-free. Patterns can also be utilized inside and out to create unique spaces specific to any style.
Whether you are helping your customer redecorate a living room or outdoor patio space, multifunctional performance fabrics are the happy medium when it comes to simple refurbishments.
Customers no longer have to choose between an untouchable, beautiful design or bland, well-made furniture. Experimenting creative setups with performance fabrics that go beyond durable furniture, inside and outside the home, will make spaces unique, inviting, and most importantly, livable for everyone.
This article is courtesy of Casual Living magazine.