There's nothing like getting together with friends and family for the Big Game. Whether you're a diehard fanatic or a casual viewer, everyone loves the snacks, the drinks, the ads, and of course, the thrilling action of America's biggest sporting event.
No matter who you're rooting for this year, you'll need to make sure that your living room or basement is set up for the best party possible.
With a few minor adjustments to your space, you and your fellow football fans can enjoy the Big Game in comfort and style.
Screening
It might seem like an obvious place to start, but for the best experience watching the Big Game, you'll want a big TV screen.
You can go the modern route and invest in an overhead projector system with surround sound speakers. But if you're like most homeowners, you'll probably be enjoying the Big Game on a flatscreen TV.
TV size is important when it comes to hosting a party for the Big Game, so if you're used to watching the game with just a few other people, you may need to upgrade your screen size to accommodate more viewers.
And if you get a bigger TV, you'll need a bigger media console to match it.
A quality media console provides a stable platform for your TV screen while providing tons of storage space for electronics and accessories. A media console will also help to make your TV the focal point of the room, subtly inviting your guests to gather around the screen.
Seating
Space is the name of the game when it comes to Big Game seating. You'll want to make sure that every guest has a good view of the TV, but you'll also need to make sure that everyone has enough room to get up and move around without bumping into one another.
This may be easier said than done depending on the layout of your space, but as a rule of thumb, you'll want to make sure there's at least 36 inches between any pieces of furniture.
Seating should be cozy and spacious, so a sectional sofa is a great option for accommodating lots of guests at once. You can also try moving a loveseat or sofa from another room of the house to provide more seats.
And if you're in a pinch, you can always recruit dining room chairs, ottomans, or bar stools to serve as improvised seating - just make sure your guests aren't picky about where they sit!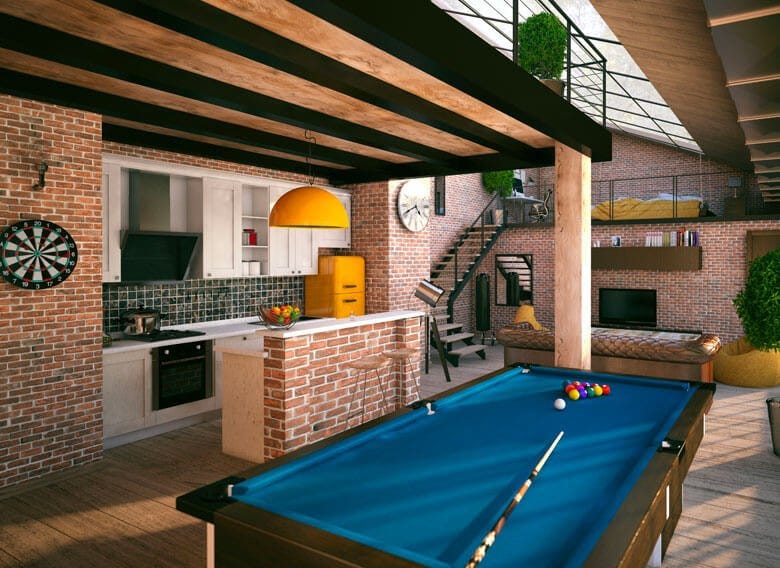 Eating
If you're hosting lots of guests, you might want to dedicate a separate room to food and beverages. Too many people in your living room or basement will make grabbing a bite more difficult.
Try setting up your dining room or kitchen with all of your apps and snacks. You can arrange any hot dishes on your side board or buffet table or simply put everything out at once on the dining room table.
You'll also need to provide plenty of surface space for your guests to set down their drinks and snacks during the game. A quality coffee table is always a good choice, but you can even repurpose a sturdy ottoman as an impromptu table.
And if you're really feeling like the host with most, you can stock your own home bar for the Big Game.
A home bar is a great way to host your guests in style. It provides a reliable place to store and serve all of your beverages during the party, freeing up table space that might be needed for preparing and serving food.
Not to mention, it's a lot of fun playing bartender for your friends and coming up with your own Big Game drink specials. Just be sure to leave out a tip jar for your hard work.
Heating
The Big Game can be one of the coldest days of the year for many Americans. So, keeping everybody warm and toasty is important for hosting the best party.
You can create a cozy atmosphere for your guests by adding your own gas fireplace or electric fireplace. A fireplace makes your space feel more inviting and provides ambient warmth to thaw your guests on chilly winter afternoons. Depending on the size of your space, a fireplace can even help to lower your heating bills.
If you're looking to set up your living room or basement for your Big Game party, Watson's has everything you need.
When you shop with us, you'll find an amazing selection and personalized service, along with the guaranteed lowest prices in the USA. We offer all the furniture and decor you need for any space in your home. So, if you want to spruce up your space for the Big Game, shop online or stop by your nearest Watson's location today.