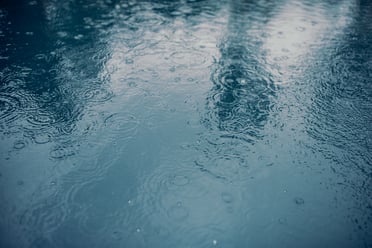 Rain can sometimes affect your pool water chemistry.
A light rain will have little effect, if any, on your pool water.
However, a heavier rain could add too much water to your pool or affect the pool's pH balance and total alkalinity. It can also send debris, pollution and pollen into your water.
Here are a few quick tips on how to care for your pool after a heavy rain:
1. Remove any excess water from your cover with a pump. Shop for submersible pumps here.
2. Check your cover for any rips, tears or other damage.
3. Drain the pool to the correct level, if necessary.
4. Use a skimmer to remove as much debris as possible.
5. Test your water. Rain water can lower your pH balance, so be sure to check both pH balance and alkalinity. Shop all test kits here, including digital test kits.
6. Shock your water, if necessary, to keep your water crystal clear.
Shop all pool chemicals and supplies here, at the guaranteed lowest price in the USA.
Watson's offers free water testing
Bring in a fresh pint-sized sample of pool water to your local Watson's.
We'll help you diagnose the health of your water and advise on care & maintenance needed.