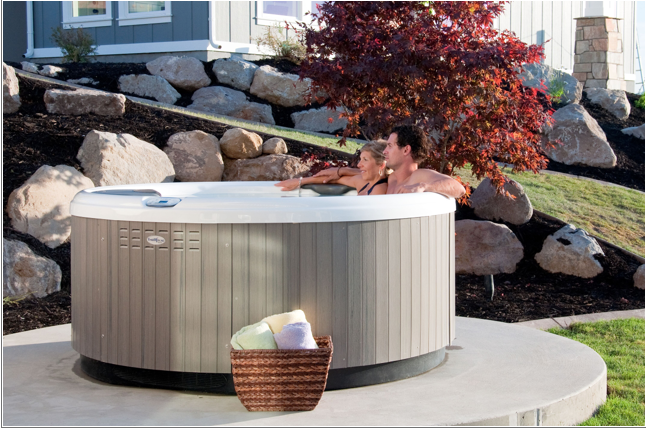 If you're someone who lives in an area where winter is no foreign concept, then winterizing your hot tub is definitely a procedure you've heard of once or twice.
Relaxing in a hot tub while snow falls gently to the ground around you is an incredibly relaxing and magical sensation.
So having your hot tub ready and functional during the winter season can be a great amenity and a great place to gather with family — but it can face problems when not used for a couple months. Statistics show that the most damage that occurs to hot tub spas is caused by improper winterization. The damage that can be caused due to freezing is very costly to repair.
Learn more in our Spa education portal
How to Winterize in 3 Steps
If you'll be away for 3 months, or not using your hot tub for any other reasons, then consider winterizing your hot tub.
The 3 vital places of your at home spa that need protection are the pump housing, the filter housing, and the manifold that distributes the water into it. You have to remember that you must drain the hot tub, and then it has to be completely vacuumed with a wet/dry vac.
Below are our recommended steps that you should take to ensure your hot tub is winterized properly during the cold season.
1. Let the Chemicals Dissipate and Drain the Hot Tub
You must let all of the chemical levels to drop before dumping all the water into your yard or other location. When removing water from the tub keep in mind you'll be releasing roughly 400 gallons of water. A sump pump can be useful when removing water quickly.
Keep in mind that an inch or 2 of water will remain at the bottom of the tub. Do not worry about this now. You'll take care of it later in the process.
2. Drain the Blower and Remove and Clean the Filters
Turn off the heater, cover the hot tub, turn the breaker on, turn the hot tub on, turn the hot tub off, turn the breaker off, and remove the cover.
When storing filters for the weekend you want to remove them, and while removed, clean them before putting them in storage.
Remember that if you decide filters are too dirty, simply throw them out and replace them.
3. Remove Remaining Water, Clean Shell and Cover, Secure Cover
To remove remaining water you can use your sump pump again or simply a towel or sponge to soak up the remaining water.
We suggest using non-abrasive sponges and hot tub cleaner that doesn't require rinsing for the shell.
For the cover use a cleaner that is also a protectant if your tub is outside. If it is inside whatever cleaner for the cover you want should work fine.
Finally be sure your cover is secured and will hold down for the time you are not using your hot tub.
Still have questions? Need help? Call your local store here.