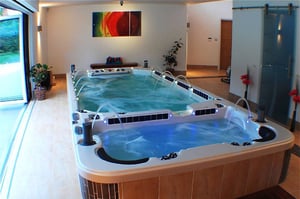 Choosing between a pool and a hot tub? Now you don't have to choose just one.
The Swim Spa is a revolution in water-based fitness — a pool, hot tub and aquatic fitness center in one.
It is smaller than a full-size swimming pool and larger than a standard hot tub.
They can be installed anywhere a standard hot tub can be, so they can be used indoors or outside.
If you like to swim, just turn on the current and jump in. Powerful pumps create a controllable current that allows you to swim in place.
When you're ready to sit back and enjoy a hydromassage, turn on the dozens of powerful jets and sink into the hot tub portion.
This unique concept was first invented by Catalina Spas in the 1980s. They continue to innovate in the swim spa industry, offering the most advanced aquatic fitness and hydrotherapy technology available.
See a swim spa in action here.
Why are swim spas growing in popularity?
Here are just of the few reasons our customers have been investing in a swim spa:
You don't have to choose between a spa and a pool.
They're smaller than most pools, with less space needed and less water to heat.
You can enjoy a low-impact total body workout and the benefits of aquatic therapy, from joint pressure and muscle plain to reduced tension — all right at home.
Depending on the model you buy, you can personalize your spa to include different features, equipment or amenities.
Read more in our buying guide.