Ottomans are one of the most versatile pieces of furniture you can use in your space. They come in a staggering variety of shapes and styles and have a variety of uses. An ottoman can be an accent piece, functional furniture, or even the focal point of a room.
Almost any room can benefit from the addition of an ottoman. And since ottomans are typically small and lightweight compared to other furniture, you can relocate them around your home as much as you want.
Here are a few simple ways that you can optimize your space with ottomans.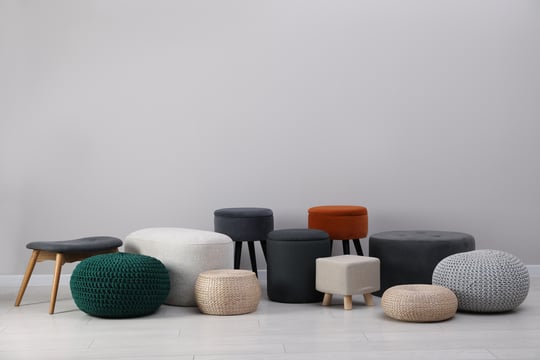 Kick Your Feet Up
The most classic way to use an ottoman is as a seating accessory. An armchair with an ottoman is the epitome of relaxation, giving you plenty of space to stretch out with a good book or a cup of coffee. You can even use an ottoman as a place for your pets to rest alongside you.
Beautify Your Bedroom
Try putting an ottoman at the foot of your bed. You'll have an extra place to sit when getting dressed and you'll even have the option for some extra storage. When you choose an upholstered model that matches your bedroom linen, an ottoman can help to tie the room together.
Replace Your Coffee Table
Using an ottoman as a coffee table is becoming a popular trend. A plush, colorful ottoman can provide a completely different experience than a hard wooden coffee table. And depending on the overall layout of the space, an ottoman coffee table can give the design oomph that the room was lacking. Just be sure to choose an extra firm ottoman for a stable surface.
Add Some Storage
The best thing about ottomans is their versatility. Many models are designed to double as storage with shelving underneath or a hollow space inside. This gives you the opportunity to blend form and function in one piece of furniture.
You can use your ottoman for seating while keeping your belongings neatly organized. Ottomans are a perfect solution for kids' rooms where extra storage is essential.
Create a Collection
You can even use multiple ottomans together in the same space to create a unique section of the room. Several ottomans can be arranged together to make a centerpiece which can then be separated into seating for guests.
Coordinate Your Space
If your space is missing that extra accent, an ottoman could be just what you need. You can choose an ottoman with the right material, pattern, color, or shape to complement the room. Once you decide on a style, you can coordinate your ottoman with other decor and furnishings to create a cohesive, cozy space.
There's practically no wrong way to use an ottoman in your space, no matter how big or small it may be. An ottoman can help you to optimize storage space while seamlessly adding extra seating opportunities to the room. Whether you want a reliable footstool or an impromptu coffee table, or anything in between, you're sure to find an ottoman that fits your style.
FAQs
How do you use an ottoman in a living room?

An ottoman is highly versatile and can be used almost anywhere. You can use your ottoman as a seating accessory with your sofa or armchair, or you can even use it as a coffee table.

Why do you need an ottoman?

Ottomans can work as a footstool, table, or extra seating. They often double as storage pieces and can help to tie the design of a space together.