Best Outdoor Furniture in Louisville
Summer is approaching fast, and before you know it, you'll be spending more time outdoors. Whether it's for a family barbecue or a simple hangout with friends, having the right outdoor furniture can make all the difference.
If you're looking for the best outdoor furniture in Louisville, you've come to the right place. With the city's sunny days and warm summer nights, having quality outdoor furniture can make your backyard or patio much more enjoyable. Let's take a look at the best outdoor furniture in Louisville for this season.
Things to Consider When Choosing Outdoor Furniture in Louisville
Choosing outdoor furniture for your Louisville home can be a challenge. There are tons of things to consider, including climate, space and functionality, materials, style, and aesthetics. Let's take a closer look at each of these factors.
Climate
Louisville has a humid subtropical climate with hot summers and cold winters. When choosing outdoor furniture, it's important to consider the weather conditions. For instance, fabric and color choice should reflect sunlight and resist mildew growth. The furniture should also be durable enough to withstand Louisville's weather fluctuations and be easy to maintain.
Materials like teak, aluminum, or resin wickers are a great choice since they're resistant to extreme weather conditions and will last longer. Ultimately, it's crucial to choose outdoor furniture that complements the seasonal weather changes in the city.
Space and Functionality
When choosing outdoor furniture in Louisville, it's important to consider both the available space and functionality. You want your furniture to fit comfortably in your outdoor space, without overcrowding it. Take measurements and plan accordingly.
Additionally, consider the type of activities you'll be doing outside and choose furniture that complements those activities. For example, if you plan on hosting dinner parties, a patio dining set might be a better choice than a lounge set. Prioritizing both space and functionality will ensure that your outdoor furniture is both practical and comfortable.
Materials
Be sure to consider materials for your outdoor furniture. Louisville experiences hot summers, cold winters, and humid weather, so materials like teak, aluminum, and all-weather wicker can withstand the harsh conditions. Metal frames should be powder-coated to prevent rust, and cushions should be made of water-resistant fabric. Choosing the right materials for outdoor furniture will ensure that they last longer and require less maintenance over time.
Style and Aesthetics
When choosing outdoor furniture for your Louisville home, it's important to consider style. Louisville, with its eclectic mix of historic architecture and modern buildings, offers a wide range of outdoor styles to inspire you. Whether you prefer a classic look with wrought iron furniture or a more contemporary style with sleek lines and bold colors, the right outdoor furniture can enhance the beauty of your outdoor space. You can browse Watson's selection of outdoor furniture styles to find inspiration for your backyard or patio.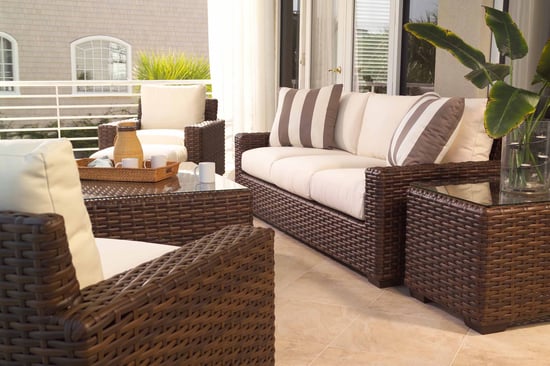 Best Outdoor Furniture for Louisville's W

eather
Before you purchase any outdoor furniture in Louisville, it's important to understand the common weather conditions that will affect you.
Explanation of Louisville's Climate
Louisville, KY experiences a humid subtropical climate with mild to cool winters and hot, humid summers. The city enjoys four distinct seasons with temperatures ranging from an average low of 24°F (-4°C) in January to an average high of 89°F (32°C) in July. The area also receives an average of 44 inches (1118 mm) of precipitation annually. This means that outdoor furniture needs to be able to withstand both extreme heat and cold.
Recommended Outdoor Furniture Materials
When it comes to outdoor furniture in Louisville, it is recommended to use materials that can withstand the elements such as rain, snow, and humidity. Materials like teak, aluminum, and resin wicker are always good choices. These materials have a high resistance to moisture and can withstand temperature changes, making them perfect for outdoor use in Louisville's climate.
Examples of Outdoor Furniture That Can Withstand Louisville's Weather
There are many options for outdoor furniture that can withstand Louisville's climate. Some popular options include cast aluminum dining sets, teak lounge chairs, and wrought iron benches.
Expert Tips for Maintaining Your Outdoor Furniture
To make the most of your outdoor furniture, you'll need to perform regular maintenance.
Cleaning and Storage
Keeping your outdoor furniture clean and storing it properly can help prolong its life. When preparing to store your outdoor furniture in Louisville, it's important to clean each piece thoroughly. Use a mild soap solution and a soft brush to remove dirt and debris. Allow the furniture to dry completely before storing it in a dry, covered area. To prevent damage, avoid stacking furniture or placing heavy objects on top of it.
Protection from the Elements
Protecting your outdoor furniture in Louisville from the ever-changing weather can be a challenge. Investing in covers, storing furniture in a garage or shed during extreme weather, and using weatherproof finishes can help extend the life of your furniture. Regular cleaning and maintenance can also help keep your furniture looking great year-round.
Seasonal Maintenance
To keep your outdoor furniture in top condition in Louisville, it's important to perform seasonal maintenance. This includes hosing down cushions and frames, wiping down metal furniture, tightening nuts and bolts, and storing furniture properly during the winter months. Regular maintenance can extend the lifespan of your outdoor furniture and ensure it stays looking and functioning at its best.
Top Picks for Outdoor Furniture in Louisville
Recommended Outdoor Furniture Brands and Products
Some of the top outdoor furniture brands in Louisville include Sol Casual, Elements, and Patio Renaissance. These reputable brands provide the perfect balance of comfort, style, and durability that make enjoying your outdoor furniture easy.
Features and Benefits of Each Product
Grand Tuscany Club Swivel Rocker - The timeless style pairs with a strong aluminum frame making this piece from Hanamint

a joy to experience.

Hanover Banquette Dining Set

- The

Hanover 5- Piece Banquette Dining Set

from Elements features thick cushions for your comfort supported by a durable aluminum frame.

Ava Loveseat - This modern loveseat

features an elegant design with its easy-to-maintain mineral frame and silvered dove outdoor fabric.
Pricing and Where to Purchase
If you're interested in purchasing any products from our outdoor furniture collections in Louisville, stop by your local Watson's today. You can chat with one of our knowledgeable outdoor furniture experts to find the best furniture for your budget, or you can shop online to explore more options.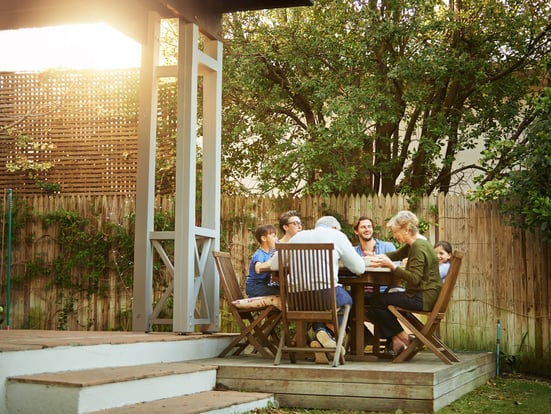 Styling and Decorating Outdoor Spaces with Furniture in Louisville
Tips for creating a functional and stylish outdoor space
When styling and decorating your outdoor space, it's important to consider both functionality and aesthetics. Here are a few tips for creating a functional and stylish outdoor space:
Choose furniture and decor that complements the architecture and style of your home

Incorporate elements of nature such as plants, flowers, and natural materials

Use outdoor lighting to create ambiance and highlight certain areas of the space

Add a pop of color through accessories such as throw pillows, rugs, and outdoor curtains

Consider incorporating water features such as a small fountain or water wall

Use weather-resistant materials to make sure your outdoor space lasts through Louisville's ever-changing weather

Include functional elements such as a

backyard grill

, outdoor kitchen, or a

fire pit

for a cozy space to entertain guests.
Ideas for Incorporating outdoor furniture into your space
Louisville has beautiful weather meant to be enjoyed to the fullest, so why not make the most of it by adding some outdoor furniture? Consider a cozy wicker sofa and loveseat or a set of Adirondack chairs for your front porch.
For the backyard, a large outdoor dining set can make for great entertainment during the warmer months. Maybe even a porch swing or daybed for a comfortable spot to read or nap. Whatever your style, there are plenty of options at Watson's for incorporating outdoor furniture into your Louisville space.
Best outdoor furniture for specific styles and aesthetics
Louisville offers a range of outdoor furniture options to cater to specific styles and aesthetics. For a classic, timeless look, teak furniture is popular. For a trendy, modern aesthetic, metal and woven resin furniture are popular choices. Wooden Adirondack chairs are great for a rustic, cozy look, while wicker furniture is perfect for a beachy, relaxed vibe.
Sustainability and Eco-Friendly Outdoor Furniture in Louisville
Explanation of the Importance of Sustainable Furniture
In Louisville, sustainable furniture is crucial for maintaining the health and well-being of the environment. By choosing furniture made from sustainable materials, you can reduce the amount of waste and pollution produced, conserve natural resources, and ensure the long-term health of our planet. By investing in sustainable furniture, we not only contribute to a healthier planet but also create a more beautiful and sustainable home.
Examples of Sustainable and Eco-Friendly Outdoor Furniture in Louisville
Louisville offers a variety of sustainable and eco-friendly outdoor furniture options. Some examples include recycled plastic Adirondack chairs, bamboo lounge chairs, and reclaimed wood benches. These options not only look great but also reduce waste and support eco-friendly practices.
Advantages of Purchasing Sustainable Furniture
Purchasing sustainable furniture benefits the environment by reducing harmful emissions, conserving natural resources, and decreasing waste. It also helps improve indoor air quality, as well as the health and well-being of occupants. Sustainable furniture is durable, easy to maintain, and can increase the value of a property. Additionally, it supports ethical and socially responsible practices in the furniture industry.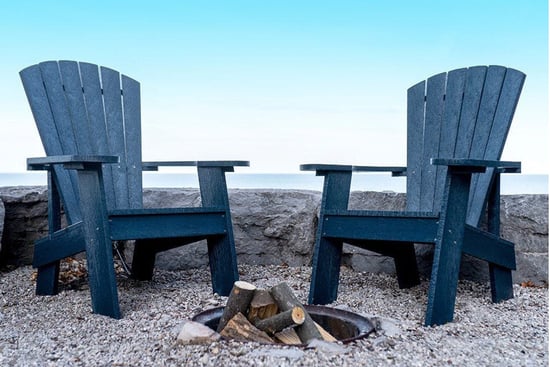 Conclusion
When it comes to choosing outdoor furniture in Louisville, there are many factors to consider, including climate, materials, and style. By following expert tips for maintaining your furniture and choosing sustainable options, you can create a beautiful and functional outdoor space that will last for years to come.
If you're interested in finding the best outdoor furniture in Louisville, Watson's has everything you need.
When you shop with us, you'll find an amazing selection and personalized service, along with the guaranteed lowest prices in the USA. We have a wide variety of patio furniture along with tons of seating and accessories to make your space stand out. Shop online or stop by your nearest Watson's location today.