The Best Outdoor Furniture in St. Louis
St. Louis, Missouri is known for its hot, humid summers and mild, pleasant autumns. With a climate like that, it's no wonder that so many St. Louis residents love to spend time outdoors.
Whether you're lounging on your patio, hosting a backyard BBQ, or gathering around the fire pit, having the right outdoor furniture can make all the difference. In this article, we'll take a look at some of the best outdoor furniture options in St. Louis along with some essential care tips so you can enjoy your furniture for years to come.
Things to Consider When Choosing Outdoor Furniture in St. Louis
Choosing outdoor furniture for your space in St. Louis can be a challenge. There are tons of things to consider, including climate, space and functionality, materials, style, and aesthetics. Let's take a closer look at each of these factors.
Climate
St. Louis experiences a four-season climate, with hot and humid summers and cold and wet winters. This means that outdoor furniture needs to be able to withstand extreme temperatures, as well as exposure to rain and snow.
Space and Functionality
When choosing your outdoor furniture, consider the size and shape of your outdoor space. Also, think about how you plan to use your backyard or patio. Will you be hosting large gatherings or using it as a quiet retreat for you and your family?
Materials
The materials you choose for your outdoor furniture will determine how well it holds up over time. Some popular materials for outdoor furniture in St. Louis include wicker, cast aluminum, teak, and wrought iron.
Style and Aesthetics
Your outdoor furniture should reflect your personal style and complement your home's architecture. You can browse Watson's selection of outdoor furniture styles to find inspiration for your backyard or patio. Consider colors, patterns, and textures that will create a cohesive look.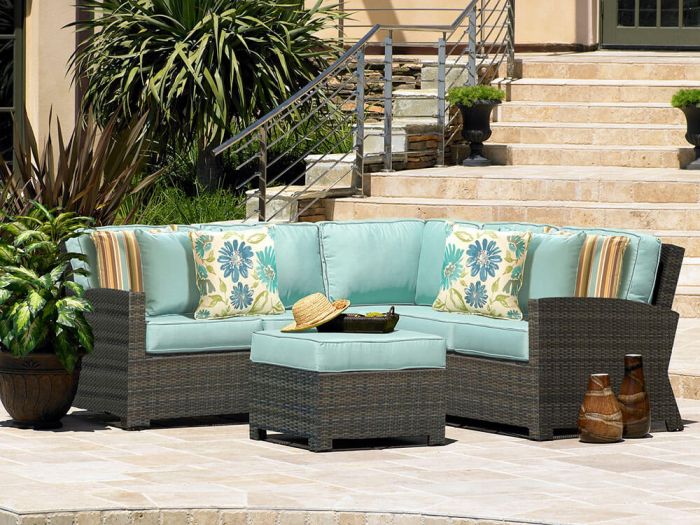 Best Outdoor Furniture for St. Louis' Weather
Before you purchase any outdoor furniture in St. Louis, it's important to understand the common weather conditions that will affect you.
Explanation of St. Louis' Climate
St. Louis' climate is characterized by four distinct seasons, with hot and humid summers and cold winters. Spring and fall are generally pleasant with mild temperatures and occasional rain. Snow is common in the winter months, with an average annual snowfall of around 18 inches. Thunderstorms are also frequent in the spring and summer months, with the potential for severe weather.
Recommended Outdoor Furniture Materials
When it comes to outdoor furniture materials in St. Louis, durability and weather resistance are key. Materials like teak, aluminum, and wrought iron are recommended due to their resistance to moisture and insect damage. Synthetic materials such as resin wicker are also popular options for their durability and low maintenance. Sunbrella fabric is recommended for outdoor cushions due to its ability to resist fading and mildew.
Examples of Outdoor Furniture That Can Withstand St. Louis' Weather
Some examples of outdoor furniture that can withstand St. Louis' weather include Sol Casual's Alsace Patio Set, the Hanover 5- Piece Banquette Dining Set from Elements, and the Rhine Sofa from Sol Casual.
Expert Tips for Maintaining Your Outdoor Furniture
To make the most of your outdoor furniture, you'll need to perform regular maintenance.
Cleaning and Storage
Cleaning and storing outdoor furniture in St. Louis is vital to protect it from harsh weather conditions and increase its durability. Before storing, clean the furniture thoroughly using mild detergent and water. Dry the furniture completely and apply a protective coat of wax or oil. Store the furniture in a dry, covered area, away from direct sunlight. To prevent damage during transport, try to disassemble the furniture and store the parts separately if possible.
Protection from the Elements
As St. Louis experiences significant weather changes throughout the year, it is important to protect outdoor furniture from the elements. One way to do this is by investing in weather-resistant furniture that can withstand rain, snow, and harsh UV rays. It is also recommended to cover furniture when not in use, store cushions and pillows indoors, and regularly clean and treat wood furniture to prevent warping and discoloration. Taking these measures can extend the life of outdoor furniture and ensure it remains in good condition.
Seasonal Maintenance
Outdoor furniture in St. Louis should be maintained seasonally to ensure longevity and functionality. In the spring, it's important to check for any damage caused by harsh winter conditions. Wash furniture thoroughly, and apply a protective coating if necessary. In summer, regular cleaning is necessary, especially after rainfall. Keep the furniture covered from the sun to prevent fading. In the fall, prepare furniture for winter by storing properly or covering it with protective covers.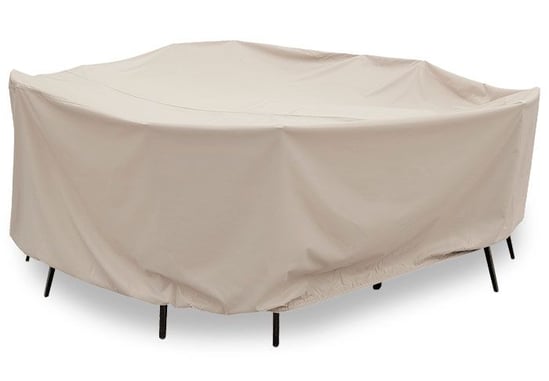 Top Picks for Outdoor Furniture in St. Louis
Recommended Outdoor Furniture Brands and Products
Some recommended outdoor furniture brands and products for St. Louis include collections from Elements, Sol Casual, and more. These collections offer a range of styles, materials, and sizes to suit any outdoor space. Let's take a look at some flagship products from each brand.
Features and Benefits of Each Product
Calcutta Dining Set - Calcutta's 7-Piece Dining Set

features a contemporary grey frame with wicker weave and can be purchased as a 9 piece set to host even more guests

Hanover Banquette Dining Set- The

Hanover 5- Piece Banquette Dining Set

from Elements features thick cushions for your comfort supported by a durable aluminum frame

Laredo Seating Set

- This

4-Piece Seating Set

from Loredo features a s

turdy construction and comfortable design that can be rearranged to suit your desired layout
Pricing and Where to Purchase
If you're interested in purchasing any products from our outdoor furniture collections in St. Louis, stop by your local Watson's today. You can chat with one of our knowledgeable outdoor furniture experts to find the best furniture for your budget, or you can shop online to explore more options.
Styling and Decorating Outdoor Spaces with Furniture in St. Louis
Tips for Creating a Functional and Stylish Outdoor Space
When styling and decorating your outdoor space, it's important to consider both functionality and aesthetics. Here are a few tips for creating a functional and stylish outdoor space:
Use furniture to create distinct areas for grilling, dining, and lounging.

Add decorative elements like pillows, rugs, and lighting to create a cozy and inviting atmosphere.

Be sure to opt for sturdy furniture that is designed to withstand both humidity and temperature changes.

Incorporate shade options such as

patio umbrellas

or a retractable awning.

Add some greenery and colorful flowers to liven up the space, and include comfortable seating and lighting options to create a cozy and inviting ambiance.

Add personal touches that reflect your style and personality.

Ideas for Incorporating Outdoor Furniture into Your Space
Wondering how you can use furniture to transform your backyard or patio? Here are a few ideas:
Create a cozy conversation area on a patio or deck with a comfortable outdoor sofa and chairs.

Add a dining table and chairs to your backyard for hosting dinner parties or summer cookouts.

Place a bench in a quiet spot in your garden for a peaceful retreat.

Surround your

fire pit

with Adirondack chairs for a perfect setting to roast marshmallows and enjoy evening drinks.

Set up a shaded lounge area with a retractable awning or umbrella and a chaise lounge or outdoor daybed.

Choose a hammock or porch swing for a relaxing outdoor nap.

Set up an

outdoor bar

with bar stools for entertaining guests.

Install built-in seating like a stone bench or retaining wall that doubles as a decorative garden element.

Arrange comfortable outdoor seating around a fountain or water feature for a tranquil atmosphere.

Place a rocking chair or swing on a front porch to create a welcoming entrance to your home.
Best Outdoor Furniture for Specific Styles and Aesthetics
When it comes to outdoor furniture to suit specific styles and aesthetics in St. Louis, there are a few standout options. For a classic and traditional look, wrought iron furniture is a great choice, while teak wood furniture exudes a sleek and modern vibe.
For those who want a more bohemian and eclectic aesthetic, woven rattan or wicker furniture is a great pick. Finally, if you want to try the mid-century modern trend, opt for furniture with clean lines and retro-inspired designs in bold colors.
Custom Outdoor Furniture Design in St. Louis
Curious about custom outdoor furniture options in St. Louis? Here's what you need to know.
Explanation of Custom Outdoor Furniture Design
Custom outdoor furniture designs are tailored to meet the specific needs and desires of clients. The designing process involves working closely with the client to understand their preferences, style, and the purpose of the furniture. This allows the designer to create a unique and personalized concept that reflects the client's individuality and taste.
Custom furniture design typically includes selecting materials, colors, and sizes that will fit the client's outdoor space perfectly. Whether it's a unique bench, dining table, or lounger, custom outdoor furniture design is an excellent way to add comfort and style to your outdoor living space.
Benefits of Custom Design
Custom outdoor furniture design provides unique and personalized pieces that perfectly match the style and needs of the individual or business. It also allows for the selection of high-quality materials and ensures the furniture is built to withstand outdoor elements. Custom designs can enhance any outdoor space and provide comfort and functionality.
Examples of Custom Outdoor Furniture in St. Louis
Some examples of custom outdoor furniture include the many customizable outdoor seating sets from Watson's available in a variety of colors, materials, and finishes. Shop our outdoor furniture selection to see our full range of customizable outdoor furniture.
Conclusion
Choosing the right outdoor furniture for your space in St. Louis requires careful consideration of a variety of factors. From climate and materials to style and aesthetics, there are many options to choose from. By keeping these factors in mind and exploring the range of outdoor furniture available, you can create a functional, comfortable, and stylish outdoor space that you'll love for years to come.
If you're interested in finding the best outdoor furniture in St. Louis, Watson's has everything you need.
When you shop with us, you'll find an amazing selection and personalized service, along with the guaranteed lowest prices in the USA. We have a wide variety of patio furniture along with tons of seating and accessories to make your space stand out. Shop online or stop by your nearest Watson's location today.