Now that spring has sprung, you're likely excited to spend more time outdoors enjoying the warmth of the sun and beautiful blossoms.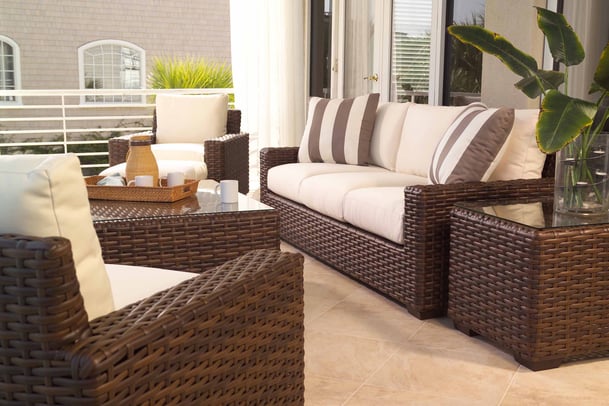 Now's the time to consider your outdoor space to make it an oasis and an enjoyable place to entertain, relax, or both!
Whether you're wanting to upgrade to a new look with your patio furniture or need to replace because of winter wear down, we've got the perfect patio furniture guide to help you find what you want.
Evaluate Your Space
Before visiting any of our showrooms, identify the space you want your patio furniture to go and the type of furniture you're looking for.
Do you want outdoor dining? How about a fire pit? Would you rather have small or large seating available? What about storage space?
These are all things you should consider before stepping into a store. Planning your space (and measuring) will assure more precision on what to look for as well as making sure what you fall in love with will fit.
While you're evaluating your space, take a look online at what we offer so you have an idea of all the potential pieces you could select from when designing your space.
Watson's offers the largest selection of outdoor patio furniture, from dining sets and sectionals, to loveseats, adirondack chairs, lounge chairs, to outdoor firepits, and so much more.
Test It Out!
Once you've determined the space, size, and type of pieces you want to look for, it's time to go shopping!
As you identify pieces you like, make sure you don't skip the important step of testing them out. Make sure the pieces are comfortable for you and feel good. Your height may be a factor in how you sit on some pieces, so it's important to test it out.
Quality
Patio furniture is no different than indoor furniture when it comes to quality manufacturing. The more expensive usually means the better quality, but at Watson's, we strive to make the best quality affordable for our customers across all price ranges.
Quality patio furniture will hold up longer and will typically have a longer warranty. Because these pieces will be outdoors, you want something that will hold up to the elements and last you years instead of one season.
Check the quality and the type of fabric or material used to understand how long it can potentially last.
Cleaning & Maintenance
One factor you don't want to overlook is the maintenance and how to clean your patio furniture. Between common elements in your environment and seasonal weather, you'll want to consider fabrics and materials that are easy to clean. If you're placing in direct sunlight, you also want to consider colors and materials that won't fade.
When deciding on furniture, make sure the fabrics are all-weather outdoor fabrics. Sunbrella is a great performance fabric that has proven to stand up to the test of time and elements. It's easy to clean, resistant to mold, mildew, and stains, is fade proof, and maybe most importantly (if you have a pool), it's water resistant.
Are you able to throw covers in the wash or will you need to spot clean when spills occur? Understanding how to clean wicker, metal, wood, and synthetic materials will help you keep your patio furniture lasting a long time and resisting the elements.
Storage
While you may have the space for a large sectional or dining set, you'll also want to consider how you're going to store or at least properly winterize your patio furniture. Winter cold, snow, and moisture can be brutal on patio furniture. For small pieces that can be easily stored, it's best to do so. For larger pieces, you'll want to consider high-quality covers to ensure longevity and reduction of potential damage like rust, mold, or even dust buildup.
When you're ready to head into the outdoors for relaxation and fun, stop into one of Watson's nine superstore locations to see our large selection of patio furniture and accessories. Our experts can help you find exactly what you're looking for within your budget to enjoy the outdoors throughout all your seasons.