A hot tub is more than just a great way to kick back and relax. It's a gathering place where you can entertain friends and family all year round.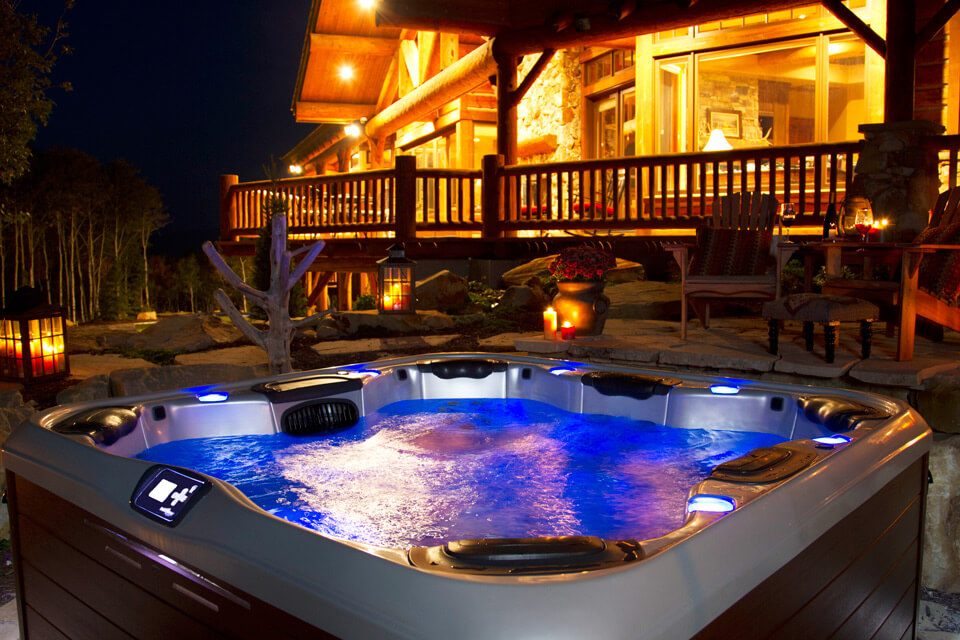 Whether you're throwing a party for the big game or hosting the in-laws for the weekend, hot tubs are a fun and easy way to bring people together. But depending on the size of the spa, not everyone may be able to get their turn.
At Watson's, we have a wide selection of 10-person hot tubs to choose from. You'll never have to worry about leaving anybody out of the fun and relaxation. A 10 person hot tub gives you the space to include everyone with all the luxury that you expect from a quality spa.
Shop our selection of hot tubs
Unwind at Home in Your Own Hot Tub
After a long day, your living room furniture isn't always enough to help you unwind. You've got stress on your mind and aches in your body, and you need more relief than the sofa and tv can give you.
Having your own hot tub at home is a fantastic solution for anyone who needs a little extra help when it comes to relaxing.
When you have your own hot tub, you can get spa-quality massage and hydrotherapy without ever stepping foot out your front door. And unlike a swimming pool, you can use it all year round.
If you live in a northern climate, you know how punishing a freezing winter day can be. It gets dark early, it's cold, and nobody wants to go outside.
But hot tubs are an oasis in cold, snowy weather. Your own personal spa can be like your private hot springs, helping you feel invigorated and refreshed on those gloomy winter days. And if you're the entertaining type, nothing beats firing up the hot tub for the holidays.
Hot tubs are also a great way to add a touch of luxury to your property. They can help tie your outdoor space together and provide an anchor point for the area.
And when properly incorporated into your landscaping, hot tubs are an investment that can add value to your home.
Not to mention, hot tubs provide an impressive range of health benefits.
Explore the Many Health Benefits of Hot Tubs
Have you ever wondered exactly why soaking in a hot tub feels so relaxing? Well, that's because the high temperatures and massaging jets help to facilitate any number of health benefits.
First, hot tubs are excellent for relieving inflammation, stiffness, and swelling. For those suffering from arthritis and joint pain, hot tubs can act as an anti-inflammatory and soothe stubborn aches.
Hydrotherapy, or the use of water immersion for pain relief and therapy, has many applications in hot tubs. Whether you want a full-body massage after a tough day at the office or need more targeted care, your hot tub can give you the remedy you need.
If you've had a recent surgery or are recovering from an injury, hydrotherapy can help you get back to your old self faster. In fact, many rehabilitation programs include hydrotherapy sessions for this very reason.
And depending on the particular features of your spa, you can even focus the massaging hydrotherapy jets to target your feet, neck, or other areas of the body that collect tension.
You can even stretch and exercise in your hot tub. Stretching and exercising in water is typically easier on your joints and muscles while providing gentle resistance.
While relief for muscles and joints might be expected from your hot tub, there are some other health benefits of hot tubs that might surprise you:
Studies have indicated that soaking in hot water can help to fight insomnia and promote more restful sleep.
Using a hot tub has also been linked to an increase in endorphins, which can fight pain and improve mood.
Hot, steamy water can clear your sinuses and improve respiratory function.
And finally, while a hot tub provides tremendous health benefits for the body, it can also do wonders for mental health.
Your hot tub gives you a private space where you can let the problems of the day slip away. Hot tubs are perfect if you need a quiet escape from the kids, a secluded place to meditate, or want to jump-start your day.
Find the Right 10 Person Hot Tub for Your Gatherings
Hot tubs are great for personal use. But they're even better when you're sharing them with the ones you care about.
If you've been looking for a way to impress your guests while adding some extra fun to the party, a 10-person hot tub could be the right solution for you.
Just imagine all the memories you'll make with your friends and family when you have your own 10-person hot tub.
It's a great excuse to reconnect with old pals or to break the ice with your coworkers and colleagues. A relaxing dip in the hot tub is the perfect way to encourage conversation and connection. You can even convince the kids to put down their gadgets and devices for a while and enjoy each other's company for a while.
Your brand new hot tub makes the perfect centerpiece for any outdoor gathering. It's sure to be the highlight of any birthday, graduation, or holiday party. No matter who or what you're celebrating, it will feel all the more special with a hot tub.
And with a spacious 10-person hot tub, you'll never have to worry about anyone feeling left out. No waiting for your turn, no cramming or squeezing to fit an extra person. Your guests won't have to wait around and watch while everyone else enjoys the spa.
A 10-person hot tub with deep seats is roomy enough to fit all your guests. And with features like lounge seats, customizable jet configurations, and LED mood lighting, you can ensure everyone has the best experience possible.
At Watson's, we offer our customers an outstanding selection of 10-person hot tubs for every gathering, get-together, and social occasion.
We carry a variety of models from trusted hot tub manufacturers like Bullfrog, Viking, and Cal Spas so you can compare and choose the perfect fit for your property. No matter if you want to install a hot tub on your deck, patio, or in your backyard, we can help you find the right model for all your relaxation and entertainment needs.
All you have to do is find the right location to install your spa, and we'll take care of the rest. Simply find a flat and level surface on your property, measure the area to ensure your hot tub will fit, choose a model with the features you want, and get ready to have your hot tub delivered.
Enjoy Hot Tub Luxury Features
The best part of finding the perfect luxury hot tub for your home is outfitting it with all the best features.
Many of our hot tubs come with customizable options so you can create your ideal spa experience. Whether it's an ultimate double lounge seat, full foam insulation, stainless steel jets, reverse molded neck jets, dual side air controls, or virtually any other feature, we can help you find a hot tub with the features you need.
Maybe you want to spice up your house parties. Premium audio and lighting features transform any situation into a celebration. With certain models, you can add surround sound speakers, USB charging ports, Bluetooth compatibility, and more.
Plus, you can enjoy the mesmerizing display of watercolor lighting systems in your hot tub, including backlit waterfalls.
You can also choose from a variety of premium and standard cabinet and shell options for the exterior of your hot tub. No matter if you want a subdued, classic look or something a little more exciting, you can tailor your hot tub to your tastes.
And naturally, you can experience optimal relaxation and stress relief with powerful water jets targeted to those areas in need of the most attention. Premium circulation pump products and massaging jets are available for energy efficiency and maximum comfort.
Watson's has proudly served our customers for over 50 years. In that time, we've become one of the biggest spa dealers in the country. Our customers know that when they choose us, they'll get the largest inventory from the best hot tub brands at the lowest prices.
No matter if you want a 10-person hot tub or a salt water hot tub, above ground hot tubs or inflatable hot tubs, we can help you find the right spa for you.
We're happy to speak with you to make an appointment, schedule a wet test of your hot tub, give you a personalized quote, or to answer any questions you may have about our products.
FAQs
How much does a 10 person hot tub cost?

Depending on the overall quality and additional features of the unit, a 10-person hot tub can cost anywhere from $5,000 to $20,000. There are many factors to consider when calculating hot tub prices. Estimating a good hot tub cost will depend on things like the number of jets, above-ground or in-ground installation, quality of materials, and the type of hot tub.

What is the largest size hot tub?

The largest size hot tubs tend to range between 10 and 12-person occupancy. Specialized swim spas tend to be the largest, often measuring 30 feet or longer.

What are the dimensions of a 10-person hot tub?

The exact dimensions of a 10-person hot tub will vary depending on the particular model, but most hot tubs designed for ten people tend to measure around 120" x 90" x 40".