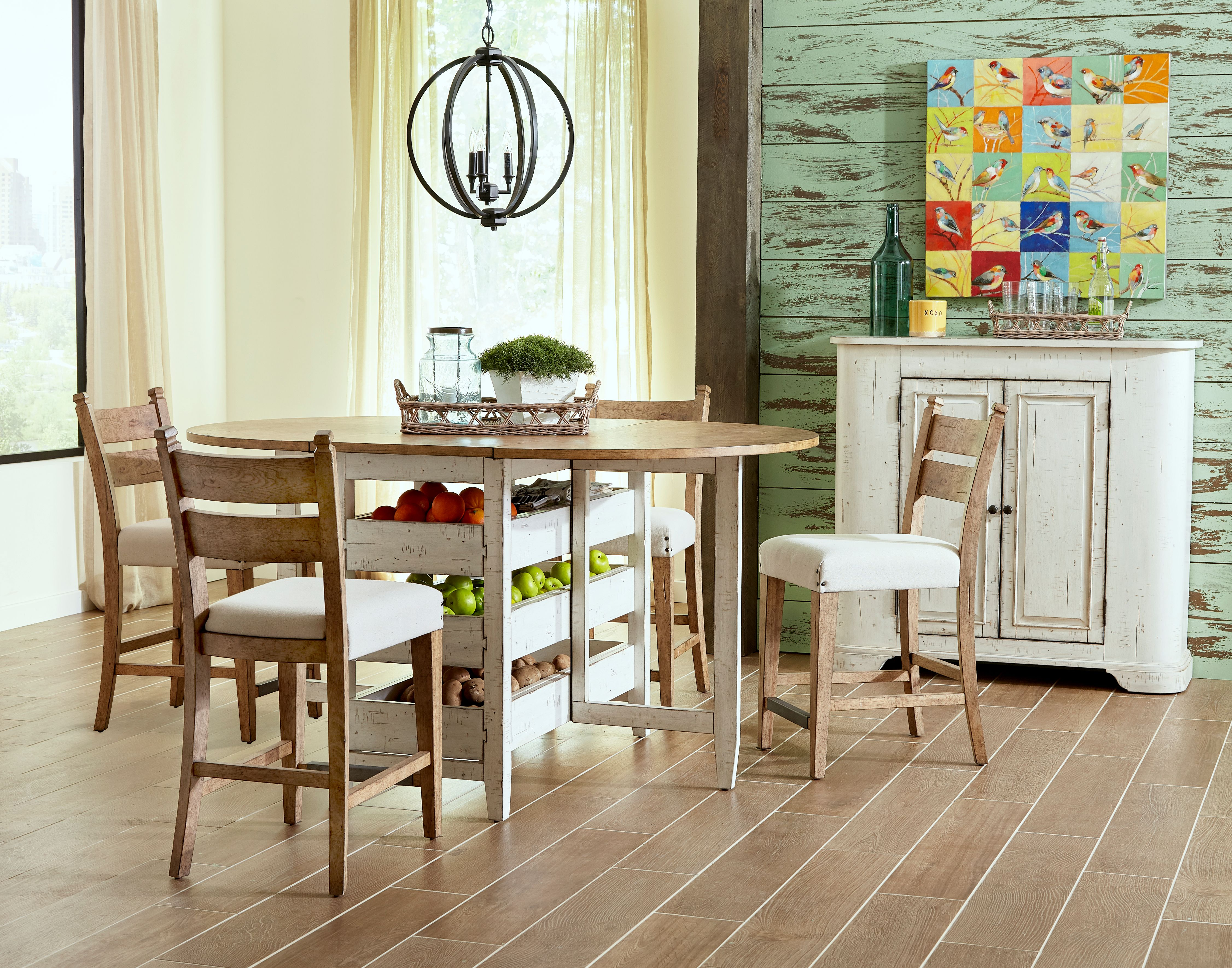 While sideboards originated in the Middle Ages and began their evolution in the 18th century, their popularity was established in the early 19th century as dining rooms became a staple in home architecture. Wondering what a sideboard is? Other common names include buffets or credenzas.
Historically speaking, sideboards were commonly used to store items for mealtimes, such as cutlery, dishes, napkins, candles, tablecloths, and other supplies needed. During mealtimes, sideboards were also used to place items such as side dishes, desserts, or even decanters of drinks on.
But just because sideboards were originally made for dining rooms doesn't mean that's where you have to use them!
Sideboards are a versatile piece of furniture that can add both decor and function to pretty much any room!
Check out some other ways to ditch the dining room and incorporate sideboards into other rooms in your home.
Bedroom
A sideboard can be used in multiple ways in your bedroom. Depending on the style of sideboard, they can be a great addition to store accessories like purses, watches, scarves, and other items. Some sideboards have drawers, which can store jewelry, cufflinks, and smaller accessories while the closed cabinets can be used for bigger items like bags or even shoes!
Use baskets or square fabric boxes to increase your storage inside the cabinets!
If you have a walk-in closet, a sideboard can also give you more storage space with the addition of counter space! Place your next day or everyday items on top in decorative dishes and use the cabinet space for clothes.
If you're looking for a more decorate media stand in your bedroom, a sideboard may be just the perfect fit for style and function.
Sideboards can also be used in kids' rooms or basements for toy storage and display!
Office
Whether at home or in an office building, if you have the space, a sideboard can easily be used for office storage. Consider adding some decorative pieces or desk accessories to the top and storing files in the cabinets.
For in the home, a sideboard can easily store family photo albums, important documents, and much more, reducing clutter and adding style.
Living Room
Similar to the bedroom, a sideboard can be used in place of a media console in your living room. Whether you want a decorative place to put your TV or looking fo
If you're a music lover, consider a sideboard for showcasing a record player or other audio equipment and speakers. The cabinets are a great place to store records, cords, DVDs, and other media accessories.
If you entertain a lot, a sideboard is perfect for setting up small appetizers and cocktails or to create the kid-friendly drink station.
Kitchen
The uses for a sideboard in the kitchen can be very similar to the uses in a dining room. They are great for storage of any kind, from aprons and cookbooks, to holiday-specific dishes and entertaining pieces you only use a few times a year.
Love coffee or tea? Use a sideboard to free up counter space and create a drink station.
Love to bake? Keep your baking essentials stored in the sideboard and use the top to display and serve your latest delicacies!
If you're looking for a versatile piece of furniture that offers both style and storage for any room, a sideboard is what you're looking for!
Watson's offers a variety of sideboards in different styles, functionality, and price ranges. Contact Watson's today to learn more and find the perfect sideboard to add to your home.