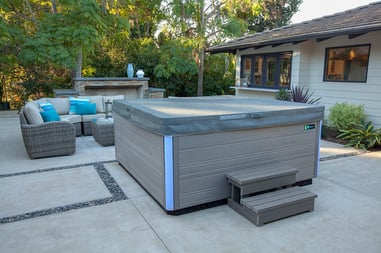 Does your hot tub cover feel heavier than it used to?
Is your hot tub cover sagging in the middle?
In both cases, water has likely seeped inside, and it may be time to replace your spa cover.
After all, a good hot tub cover has two very important jobs: Keep the heat in, and keep everything else out.
It's important to keep your hot tub cover in good condition, because that is what keeps the water heated, free of debris and ready to go when you're ready to relax.
It's one of the most significant factors in maintaining the energy-efficiency of your spa. If kids or pets could have access to your property, it's also a critical safety feature.
Signs your hot tub cover hut tub needs to be replaced
With proper care, a high quality cover could last for several years. However, covers are exposed to the elements by design and will naturally wear out over time. So it will likely need to be replaced before your spa does.
Here are the most common signs that a hot tub cover needs replacement:
If it has any tears, rips, punctures or cracks

If it smells like must or mold

If it sags in the center, instead of lying flat on the spa

If it has grown heavier over time
If it feels like your spa cover is heavier than it used to be, it's usually due to water weight and a sign that spa water has permeated the vapor barrier that protects the foam core.
If that's the case, your cover not only can't do its job well, but also will drive up energy costs and can create an environment where mold and bacteria thrive.
How to make your hot tub cover last longer
We know a spa cover is an investment. So here are a few tips to extend the life of your next cover:
Buy a high quality cover. It can be tempting to order a cheap hot tub cover from any site online — but fit and quality are key to a cover actually doing its job. Plus a high quality cover will last longer.
Clean your spa cover regularly. It can be easy for dirt, debris and other grime to build up and eat away at the coating. Use a gentle cleanser like this Cover Care & Conditioner.
Don't set things on top of your hot tub. They are not designed to take on extra weight. If you have a heavy snowfall, brush the snow off.
Take the cover off regularly to let it dry out. This will decrease the chances of it becoming waterlogged. Once a week should suffice.
Use a hot tub cover lifter. A lifter makes it much easier to remove your hot tub cover without any strain on you or the cover. Shop cover lifters now.
Watson's is an authorized dealer of Hotspring, Bullfrog and other top spa brands. We carry everything you need for your spa — including hot tub covers — at the guaranteed best price in the USA.
Contact us now for help finding the best spa cover for your exact spa.