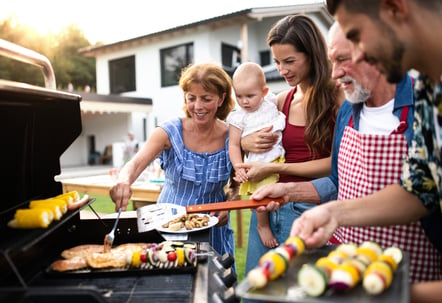 Grilling season is here!
We love grills, because it usually means more time outside and less time washing pots and pans.
This year, we wanted to see if we could hit the trifecta of grill recipes: Simple, healthy and kid-approved.
You can always start with your kids' favorite meals, then make a simple swap for lighter fare.
For example: Try replacing your usual hamburger bun with a lettuce wrap, grilled pineapple slices or a grilled tomato (cut in half).
Below are some more creative ideas to shake it up this grilling season.
Shop gas grills, charcoal grills and pellet grills. We also have a wide selection of grill accessories, from grill brushes to skewers to pans -- all at the guaranteed lowest price in the USA.
Healthy & kid-friendly main dishes for the grill
Chicken & veggies in foil: Throw chicken breasts and your favorite veggies (like corn, pepper or grape tomatoes) onto a piece of foil. Drizzle with oil, salt and pepper. Wrap up your foil packet and toss onto the grill until chicken is cooked through.
Prefer sausage? Swap out the chicken for Italian sausage and peppers!
Kabobs: Grab some skewers and load up with your favorite protein (steak or chicken work well) and veggies (mushrooms, peppers, tomatoes, squash, onions, etc.). Drizzle your skewer with olive oil, salt and pepper and grill.
Spiral hot dogs: Just for fun: Slide a skewer into your hot dog the long way. With a paring knife, cut the hot dog at a slight angle, turning the hot dog and continuing to cut until you reach the other end. Grill. (See a spiral hot dog here.)
Grilled tacos or fajitas: Prep your favorite protein (chicken, steak, shrimp or black beans) and toss on the grill. To up the smoky flavor, toss your tortillas onto the grill for a minute to let them warm up. Serve with fresh avocado or salsa.
Grilled pizza or flatbread: Start with pizza dough of your choice (store bought or homemade), and toss it on the grill with any kid-approved toppings you want. We love adding artichokes, tomatoes and banana peppers.
Grilled quesadilla: Throw some cheese into a tortilla. Add any protein (chicken, steak or black beans all work well) and vegetables (tomatoes, peppers). Heat in a heavy skillet over the grill. Or try this grilled corn, zucchini and black bean quesadilla.
Grill up veggies and fruit as side dishes
The grill is the perfect way to introduce your kids to a different variety of fruits and veggies.
When it comes to vegetables: You can add your favorite spices, or toss with Greek or Italian dressing for a simple, flavorful complement to your entree.
Our staff favorites for the family include:
Don't forget the grilled fruit for a side dish or dessert. Most fruit makes for soft, caramelized perfection on its own, or you could serve it warm over a bowl of ice cream. Among our favorites:
Grilled pineapple
Grilled peaches
Grilled watermelon
Grilled banana


Shop a selection of grill accessories

, from

grill brushes

to

skewers

to

pans

now -- all at the guaranteed lowest price in the USA.