Picture this: You just had an extremely long day at work, and all you can think about is coming home to your family and spending quality time with them. Arcade Machines can be an excellent addition to your home for unwinding and spending time with your friends/family. They allow you to have fun, be competitive, and, most importantly, make memories.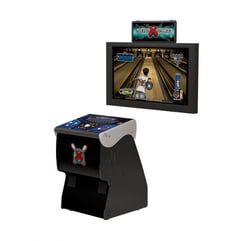 Shop Arcade Games Now!

The selection at Watson's is substantial, so we ensure that each customer can find an arcade game that fits their desires. Our selection ranges from traditional upright arcade machines, tabletop systems, and cabinet only units that allow you to pair your TV to create your perfect gaming experience. These various arcade systems feature a variety of games such as more traditional games, old school games, and more.

The Arcade Machines vary in price so if you have a higher or lower budget you will be able to find something that is around your price range.

How to choose the best arcade game depends on your budget, space needed, and the number of people participating.

Currently at Watson's the top-rated arcade game is the Silver Strike X Arcade Machine. This is a bowling game that is the perfect party game for large gatherings. It's the same cabinet. The same trackball. Only instead of taking your talents to the golf course, you're hitting the lanes. Silver Strike offers multiple different types of modes to keep the game entertaining.

Learn more or make an appointment here!