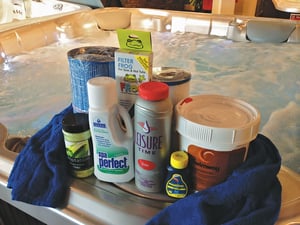 Now that you finally purchased the hot tub of your dreams for your home, it is time to make sure that you get the necessary chemicals needed to keep your hot tub water clear, health and safe.
Hot tubs are similar in nature to swimming pools. This simply means that you have to follow regular and proper maintenance with the necessary alkalinity, sanitizers, shock treatments, and even pH levels.
Learn more in our care & maintenance guide here. https://www.watsons.com/education/spa-education/spa-care-and-maintenance
What spa chemicals do I need?
Watson's carries all the products you will need and at the lowest price in the USA guaranteed.
Care and maintenance will vary, depending on the brand, spa and size.
Our team is happy to help answer questions or walk through the chemicals needed for your exact spa. Stop in to your local Watson's or Contact Us here.
Below is a general overview of what you can expect for spa care & chemicals:
Spa Metal Free
The first time that you fill up your hot tub you should let the water sit for about an hour before you add Spa Metal Free. There is a lot of metal found in tap water which is why this product is so beneficial. It helps by neutralizing the water before you add any additional chemicals. Prior to doing anything else, you must make sure that you let this product sit in the water for about 4-6 hours.
Spa Test Kit
To understand the current water chemistry in the hot tub, it is important to take a sample of water towards the bottom. Alkalinity, pH, calcium hardness, and chlorine are the four main types of chemicals that you can test for in a spa test kit. Follow the recommended range for each chemical for a good balance.
Calcium Hardness
The amount of calcium that is broken down in your hot tub is known as calcium hardness. Almost every water supply contains calcium as well as the water that is used within your own home. There is only one way to determine just how much calcium is in your water and that is by measuring the calcium hardness.
Alkalinity and pH
When it comes to spa chemistry, both total alkalinity and pH work together. Alkalinity works as a buffer to keep the pH levels in the water stable. pH is also able to measure the amount of acid your water has in it.
Increase and Decrease pH levels
If you need to increase or decrease your pH levels in the water, you can easily add a Spa pH Decreaser or Increaser chemical. You need to make sure that the alkalinity is always in the recommended range otherwise your pH levels in the water will become unstable.
Bromine
Bromine is a better option than chlorine because it holds up better in hot water. As a result, you can count on it to be way more effective as a sanitizer. It is more expensive but it is totally worth it as it kills off viruses and bacteria and does not contain a strong scent like chlorine does.
Shock
Make sure that you shock your water when you first turn your hot tub on. It prevents contamination when you are not using it for a long period of time. Shock removes chloramines and bromamines. It also kills off any bacteria and removes organic compounds from your hot tub water.
Fragrances
Finally, if you are looking for something to provide an extra sense of relaxation, try spa fragrances there are many varieties so you're sure to find one that suits you.
Shop all spa & hot tub chemicals here, at the guaranteed lowest price in the USA.