With more people staying home, it's more popular than ever to create your own bar right at home.
It's the perfect way to host your friends for entertainment or relaxation, with convenience (and affordability) of staying right at home.
Need ideas for your home bar? We've got you covered.
Shop all drinkware & accessories here.
The Right Glasses
It is important to have the right glasses for a home bar. Glasses come in many shapes and forms. They are meant to be used in certain situations. For example, rocks glasses are great for muddling ingredients in the glass. They are ideal for drinks that are served over ice balls or cubes and tend to hold anywhere from six to eight fluid ounces.
On the other hand, a Collins glass is similar to a Highball glass; however, it is a bit wider and squatter. Collins glasses are usually served with plenty of crushed ice and will hold anywhere from ten to twelve fluid ounces. This glass is ideal for a number of drinks including a Gin and Tonic or a Tom Collins.
Of course, there are also coupe glasses as well. These are meant to hold between six and eight fluid ounces but are usually reserved for drinks that don't have ice. The liquid should settle just underneath the rim.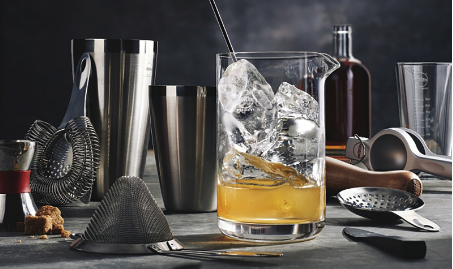 A Bar Spoon
A bar spoon is a long, slender rod with a small spoon at the bottom. This can be used to measure syrup ingredients as well as to stir drinks. The typical length of a bar spoon is around 30 cm. If the spoon is too short, the cuffs of the shirt will take baths in the drinks. Every bar has to have a bar spoon.
Ice
Somehow, there has to be ice at the bar. While a simple ice tray will do the trick, there are also more creative options. Many bars invest in an ice maker while some have fancy trays that can mold ice in various shapes, such as an ice ball. Think about where the ice for the bar is going to come from.
An ice bucket can be a simple, affordable way to do the trick, too.
The Nara Ice Bucket and the Scoop Ice Bucket are two of our favorites.
Shakers and Strainers
And how can you make the perfect cocktail without shakers and strainers?
There are plenty of options when it comes to size and style; however, a good rule of them is that a simple shaker and strainer is the best because less can go wrong. A Hawthorne strainer is the main stool for separating cocktails from ice, so be sure to invest in one of these.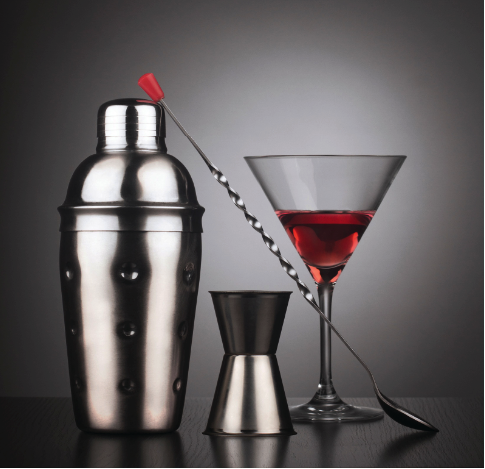 Home Bar Accessories from Watson's
At Watson's, we provide everything that a home bar needs. We have beverage servers, wine sets, aerators for wines, shakers, strainers, chillers, glasses, and more!
If your bar needs it, we have it and at the lowest price in the USA -- guaranteed.
Shop all drinkware & accessories here.